Retired Classics Faculty, Emeritus, 1964–2019
When Ellen Lueck '09 walked into her intermediate Latin class with Sam Seigle (classics), she discovered she was the lone student. "It blew my mind that he would invest that kind of time with me," she recalls. The first order of business was a discussion of Seigle's high standards—"rules that a classics graduate student from the 1950s might follow." When Seigle saw her writing with a pencil, he grabbed it, snapped it in half, handed her a pen, and announced, "We don't use pencil."
Seigle's intensity drew Lueck in immediately. "I was eager to be pushed," she says. "I have a lot of drive if I know there's someone telling me I can do it." Seigle became Lueck's "favorite professor ever."
During his 55-year tenure at the College, Seigle was a dedicated mentor and passionate educator to countless students, generously sharing his mastery of ancient Greek and Latin languages, literature, history, and culture. Long before interdisciplinary studies were fashionable, Seigle encouraged his students to make connections between ancient studies and their other interests.
When he arrived on campus in 1964 and took over the classics curriculum, the College offered beginning and intermediate Latin and Greek intermittently. Its only faculty member for four decades, Seigle began teaching literature-in-translation courses as well as beginning, intermediate, and advanced ancient Greek and Latin. When Emily Katz Anhalt joined the classics faculty in 2004, she says, Seigle was a wise and valuable counselor. "I realized very quickly that I couldn't go wrong following Sam's advice," Anhalt says.
"He joyfully introduced students to ancient models and methods vital to humanity, in both senses of that word." —Emily Katz Anhalt (classics)
Many of Seigle's students also felt that they had been granted entry into a secret club. He was known for showing up to class with bagel halves and flat soda, for carrying academic papers around campus because his own office was overflowing with texts and documents, and for his Greco-inspired curses, like "Oh, Minerva!"
Decades after graduation, Stephanie Kromash Baum '86 still seeks out Seigle when she returns to campus for reunion. "Sam is unlike any other professor I have ever met," she explains. "If he'd been teaching a class I wasn't as interested in, I'd have taken it anyway. He is that engaging."
A stickler for class attendance, Seigle once took a sick (but not contagious) Baum up on her offer to hold class in her room, rather than miss the session. Seigle and the rest of the students stood across the room, keeping a healthy distance, just in case.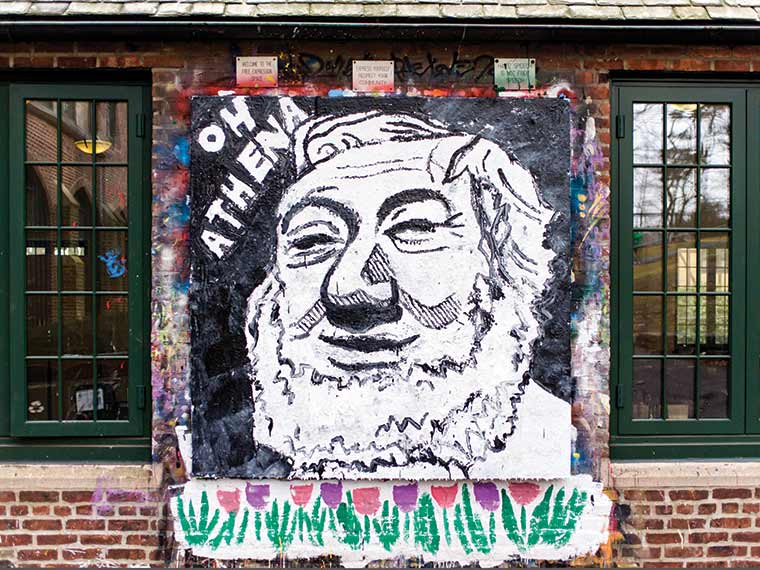 With his vast etymological knowledge, Seigle appealed to students across a wide range of disciplines. He was enthusiastic about grammar and declensions, continuously making connections to why such linguistic pursuits are relevant today. Occasionally, he would bring his class to Bates and speak with cafeteria workers in a hybrid Latin-Spanish he'd created.
As an undergrad, Daniel Melleno '05 had a strong interest in medieval history, so Seigle worked one on one with him on medieval Latin, even though that wasn't Seigle's specialty. At the time, Melleno's now-wife, Kathleen Seiter '05, was interested in going to seminary, so Seigle guided her in the study of biblical Greek.
"He was always coming from a place of, 'How can we make this topic interesting and relevant to you?' which is hard to do with a pre-modern topic," says Melleno, who now teaches medieval history at the University of Denver. "He made education personal and amazing."
Seigle's zest for transmitting ancient knowledge to the next generation will be greatly missed. "He joyfully introduced students to ancient models and methods vital to humanity, in both senses of that word," Anhalt says. "He modeled and fostered the process of rational, empathetic critical inquiry at the heart of a Sarah Lawrence education."
Written by Suzanne Guillette MFA '05