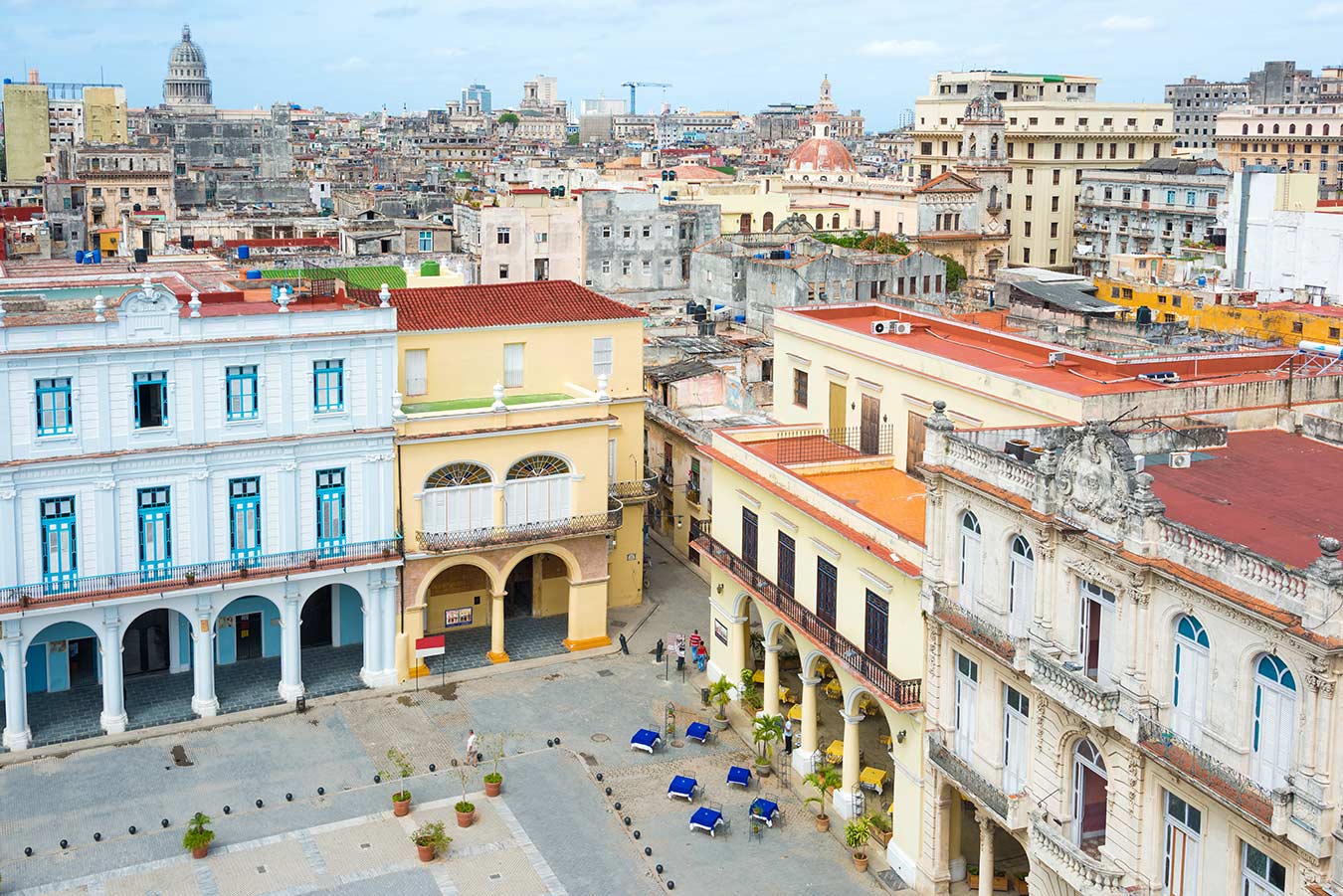 Be one of a select group of students to experience Cuban culture firsthand, learning how one Caribbean nation has played a unique role in shaping global perceptions of what is possible.
Since its beginning, the Sarah Lawrence College in Havana program has aimed to expose American students to one of the most culturally dynamic societies in the Western Hemisphere.
As the longest continuously running study abroad program in Havana, we offer a small and intimate classroom experience, as well as full Spanish language immersion as students explore the intriguing complexities of Cuba in the 21st century. These experiences promise a sense of authenticity influenced by Sarah Lawrence traditions and ideals.
Academics
Each student in the Sarah Lawrence College in Havana program takes four courses for credit:
A required seminar at the Center for Demographical Studies. In this seminar students conduct research on a topic under one-on-one supervision of a Cuban professor (4 credits)
Three electives at 4 credits each in either the humanities, social sciences, and/or the arts ( 12 credits) at the University of Havana and/or the Insituto Superior De Artes (ISA)
Please note: Students may be required or permitted to pursue an Advanced Spanish language course as one of their electives. This decision will be determined in conjunction with the Director of the Program.
All courses are taught in Spanish. Students are enrolled in classes with their Cuban peers at the University of Havana and Instituto Superior De Artes (ISA).
Study Abroad Information
Program Segments
Students participate in seminars, conferences, fieldwork, and site visits designed to provide the fullest of Cuban experiences. 
There are an assortment of independent study opportunities, such as researching certain aspects of contemporary Cuban society with a faculty mentor, or blending theory and practice in music, dance, and visual art. 
Students take the seminar course through Centro de Estudios Demográficos (CEDEM), a unique research center at the University of Havana. Designed exclusively for Sarah Lawrence students, the course examines gender, health, education, and sustainable development throughout Cuban society. Students study theoretical as well as practical perspectives on life in Cuba. 
Sarah Lawrence in Havana students follow the same curriculum as Cuban students and are subject to the same standards and requirements. 
Cultural Activities in Havana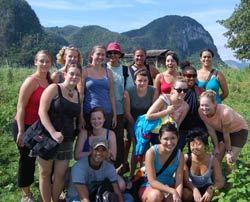 While living in Havana, students explore the cultural and social features that make the city unique. As a program, students visit medical facilities, political institutions, schools, jazz, hip-hop, and rumba concerts, Afro-Cuban religious communities, Art workshops, and historic sites. Throughout the semester, programmed "charlas" offer the chance for students to engage and dialogue with leading Cuban artists, scholars, political figures, and musicians.
On their own, students also have time to explore the range of activities available in a large, vibrant capital. Past students have participated in athletic events, dance and fitness classes, language exchanges, music groups, after school programs for children, capoeira groups, cycling clubs, the University Student Federation, and other activities.
Through these activities, students gain a deep understanding of Cuba and its complex history and culture in ways that go beyond the classroom.
Visits in Havana have included:
The National Assembly at the Cuban Capitolio
Urban agricultural cooperatives
Ballet and theatre
Rumba, son, jazz and hip-hop concerts
Clinics, hospitals, and maternity wards
The Casa de Africa
The National Center for Sexual Education
Public Schools
Centers for the aged
Art and History Museums
The International Havana Film Festival
The Havana World Music Festival
Excursions Outside Havana
To broaden their understanding of the country, students take several trips during the semester, with itineraries designed to build cultural fluency. Every semester includes one week in Santiago de Cuba in Oriente province, arguably the "most Caribbean" of all cities, along with other smaller excursions.
Past trips have included:
Santiago: the main city in the Oriente province, located at the base of the Sierra Maestra mountains, Santiago has been Fidel's revolutionary power base, and is the birthplace of Son music and conga parades.
Matanzas: known as the "Athens of Cuba," a key center for Afro-Cuban religion, music, and culture, both past and present.
Las Terrazas: an eco-reserve with spectacular biological diversity.
Varadero, Pinar del Rio, and Viñales: tobacco country.
Trinidad, Cienfuegos, and the Valle de los Ingenios (Sugar Mill Valley): Trinidad is located near the Escambray mountains, ideal for nature hikes.
Playa Girón (site of Bay of Pigs invasion)
Where Students Study
Centro de Estudios Demograficos (CEDEM): Seminar Research Course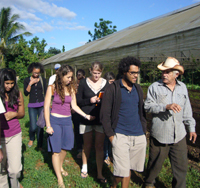 CEDEM is the home of the Sarah Lawrence program within the University of Havana, and is a 15-minute taxi ride across the river Almendares. This social research institute works exclusively with Sarah Lawrence College and offers a seminar research course that introduces students to a broad spectrum of issues, particularly those affecting the Cuban people since 1989.
Past research topics include:
The Impact of the US Embargo on Cuba
Employment in Cuba
Sustainable Development and Organic Agriculture
AIDS in Cuba: Governmental Action and Social Perceptions
The Interrelation of the Process of Urbanization and Gender in Havana in the '90s
Characteristics of Community Work in Cuba and the US
Cuban Women and Socio-Economic Participation
Cuba: An Aging Population
The Role of Youth in Social Programs for Young People
Sexuality and Sexual Education in Cuba
Children and Family in Cuba

Students are paired with a Cuban professor, who serves as a research advisor throughout the semester. Through CEDEM, the Sarah Lawrence program has also organized panels on subjects ranging from AIDS to women's and gender issues, changing each year to accommodate student and faculty interests and concentrations.
Instituto Superior de Artes (ISA): Performing & Visual Arts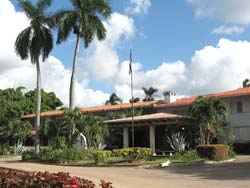 In addition to studying at the University of Havana, students can take classes at the Instituto Superior de Artes—the national Cuban art school. ISA houses five schools in the arts, and professors are all active musicians, dancers, or artists.
Each facultad (faculty) in the arts provides a combination of theory and practice. Studying at ISA is comparable to conservatory work in the US, so it is ideal for students who are serious about pursuing artistic achievement through concentrated study.
Visual Arts: ISA's Facultad de Artes Plásticas offers studio courses in the visual arts. Students interested in enrolling should bring work samples to Cuba for portfolio review. Most Cuban students who enroll at ISA have highly developed visual arts skills and have attended art schools. Assessment of level is therefore important for appropriate placement.
Past studies include:
Studio work in painting
Tutorials in special areas, such as wood sculpture
Cuban and Latin American painting, history, and theory
Music: ISA's Facultad de Música offers a music program combining tutorial study in composition, voice, and/or instrumentation, with work in theory, history, and performance. Music students need a basic proficiency level and must audition before enrolling. ISA's music professors are active professionals who help students access Cuba's cultural scene.
Past studies include:
Canto Clásico Cubano
Guitar: Practice and Theory
Percussion: Cuban Rhythms
Percussion: Practice and Theory
Popular Dance (Danza Folklórica)

Cuban and Afro-Cuban Rhythms
Fundación del Nuevo Cine Latino-Americano (FNCL): Film History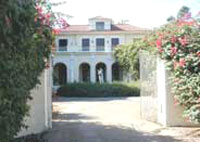 Students interested in Cuban and Latin American film history may attend the Fundación, which offers classes exclusively for US students. Founded by Nobel laureate Gabriel García Márquez and located in a beautiful estate, FNCL organizes film festivals and retrospectives, and houses one of the best film libraries in Cuba. The program faculty member is both a documentary filmmaker and a film critic, in addition to being an excellent teacher.
"Tres guitar classes were by far my most exciting, challenging, and stimulating academic experience in Cuba… His approach to teaching the tres focused as much on technique as it did on understanding Cuban musical styles and how to accompany a singer or instrumentalist in bolero, son, changüi and other Cuban genres… Jorge's teaching went well beyond the classical tres pedagogy—we brought in elements of jazz and a lot of improvisation in our playing together, making this a creative and collaboratory musical experience." (Spring 2017 participant)
Living in Havana
Students studying in the Havana program stay in a casa particular: a part of a Cuban home available for rent, similar to a homestay.
Housing and Orientation
Casa Particular
Students live in apartments that are owned and managed by Cuban families. The apartments are in one building located in the Vedado neighborhood, between the central road of Línea and the Malecón, approximately a 20-minute walk to the University of Havana.
Living arrangements vary, with some apartments organized as a more traditional home-stay, while others offer dorm-style living. In home-stays, Cuban hosts live side by side with the students. In dorm apartments, they live right next door. In either case students will be interacting with their hosts on a daily basis. For part of the semester, students will have weekly family dinners with their hosts with time dedicated to chatting in Spanish and getting to know each other. Our hosts enjoy offering insights into living in Havana, and are available to answer questions, share advice, and care for the students as if they were family.
Each room has its own bathroom and access to a kitchen. Students will coordinate their laundry needs with their respective Cuban hosts. Students are provided with bed linens and towels. Breakfast is served daily in the apartment and included in the cost of room and board.
Orientation
Shortly after students arrive in Cuba, they are immersed in the language to prepare for academic written Spanish and classroom discussions of text. 
Throughout the first week, students also participate in several orientation sessions and register for classes. The resident program director provides assistance and remains available for the entire semester.
"I felt very safe throughout the whole program. Vedado seemed to be a very safe area and I never felt unsafe or preoccupied walking the streets or coming home, even late at night. The house was very secure and I never felt preoccupied with anyone entering the building, nor unsafe with the caseros, empleados, or other students within the house. I appreciated having doormen who worked late because I felt that they were always looking out for us and would be there if we needed them" (Spring 2019 participant)
Admission
The Sarah Lawrence College in Havana program is highly selective and is open to juniors and seniors enrolled at any accredited American college or university. Students may apply for application in either the fall or spring. Students are not permitted to stay in Cuba for an entire year.
Financial
Applications & Deadlines
All applications and supporting materials are due:
Fall Applicants: February 15
Spring Applicants: November 1

Tuition & Fees
Students are charged the cost of Sarah Lawrence tuition each semester. Suggested costs to cover meals, airfare and personal expenses are available here.
Financial Aid
Sarah Lawrence College students who normally receive financial aid may apply their awards to any College-sponsored program abroad.
Sarah Lawrence College offers limited financial assistance to guest students on this program. Students should consult their home school's financial aid office for guidance on other financial aid resources.
For more information about Sarah Lawrence financial aid options, e-mail the Office of International Programs.
Academic Calendar
Fall 2023
Friday, August 25

Students arrive in Havana (before 5pm if possible)

Saturday, August 26 - Sunday, August 27
Orientation trip to Las Terrazas

Monday, August 28

Orientation activities, including language classes, advising, and registration, at University of Havana
Monday, Septemeber 4
Classes begin at University of Havana
Late October/ Early November
(Dates TBD)
Weeklong trip to Santiago and weekend trip to Matanzas
Friday, December 15
Students must vacate housing and depart for airport
Spring 2024
Sunday, January 28

Students arrive in Havana (before 5pm if possible)

Monday, January 29- Tuesday, January 30

Orientation trip to Las Terrazas

Wednesday, January 31

Orientation activities, including language classes, advising, and registration, at University of Havana
Monday, February 5

Classes begin at University of Havana

Late March/ Early April




(Dates TBD)

Weeklong trip to Santiago and weekend trip to Matanzas

Sunday, May 19

Students must vacate housing and depart for airport
These dates may be subject to change
NOTE - REGARDING FAMILY VISITS: Visiting your student may be illegal under US law. Sarah Lawrence is not responsible for travel decisions made by families and friends of students. Additionally, if you choose to visit, please be considerate of your student's intense academic schedule, (especially around Thanksgiving), and do not ask them be a full-time tour guide.
Students are charged Sarah Lawrence tuition and fees.