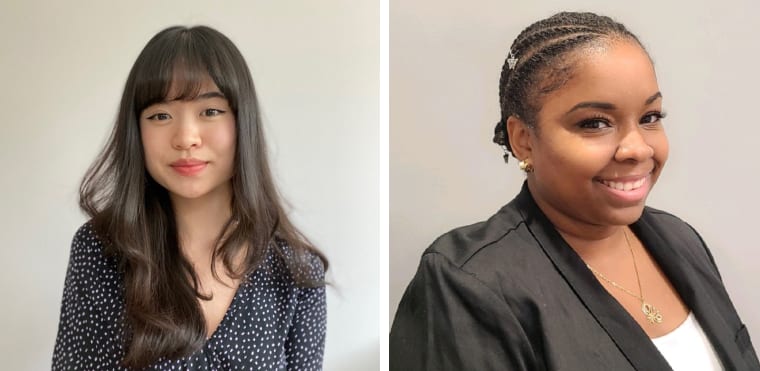 This summer, the Joan H. Marks Graduate Program in Human Genetics hosted our inaugural Warren Alpert Foundation summer interns, Melody Lin and Kaliah Davis. During this 6 week, fully-paid experience, Melody and Kaliah had the opportunity to shadow experienced genetic counselors, gain exposure to a broad range of clinical genetics specialties, attend seminars, conferences and case conferences, collaborate on a research project, have one-on-one interactions with genetic counselors and students, and network with fellow interns at other genetic counseling training programs. 
Kaliah, a rising senior from Xavier University of Louisiana, explained why she applied to the internship; "I wanted to be certain that the field is the best fit for me…thanks to this internship, I know that genetic counseling is the career that I want to pursue." Both Melody and Kaliah aspire to become genetic counselors and they firmly believe that this internship will be a vital stepping stone in their journey towards admission to a genetic counseling training program. 
The summer internship experience provides a way for students from diverse backgrounds to learn about the genetic counseling profession, while also meeting many admission requirements for genetic counseling programs and simultaneously providing a network of support. When asked what they will take away from the internship, they both claimed it's about the people they met, the mentors who generously shared advice, and the incredible camaraderie. Kaliah eloquently put it "the kind and helpful people that I met during this internship [were] very eager to share advice and feedback. I now fully understand how important it is to network...there are many individuals that can help me in my educational and career journey." says Kaliah. 
Melodys, a rising senior at Stony Brook University, says:
 After meeting so many incredible people that came from different backgrounds of education, races, and experiences, I realize how important it is to bring different perspectives to the conversation." With this newfound understanding of the benefits of diversity in her learning, she says "as an Asian American I really value the [internship's] dedication to diversify a field with limited people of color.
Although the admission process has evolved over the years as we attempt to improve the experience for students, reduce bias, and increase efficiency with growing numbers of applications, the focus has been the same for quite some time: to enroll a diverse group of open minded, insightful, academically inclined individuals who we believe will become successful in the field of genetic counseling. We've long believed that academic achievement alone doesn't indicate excellence in genetic counseling. Similarly, one who is able to eloquently articulate their understanding of the field, while lacking academic achievement, doesn't guarantee success either. Our preference is for well-rounded candidates, rather than those who excel in any one area. In turn, our admission process attempts to find those well-rounded individuals. 
Melody is right about the importance of diversity; research confirms that students work better in a diverse environment, enabling them to concentrate and push themselves further when there are people of other backgrounds working alongside them. This extends beyond the academic realm, spilling over into the workplace, where diverse teams craft innovative solutions, poised to increase positive outcomes. However, genetic counselors who identify as People of Color, Like Melody and Kaliah, are uncommon in the profession today; according to the most recent data, 89% of genetic counselors identify as White (NSGC PSS, 2023). 

For these reasons, the College is committed to promoting diversity and inclusion in the genetic counseling profession and is honored to offer this paid internship through the Alliance to Increase Diversity in Genetic Counseling (AID-GC). This consortium, funded by the Warren Alpert Foundation (WAF), consists of five graduate genetic counseling programs (Boston University, Rutgers University, Sarah Lawrence College, University of Maryland and University of Pennsylvania) working together to increase the number of genetic counselors from underrepresented backgrounds. The summer internship is intended for undergraduate students from underrepresented populations who are interested in careers in the field of genetic counseling.
Janelle Villers, the Assistant Program Director in charge of recruitment and admissions for the genetic counseling program at Sarah Lawrence College, explains that "[this summer internship] is an important resource as the program works towards attracting and training a diverse student cohort." 
At Sarah Lawrence College we believe that training students from a wide variety of experiences, cultures, histories and backgrounds enriches the learning experience for each student and will ultimately benefit the patients, clients and customers our trainees will later serve. — Janelle Villers, Assistant Program Director, Recruitment and Admissions, Joan H. Marks Graduate Program in Human Genetics, Sarah Lawrence College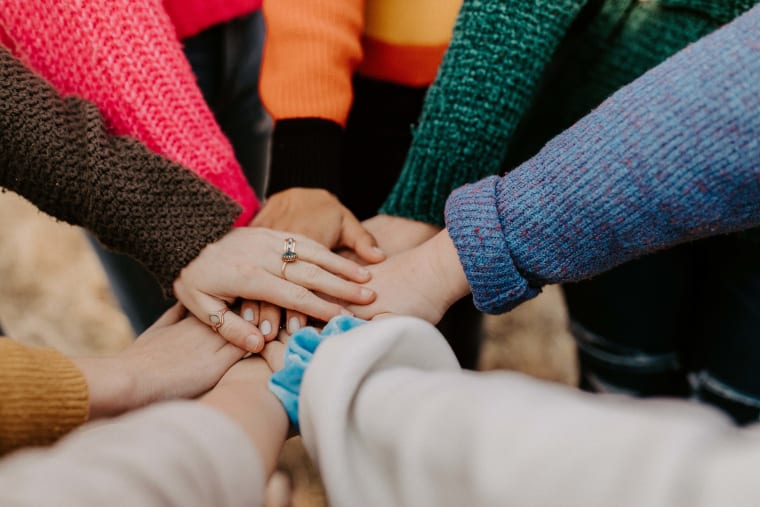 In addition to the summer intern project, the AID-GC consortia is actively working towards recruiting and training a total of 40 genetic counseling students, providing full tuition scholarships and stipends to cover living expenses. Two AID-GC scholarship recipients will be recruited annually from each program in the AID-GC, over the span of 4 years. This scholarship and internship along with other similar initiatives seem to be having positive effects- currently 55% of students enrolled in the Human Genetics program and Sarah Lawrence College identify as a Person of Color. 
[The WAF] grant will further our goals of fostering real, positive change and furthering equity and inclusion in the field of genetic counseling—a field that Sarah Lawrence created and has continued to develop for more than 50 years. — Cristle Collins Judd, President of Sarah Lawrence College
The College takes immense pride in being a part AID-GC and part of Melody and Kaliah's educational journey. We eagerly anticipate the significant contributions they will make in the field of genetic counseling.
Join us in celebrating our very first Summer interns!
Applicants seeking enrollment in the Joan H. Marks Graduate Program in Human Genetics at Sarah Lawrence College for the fall 2024 semester are eligible for scholarships supported by the WAF grant. Learn more about the program and how to apply at sarahlawrence.edu/genetic-counseling.
Interested in being an intern in the future? Get in touch with us! Reach out to Janelle Villiers, Assistant Program Director, at jvilliers@sarahlawrence.edu. Together, let's continue to break barriers and create a brighter, more inclusive future for the field of genetic counseling.
Follow us at: @slc_gc_grads on instagram and Sarah Lawrence College Graduate Program in Human Genetics on Linkedin