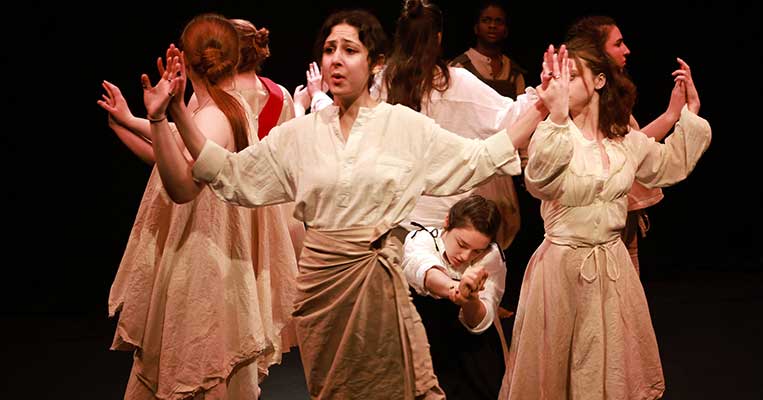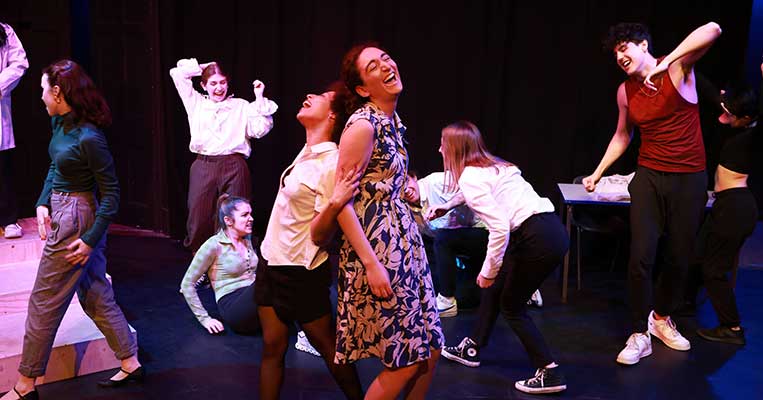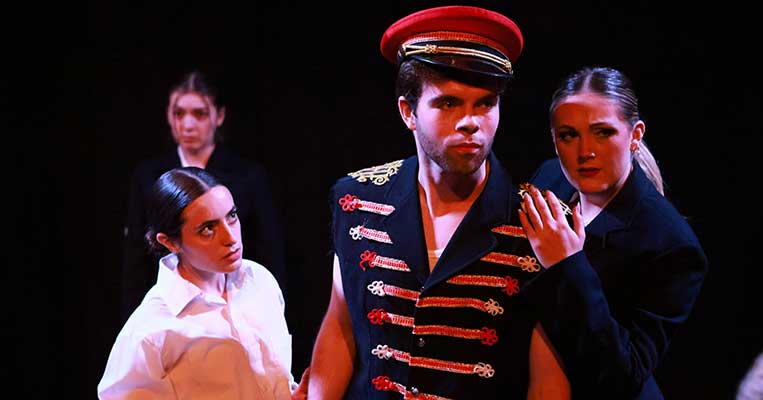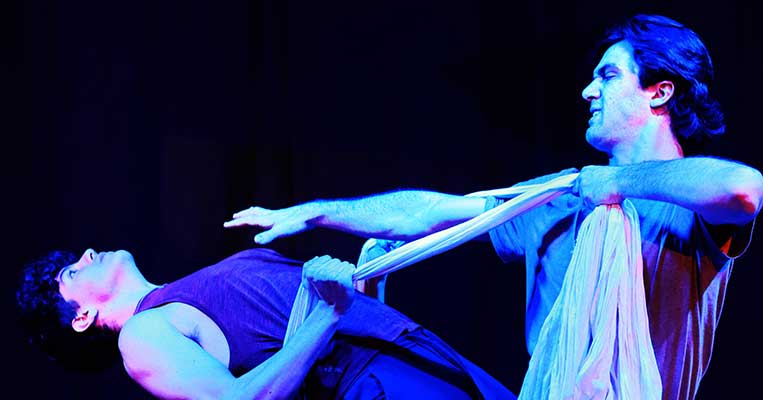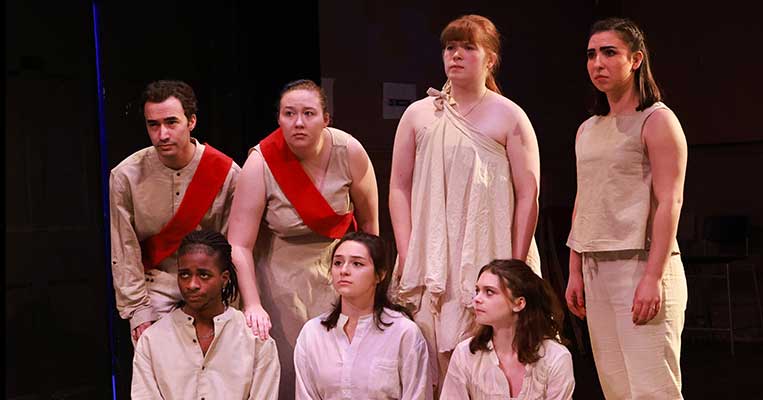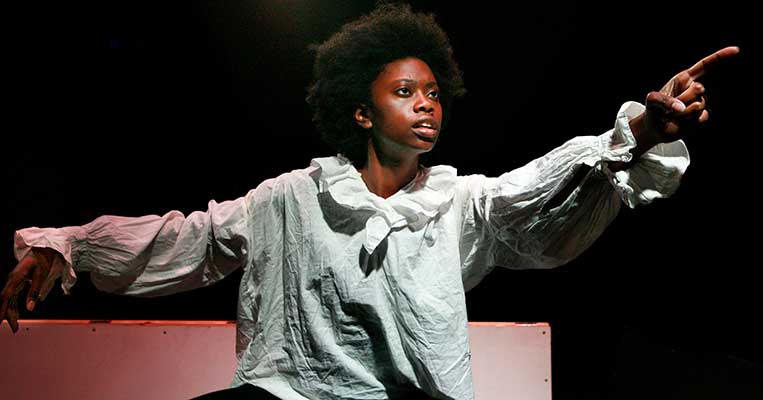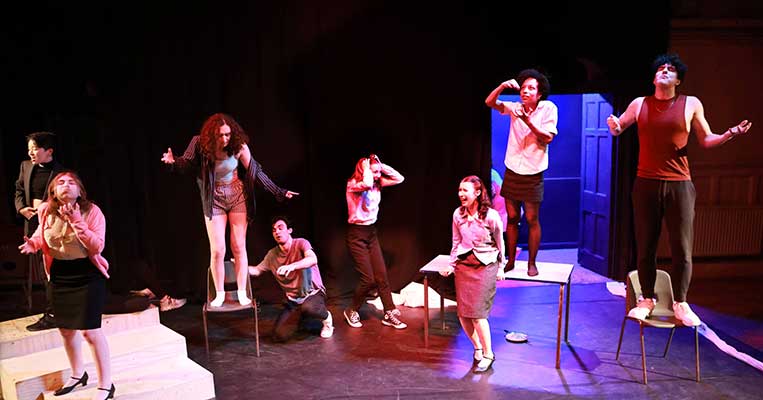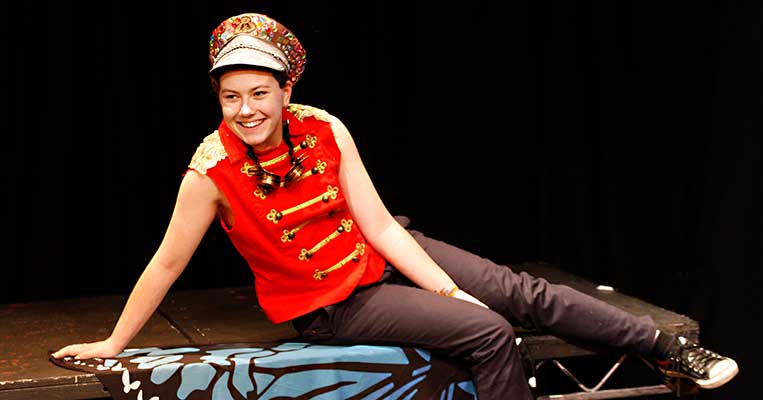 Become part of London's great theatrical tradition as you work and study with leading actors and directors from the world of British theatre.
Program of Study
Students take acting classes, master classes, and workshops with leading artists from the British stage, complemented by individual tutorials with teachers. A faculty from Britain's foremost drama schools teaches technical classes in voice, movement, and stage fighting.
Classes in theatre history and theatre criticism, tickets to some of the best productions of the season, and the experience of performing in a professional theatre round out the program.
Students may join the program in either the fall or spring semester. 
Semester Curriculum
Students may join the program in either the fall or spring semester, and receive a full semester of Sarah Lawrence College academic credit (15 credits).
The first eight weeks of the program include classes in:
Scene Study: Shakespeare
This practical acting course enables the students to search for, find, and explore the structure of Shakespeare's texts in a physical and active way. The aim by the end of this course is for the students to have achieved a deeper connection with the drama of the words. This course will give students a greater sense of confidence in Shakespeare's language and students will find they can speak the text more naturalistically even while honoring the given demands of the structure. This course looks at various plays—comedy, history, and tragedy and gives particular attention to textual analysis and verse speaking. No formal written work. (2 credits)
Scene Study: High Comedy
This is a practical acting course designed to give students a dynamic, sensitive, and physical approach to acting in High Comedy, enabling them to play with increased confidence, openness, precision, understanding, and skill. Students will work as a group on exercises which will lay a foundation for the detailed scene study work of these complex and witty texts. The course will give each individual the opportunity to put into practice the core principles of working on High Comedy from Restoration through to Wilde, Coward, and Orton in a highly supportive, collaborative atmosphere, and gain a strong understanding of what makes this material so rewarding and exhilarating to act. No formal written work. (2 credits)
Scene Study: Modern Physical Theatre
In this course, students study with a member of Complicite (subject to availability) and will study exercises influenced by the teachings of Jaques Lecoq and Philippe Gaulier. These studies will include many improvisations which look at the actor's presence in the space and their dynamic of play. Students will look at the relationship between the physical body and text and how one informs the other. (2 credits)
Voice
Students will be introduced to the fundamentals of Voice Studies: body, breath, voice, articulation and the connection of voice & text. There will be a focus on: physical awareness and release through alignment and centring; breath control, explored in the opening up and freeing of the voice; the development of tone, range, resonance and expression; effective articulation.

Students will learn how to apply this knowledge in the delivery and interpretation of text for all performance platforms. The course will be taught through group, pairs and individual exercises with space for individual coaching and feedback on prepared texts. As students gain in vocal confidence through their practical work and its regular application a deepening connection to and ownership of language in performance will emerge and grow.  (1 credit)
Movement
By using movement work, group games, imaginative, and observational work as tools to build the ensemble, students are encouraged to be free and strengthen their bodies. This provides the student actors with the ability to transform physically into the different characters they play. This class also enables the students to free their voice and unlock physical habits and tensions which may inhibit their bodies and therefore their ability to be free. (1 credit)
Stage Fighting: Hand to Hand Combat
Led by one of the leading fight directors in Europe, this course trains students in realistic stage combat with emphasis on safety, control, period styles, and technical virtuosity. The students will learn and be able to perform a large body of practical fight techniques and will gain a working comprehension of all the relevant safety principles and be able to apply them in practical situations. Students will also gain an understanding of their personal areas of strength and areas requiring further focus with a clearer judgment of their own personal rehearsal arc with regards to the illusion of violence in performance. Students will also have a more acute understanding of how to integrate character into action and action into text by the end of the course. (1 credit)
Theatre History
This course explores the representation of individuality and diversity in theatre by reading a range of play-texts from different periods. In the classes each text will be explored both in its unique value and by considering links to cultural practices, social institutions, historical periods, and the representation of character. Asking ourselves how far theatre and performance offer a response to changing social and cultural issues of gender, race and class identity and how far different generations renegotiate such responses. Each week the course will offer a main text and an extract from a parallel text as well as critical reading to support class discussion. (2 credits)
Dramatic Criticism
This course introduces students to some of the best live theatre available in London—one of the world's most exciting theatre cities; and it will also visit the Royal Shakespeare Company in Stratford. Students will discuss the role of theatre criticism in the United Kingdom, and the way it is changing in the digital age. The course is also intended to sharpen a student's personal critical and observational skills in respect of performance, design, and production choices. Students are encouraged to develop fresh ways of watching, thinking, and writing about theatre. (1 credit)
The final five weeks of the program are devoted to:
Acting in Performance
For this course, students will rehearse and perform productions of major British and European classical works. After eight weeks of classes, students are split into companies and begin the five week rehearsal period. Each company is led by a British theatre director. This culminates in a final performance at a working London theatre. During the rehearsal period there are daily warm ups. Voice and Movement faculty also come into rehearsals and support the students' process thus helping to further develop the core foundations for the modern actor. (3 credits) 
Additionally, the first eight weeks of classes include:
Tutorials—An important component of the curriculum is regular small group tutorials focused on audition technique and preparation. Students work on self-selected text and speeches with a member of the Faculty who is a professional practitioner. These sessions are devoted to improving students' acting abilities and encouraging students to explore and independently lead on making a range of creative choices whilst building on their portfolio of audition pieces.

Weekly theatre visits—Explore London's cutting-edge and experimental theatres along with traditional theatres.

Weekly masterclasses with leading UK theatre practitioners, including actors, directors, and designers from the British and American stage. Recent masterclass instructors include: Jenny Beavan, Brian Cox, Bob Crowley, Brandon Victor Dixon, Julian Glover, Henry Goodman, Greg Hicks, Fiona Shaw, Owen Teale, Deborah Warner, Sam West, and Elliot Barnes-Worrall.
Living in London
The London theatre is the principal focal point for drama in the English-speaking world. Nowhere else is there such a diversity of plays or such a range of talent. The resources of London are therefore central to students' experience in The London Theatre Program.
Housing
All students will reside in accommodations provided by the Stay Club. The Stay Club offers many amenities and is within a short walk or a subway/bus ride to BADA's premises. Detailed information on housing can be found in the program handbook.
Cultural Activities & Excursions
Attendance at performances is an integral part of the program. Master classes and talks with guest artists from the theatre world are arranged throughout each semester.
Books & Plays
Books are provided for all acting classes. BADA has its own library, from which students may loan out books. The library has computers for writing papers and Internet access during office hours.
The Office of Global Education can provide further information about the program, as well as names and numbers of program veterans who will be happy to discuss any aspect of the program.
Admission
The Sarah Lawrence College London Theatre Program is highly selective, and the number of students is limited. It is open to juniors and seniors enrolled at any accredited American college or university.
Audition for the London Theatre Program
All students applying to the London Theatre Program are required to audition online using Zoom.
Please contact Jayne Napier in the Office of Global Education at jnapier@sarahlawrence.edu to schedule an appointment. Each audition will be no longer than 10 minutes. At the end of your audition, there will be time for a chat with Ben Naylor, Dean of BADA.
The following must be part of your audition:
Some words about yourself. For example: your name, how old you are, what school you attend, when you began studying acting and why, what you know about the London Theatre Program, why you are applying to the program, and how you heard about the program.

A speech from Shakespeare or one of his contemporaries, in verse, no longer than 2 minutes.

A speech from a modern or contemporary text, no longer than 2 minutes.
*One speech should be delivered in close-up, the other in a mid-shot (waist up) to camera. You may choose which piece to perform in close-up and which to perform in a mid-shot.
Audition dates & times for the Spring 2024 program are posted below in UK time:
October 3:    4:00-6:00pm
October 4:    6:00-8:00pm
October 5:    4:00-6:00pm
October 12:  6:00-8:00pm
Please email jnapier@sarahlawrence.edu or call 914-395-2305 to set up an audition.
Applications & Deadlines
Students may apply for the fall semester or spring semester. The completed application for the fall semester is due March 1. The completed application for the spring semester is due October 15.
Tuition & Fees
Expenses Fall 2023
Tuition (per semester) $31,565 (includes all academic expenses, trips, tickets, master classes)
Room (per semester) $6,500 Please note: (all students housed in a single room with private bath) (Please note, if there are any damages to the room, you will be charged accordingly)
Geo Blue  Medical Insurance (estimate): Rates TBD

This insurance provides comprehensive medical and geo-political coverage while abroad only. Students still need to have their own coverage or coverage through the Sarah Lawrence plan to ensure they are covered before they leave the US and upon their return
---
Estimated Expenses Per Semester
These expenses are estimated and will vary due to individual needs, spending habits and fluctuating exchange rates.

Meals $2,000–$3,000
Personal Expenses $700–$900
Round trip airfare $850 – $1,200‡
Local transportation $500–$550
‡ This estimate is based on a round trip ticket from JFK (NY area airports) to LHR (London area airports)
Travel expenses before or after the term, and any trips taken during the mid-term break, are not included in this estimate.
Financial Aid
Sarah Lawrence College students who normally receive financial aid may apply their awards to any College-sponsored program abroad.
Sarah Lawrence College offers limited financial assistance to guest students on this program. Students should consult their home school's financial aid office for guidance on other financial aid resources.
For more information about Sarah Lawrence financial aid options, e-mail the Office of Global Education.
Academic Calendars
Dowload important dates bellow:
Program Handbook
new
All students will reside in accommodations provided by the Stay Club, Kentish Town. The Stay Club offers many amenities and is within a short walk or a subway/bus ride to BADA's premises. Detailed information on housing can be found in the London (BADA) Fall 2023 Handbook (PDF)