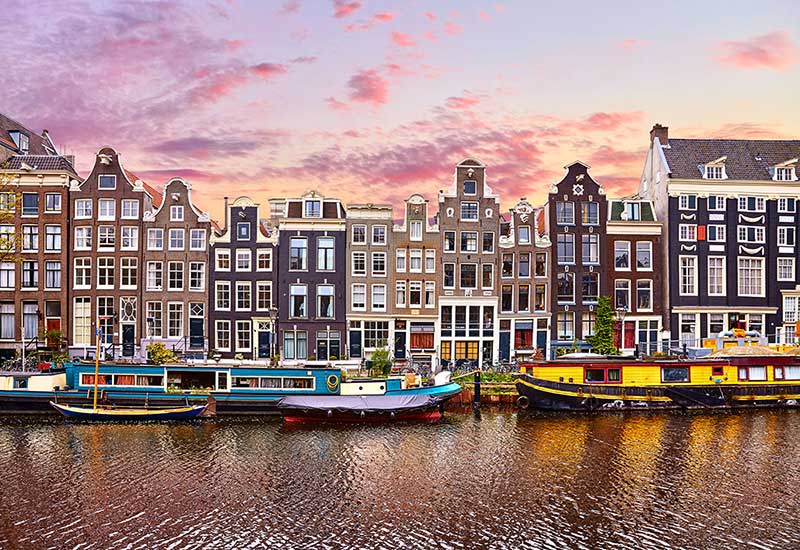 Sarah Lawrence students have the opportunity to study in Amsterdam through our partnership with the study abroad provider IES Abroad. Students may study abroad on one of two programs in Amsterdam: Psychology and Sciences or Social Sciences and Humanities. Students enroll in classes at the IES Abroad Center and at Dutch universities.
This study abroad opportunity is open to Sarah Lawrence College students only.
Academics
Students will select a combination of courses in their areas of interest including the Dutch language, culture, and the arts. Options at the IES Abroad Center include courses in art history, art, cultural studies, Dutch language, gender studies, history, intercultural communication, international relations, law, political science, psychology, sociology, and social studies. A full listing of courses will be made available once you've been accepted into the program.
Sample courses offered in past years include:
Highlights of Dutch Art: From Rembrandt to Mondrian and Beyond        
Studio Rietveld: An Introduction to Studio Art in Amsterdam
Dialogues on Difference
Dutch Language in Daily Life
Sex and Science: Dutch Medicine and Intersexuality
Introduction to the Study of Sexuality and Gender in the Context of Amsterdam
Translating Race: a Comparative Approach
Cross Cultural Psychology
Students on the Psychology and Sciences program will also enroll in courses at Vrije Universiteit Amsterdam (VU). While in Amsterdam, students enroll in 15-18 credits per semester:
3-5 Psychology or Science courses at the Vrije Universiteit Amsterdam (VU)(required, 3 credits each)
One IES Abroad area studies course (optional, up to 6 credits)
The VU, founded in 1880, enrolls about 25,000 students, offers courses in 11 faculties covering arts and science fields, and takes pride in a very student-centric teaching style. The VU is situated on a campus (unlike many European city universities) just outside of central Amsterdam, near the business district in South Amsterdam.
Students on the Social Science and Humanities program will enroll in courses at the Universiteit van Amsterdam (UvA). While in Amsterdam students take 15–18 credits per semester. UvA courses and IES Abroad courses are worth up to six credits each:
One or more Universiteit van Amsterdam (UvA) courses (at least one UvA course is required, credits vary)
One or more IES Abroad courses (optional, credits vary)
The Universiteit van Amsterdam prides itself on its wide range of multidisciplinary offerings and its strong focus on internationalization. These qualities are reflected in the large number of international and study abroad students at the Universiteit. Rooted in 17th century Amsterdam, the university is known for its rich intellectual, artistic, and commercial history, and for its contributions to contemporary scholarship, business, and politics.
Living in Amsterdam
While in Amsterdam, students will choose from two different apartment options.   Both include an en-suite bathroom with shower.
Meals are not included in either option, but most students cook meals in their apartments or eat in nearby student cafeterias (Mensas) and restaurants.
Admission
The Amsterdam program is open to Sarah Lawrence College juniors and seniors for the fall, spring, or academic year. Please sign up for an appointment at the Global Education Office to learn more about these programs.
Application & Deadlines
The completed application and don recommendation are due:
Fall Applicants: February 15
Spring Applicants: October 15
Tuition & Fees
Students are charged the cost of Sarah Lawrence tuition each semester.
Suggested costs to cover meals, airfare, and personal expenses are available here.
Financial Aid
Sarah Lawrence who normally received financial aid may apply their awards to this program.