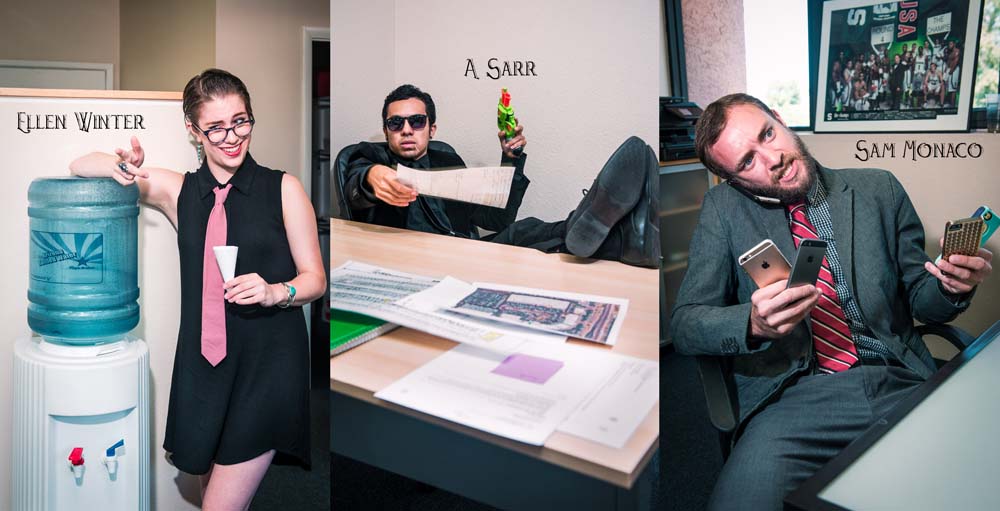 Ellen Winter '14, Sam Monaco '11, and A. Sarr '13 are members of the indie group Chamber Band. Recently, they collaborated on the musical theatre podcast 36 Questions, which also features violin from Lily Desmond '16 and many other talented writers and musicians.
Why did you choose Sarah Lawrence?
Ellen Winter: I chose Sarah Lawrence because of its 'choose-your-own-adventure' pedagogy and its theater department. I wanted the freedom to connect my arts to my academics and vice versa without having to compromise dedication to either. Sarah Lawrence facilitated a supportive environment where synthesis and interdisciplinary action is encouraged, and that inspired me to start writing musicals.
A. Sarr: Real talk—I just never wanted to take a required math class again. I ended up taking Computer Science anyway. I didn't really want to go to college right out of high school, so Sarah Lawrence letting me do my own thing was helpful in making that decision.
Sam Monaco: My mother is an alumna (class of '77) and she was convinced it would be the perfect school for me too. After initially rebelling and deciding on Ithaca College instead (take that, Mom!), she persuaded me to make a couple last-minute campus visits before sending in my housing deposit, at which point it became clear in my gut that I had nearly made a terrible mistake! In fact, I vividly remember mailing my deposit to Sarah Lawrence from Ithaca, NY…
What was your favorite class?
Ellen Winter: I'm torn between three. I could feel my music muscles expand in "20th Century Composition" with Daniel Wohl. Also "Movement for Performance" taught by David Neumann was incredible. And "Beyond the Matrix of Race" with Linwood Lewis was a life-changing course. I could name so many more though, honestly.
Sam Monaco: I think the most quintessentially Sarah Lawrence class I took was "The Talking Cure" with Marvin Frankel. I could listen to him talk all day, he should really have his own podcast. My favorite academic experience has to be the two-year independent research project I did on Haitian music that sprang out of "Studies in Music and Culture" with Toby King. I also have to give major credit to "Music Theory" with Pat Muchmore, and "Blues Ensemble" with Glenn Alexander, for giving me the tools and the experience to take my musicianship to a professional level.
A. Sarr: I took a spoken word literature class with Alwin Jones that so severely influenced what I'm doing now that I feel like all my student loan money should just go to him. It was also the only class on campus that didn't have all white people in it so that solidarity was nice.
How did Chamber Band form?
Sam Monaco: It can really be traced back to a friendship forged in my FYS class with Lyde Sizer… years later, post-graduation, my former classmate Allie Scully '11 and I reconnected at a party and I learned she had recently started singing in a band. At that point it was all guitar-based, including our other bandmates Chris Littler and Anthony Cerretani. She said they were looking for a drummer and invited me to their next show, where I immediately fell in love with the music and joined up soon after. The whole thing was very organic—I had played with A. Sarr in a Sarah Lawrence Blues Ensemble, so I looped him in when we decided the band could use a keyboard player. I knew Ellen from the Sarah Lawrence production of Spring Awakening in 2012, where I was in the pit band and she was a lead. Around that time, I went to see her play a set of her own music and was so taken by her earworm-y melodies and unusually complex rhythms, I sprinted up to her when she got offstage and asked to play drums for her. A few months later, Allie ended up leaving the band and so I brought in Ellen, and the band's been locked into that same five-piece lineup for five years now. Our music has always been theatrical and concept-driven—love songs in the realm of Dungeons & Dragons, protest songs inspired by The Hunger Games, or our ode to the world of H.G. Wells coming this fall—but 36 Questions was an amazing opportunity to push ourselves and take that theatricality to a whole new level.
A. Sarr: Sam was in almost every band, so everyone knew him. One day at a party, he asked me to be in this nerdy pop band he was in. The demo he played me was tight so I agreed to try it out. Turns out it was lit. Adding Ellen in a year later was a no-brainer, she's too good to not be in a band.
What's the experience been working on the musical theatre podcast 36 Questions?
Ellen Winter: The experience of writing it was a whirlwind. Lots of drafts. Lots of songs. Lots of characters were cut. It was a process. The actualization of the thing couldn't have been a better experience. We were really lucky that everyone on our team was so game, and brought their own unique set of skills to the table. Couldn't have made it without Chamber Band.
Sam Monaco: It was a real full-circle moment in my eyes. Like I mentioned, I had originally connected with Ellen through a production of Spring Awakening at Sarah Lawrence. And as you may or may not be aware, the original Broadway cast of the musical featured Jonathan Groff in one of the lead roles. So for us to then be lucky enough to have him as one of the two leads in 36 Questions—it was all very surreal, like the universe winking at us.
A. Sarr: Looking back on it now, a lot of it felt like that rare form of conference work that actually gives you life. It kept going from a really serious thing to a really fun thing and oftentimes it was both. More than anything, Chris and Ellen were really in the trenches for a year and change and being able to assist in my small ways was an honor. I don't think I'll ever have another Lacroix though.
What do you hope to do next?
Ellen Winter: Something else that's never been done before and stirs fear in our hearts with a side of inspiration.
A. Sarr: Make a positive change in the world while constantly shutting down anyone who thinks this is a game.
Sam Monaco: The Late Show with Stephen Colbert.