Sarah Lawrence has a long and proud history of partnering with the Davis United World College (UWC) Scholars Program to matriculate exceptional young people from around the world in support of the program's goal of advancing international understanding through education. The world's largest, privately funded international scholarship program, Davis UWC supports nearly 4,000 undergraduates from more than 160 countries at 99 U.S. colleges and universities. Coming from one of the 18 Davis United World Colleges around the world, these students are well prepared for SLC's rigorous, highly personalized pedagogy, and their diverse perspectives add voices to the campus that benefit all students.
On September 26, President Cristle Collins Judd joined with a number of SLC's Davis UWC scholars for a lunch celebrating their achievements; they were joined by Dave Stanfield, Vice President and Dean of Students, Sifiso Mabena '18, Interim Director of International Student Advising and Belonging, and Jim O'Brien, Director of Corporate and Foundation Relations.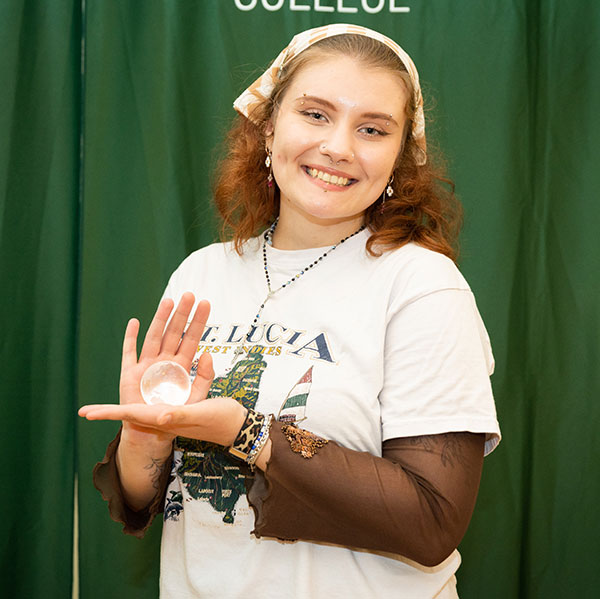 "What attracted me to the Sarah Lawrence education is the wide breadth of subjects one can study," said UWC Davis Scholar Julia Szozda '26. "I've always been a very interdisciplinary student and when I was younger my two main passions were computer sciences and art. Coming to Sarah Lawrence has really helped me develop my career prospects. The multiple ways that the school wants and helps us to succeed and to connect and to find and pursue the things that we are passionate about is unlike anything else really."
All told, Sarah Lawrence is home to 12 UWC Davis Scholars, and seeks to welcome even more in the future. At the same time the celebratory lunch was happening on campus, across the globe Kevin McKenna, Dean of Admission and Financial Aid, was visiting UWC schools in Europe and Lena Adely, Senior Associate Director of International Admission, was visiting UWC schools and college fairs in Thailand, Hong Kong, and Singapore.
---