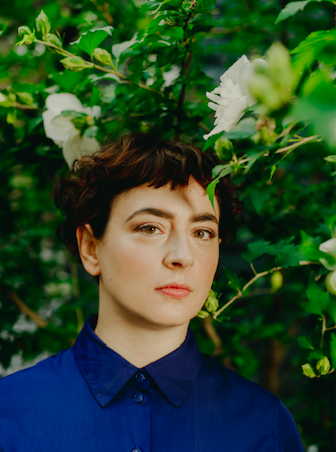 Strachan Donnelley Visiting Professor in Environmental Writing Kate Zambreno is featured on this month's cover of Poets and Writers for her newest book, The Light Room. In addition to teaching at Sarah Lawrence, she also teaches graduate nonfiction at Columbia University and is a 2021 Guggenheim Fellow in Nonfiction. Zambreno shares how she learned to be a novelist and credits teaching as the inspiration for her writing.
Tell us about The Light Room and what inspired you to write it.
The Light Room (Riverhead, 2023) is a meditation on art and care. I had just given birth to my second child during the pandemic, had a toddler at home, and was teaching remotely throughout. I began to look to other writers and artists to try to think through this current moment of crisis, and to find meaning in taking care of others and paying attention to the outside world. The book is a series of movements especially attuned to the seasons, and involves scenes of the daily as well as portraits of artists such as Joseph Cornell taking care of his brother, while making boxes in his cellar at night, to David Wojnarowicz keeping a grief journal after losing his mentor Peter Hujar to AIDS, to writers who made art and meaning out of being mothers and the domestic, such as Natalia Ginzburg, Yuko Tsushima, and Bernadette Mayer.
Do you ever struggle with writer's block? How do you manage it?
My novel Drifts (Riverhead, 2020) is largely a portrait of writer's block, which also includes a biography of the many years Rainer Maria Rilke took to write Notebooks of Malte Laurids Brigges. But now the question is more of having time to write with the demands of teaching and caretaking. In Drifts I come to the discovery that art is time—it must take the time it needs. I wish I had more time!
What got you into teaching?
I began teaching classes at a community college outside of Chicago almost 20 years ago while I was first trying to be a writer, without knowing anything about how to be a writer. I wrote my first books while teaching. The core humanities class I taught was called "Women and Creativity" and a lot of the books I taught then, beginning with thinking about concepts of gendered madness in the Victorian era and then into modernism, helped inform my autobiographical treatise/manifesto, Heroines, which was published in 2012 and is being reissued by Semiotexte next year. For the past decade I've taught both undergraduate and graduate writing at Sarah Lawrence. The courses have always energized my own writing practice and how I think about literature.
For the past three years I've been the Chair in Environmental Writing at the College, which means I've taught a yearlong undergraduate class that deals with paying attention to the outside world and thinking about locale and history as a way to be present and attempt to begin to grapple, creatively, personally, and philosophically, with the changing world amidst climate change. This year the course is entitled "Writing Environments." We read beautiful contemporary prose that resists the idea of the solitary European white man writing about nature and instead are about writing a person in time and space— writers such as Etel Adnan, Bhanu Kapil, Robin Wall Kimmerer, Tove Jansson, Aisha Sabatini Sloan, Annie Dillard, and T Fleischmann. I taught the class remotely right after I gave birth to my second child, and in those years of the pandemic teaching the class and participating collectively in thinking about attention and care was a balm for me, and I hope for the students. I couldn't have written the book without teaching the class.
Do you have any tips for aspiring writers?
Try to cultivate paying attention and keep a regular notebook. Read as much as possible, not necessarily the books everyone is reading, and read in translation. Think about writing as a community, something you do with and for others.
Writing a book seems like such a gargantuan task. Where does one even begin?
With all of the above in mind, but, for me, currently the book that I'm working on is a form of solitude, a form of attention and play. It becomes a container in which to document my life, and to be able to think about form. But a book is a slow process, usually.
What's next for you?
I have a book on tone that was collaboratively written with Sofia Samatar, who was most recently a visiting writer at Sarah Lawrence in the MFA program, that's being published by Columbia UP in November 2023.
---