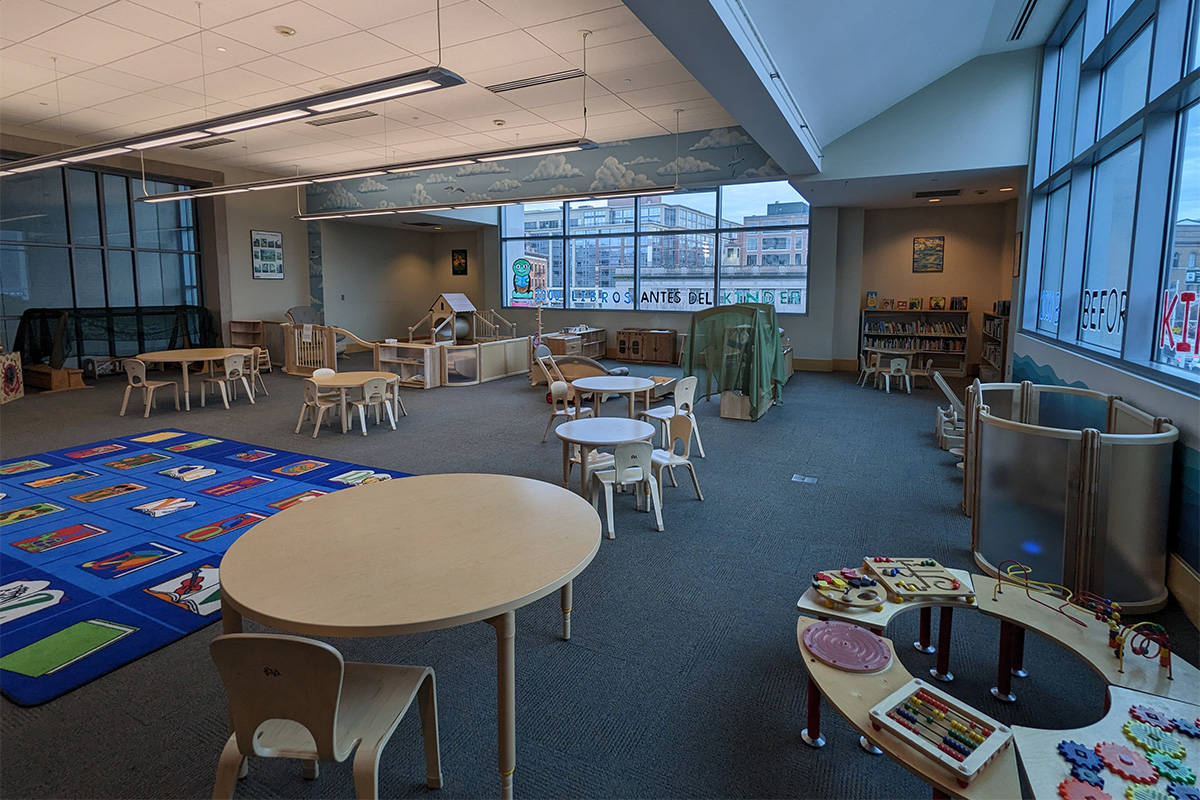 On April 19, the Yonkers Public Library unveiled its most recent collaboration with Sarah Lawrence College: The Cove, an indoor play space designed to delight and inspire children from infancy to early childhood. 
During a ribbon-cutting ceremony presided over by Mayor Mike Spano, Library Director Jesse Montero acknowledged the role of the College in the renovations, thanking Lorayne Carbon, director of the Early Childhood Center (ECC), and Tricia Hanley MS Ed '08 MA '13, director of the Child Development Institute, for their contributions. 
Nestled on the third floor of the library's riverfront branch, The Cove features furniture similar to what can be found at the College's Early Childhood Center: from a play kitchen made of sustainably harvested cherry wood to a canopy-covered arbor with built-in benches.
The similarities are no coincidence. After the library received a grant from the city to renovate its children's room, Montero and his team met with staff and faculty of the Children, Childhood, and Education Collaborative and toured the ECC, gaining insights into the College's research-based and child-focused approach to classroom layout.
"Play is essential and irreplaceable in the lives of  young children," said Carbon. "Beautifully crafted, open-ended equipment provides opportunities to support and enhance play and allows children to try out ideas and to take healthy risks."
Following the tour, Carbon suggested Montero contact the Hudson Valley-based company Community Playthings, creators of  high quality children's furniture and Carbon's first choice for provisioning the ECC classrooms. Carbon and Hanley also provided input on subsequent design concepts and configurations.  
The Cove will serve children and their caregivers throughout the city of Yonkers. It will also be the new home of the Community Adventure Play Experience (CAPE) series that the Child Development Institute facilitates at the library.  
"Sarah Lawrence College and the Yonkers Public Library have a long history of partnership," said Hanley. "The Child Development Institute and Yonkers Public Library share a commitment to supporting healthy development of children and families in our community. We are excited to continue to find new ways to strengthen this partnership and support each other's work."
---