Dear Members of the Sarah Lawrence Community,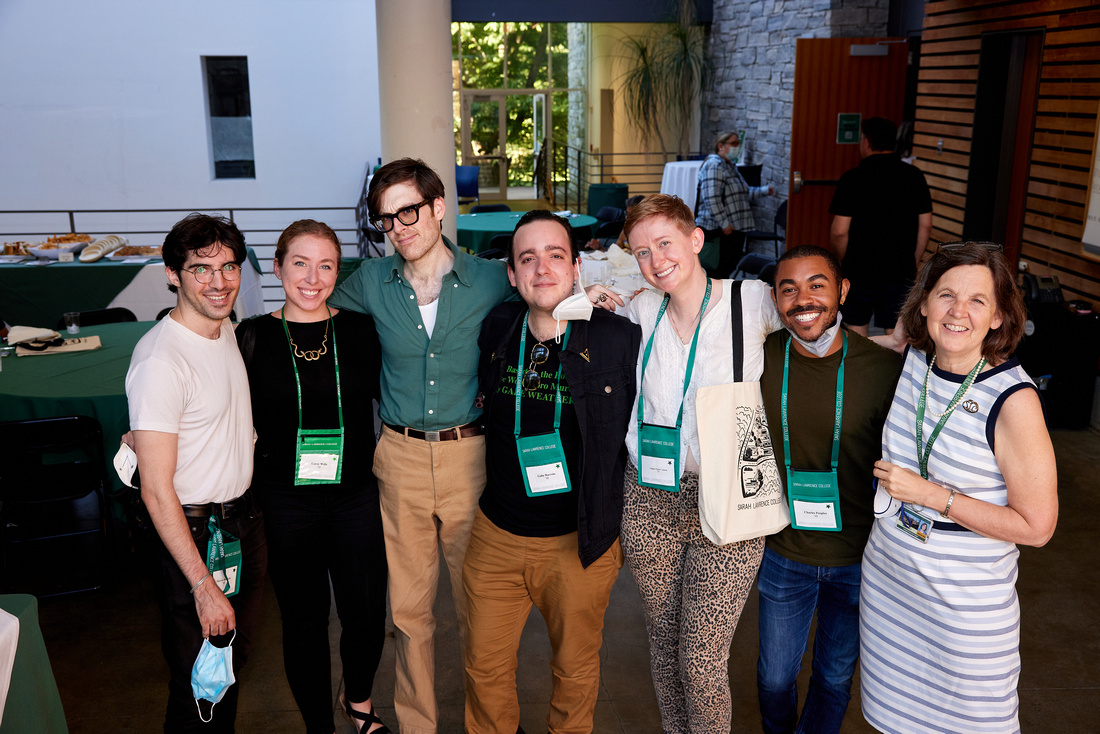 Last weekend, I had the pleasure of welcoming alumni back to campus for Reunion—our largest-ever Reunion—as nearly 700 alumni returned to campus to reconnect with each other and with the College, and even more joined us online for hybrid events. We were especially glad at last to again celebrate the milestone 50th reunion class in person. We also had a special welcome back to some of our most recent alumni, the classes of 2020 and 2021, who were able to enjoy their long-delayed senior cruise. I hope you'll read our Reunion recap and scroll through the photo gallery to enjoy some of the memories from.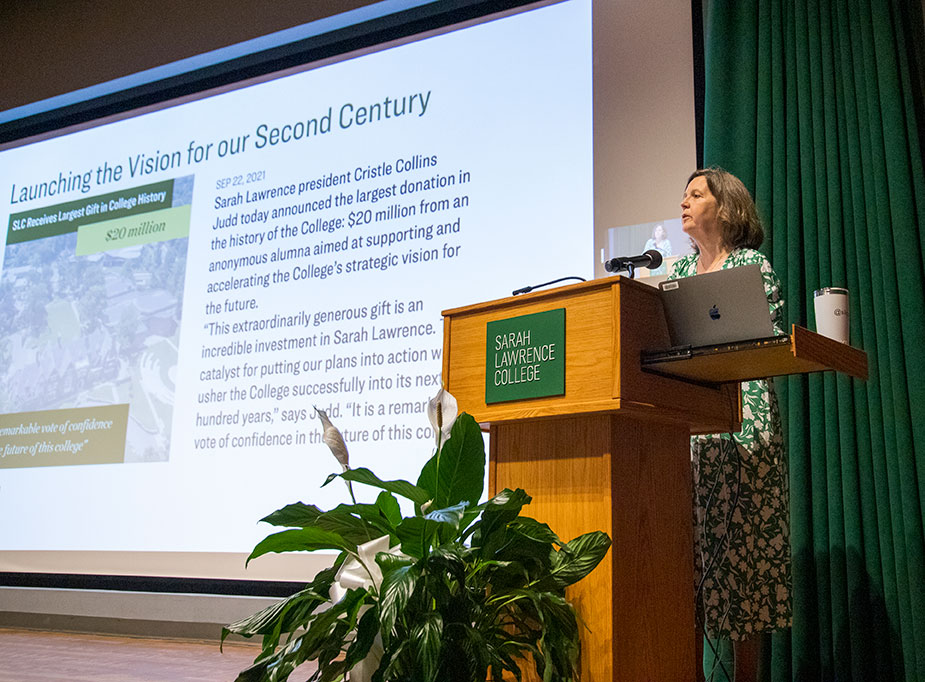 One of the highlights of Reunion weekend for me is the "Year in Review" presentation I share each year. I always find it a bit astonishing to look back on the academic year month-by-month and to be reminded of all that has happened; we're aware, certainly, each day of the volume of work and activity being undertaken by our community, but seeing it all together it's hard not to pause and say, "what a year!"
My Instagram served as a diary of sorts for my presentation: the fall and spring semesters and all the planning and preparation they entailed, campus traditions, student work, faculty news and achievements, and the ways in which we are placing ourselves in our neighboring communities. It was a good opportunity to reflect back on some lessons from the pandemic—on how some things we had to do in response to COVID helped us identify things we will continue to do going forward. 
I also talked about a number of transitions that are underway. As you know, our academic year event series in 2021-22 bore the theme Belonging. When we conferred an honorary degree on author and trans rights advocate Jennifer Finney Boylan during Commencement, she delivered powerful remarks centered on the notion of belonging, providing a fitting conclusion for that series. At the same time, our Commencement speaker, historian Douglas Brinkley, used moments from history to impart life lessons for our graduates. This was a bookend of sorts, providing a prelude to our theme for the 2022-23 academic year event series: History Matters. Briefly, this series intends to delve into the "matters" of history while putting into context why understanding history matters so critically. Proposed by incoming Associate Dean Lyde Sizer and History faculty member Matthew Ellis, a full slate of events is being planned for the upcoming year.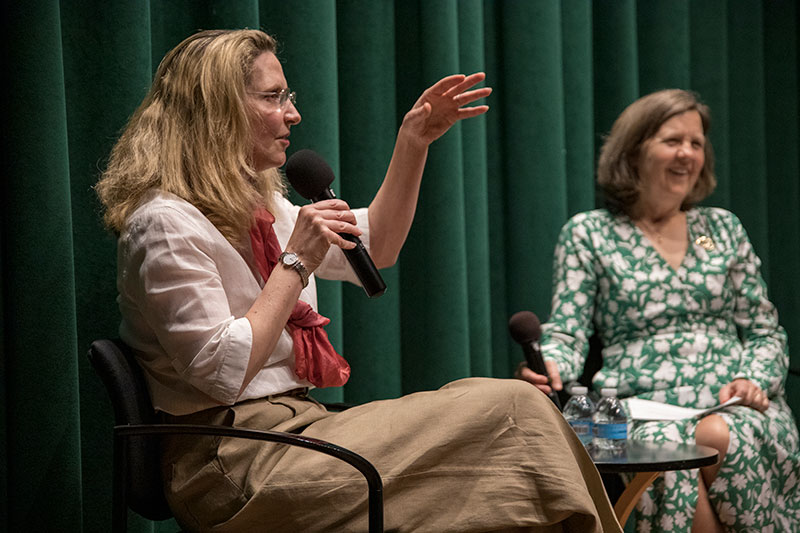 One special event from this year's Reunion also helps lead us into the History Matters series. I had the pleasure of sitting in conversation with Dr. Amanda Foreman '91. A renowned historian, columnist, and best-selling author, Amanda spoke about her upcoming book, The World Made by Women: A History of Women from the Apple to the Pill, and her documentary series, The Ascent of Woman. You can watch the conversation here.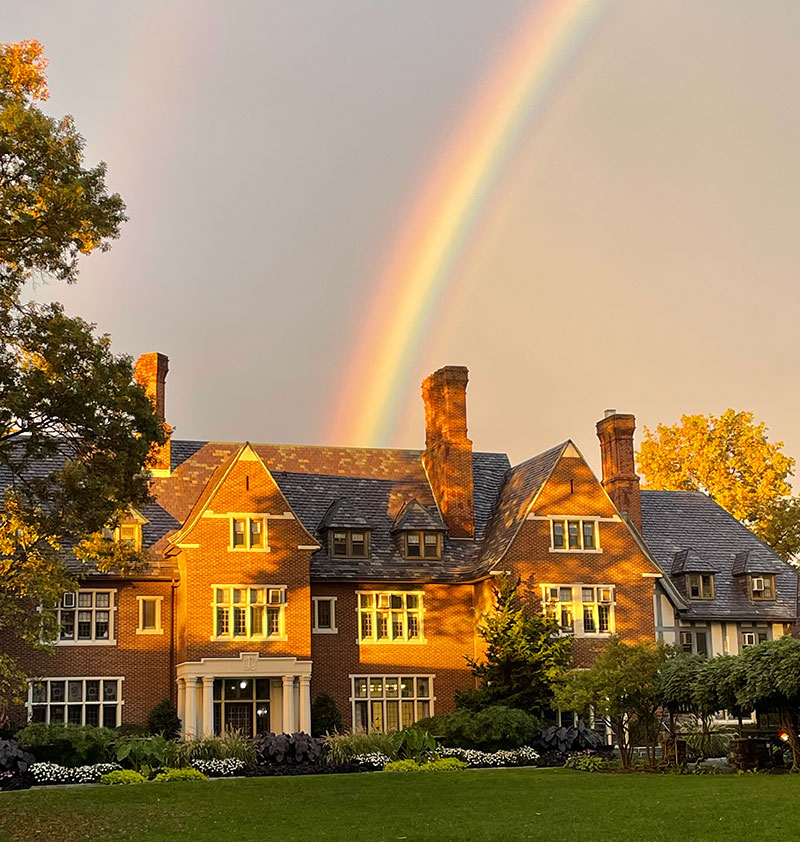 I'll conclude my note to you today the same way I concluded my "Year in Review": with this photo, one of my favorites from this year, of a stunning rainbow over Westlands in late October. Metaphorically it captures the year now behind us: we've been through quite a few storms, and we've weathered them well. We've not only reacted to the challenges before us, we've kept our eyes focused on the future. While we know there are many challenges still ahead, Sarah Lawrence has a path, it has a plan, and most importantly, it has you. I thank all of you—our devoted alumni, faculty, staff, parents and families, and of course our students—for all you do for SLC.
Yours,
Cristle Collins Judd
President
president@sarahlawrence.edu
Instagram: @slcprez
---
Recapping Reunion
In case you missed it, you can watch my "Year in Review" presentation online here. You can also read a recap of Reunion and view or download a photo gallery from the weekend,. And be sure to visit the Reunion Kudoboard to share and see photos, videos, and memories from Reunion 2022. It's a great way to keep the Reunion magic going!
News from the Board
I want to extend my deepest thanks to the College's Board of Trustees. They are an extraordinarily devoted group who have been instrumental in seeing the College through these past two years, and I count myself lucky to have their unwavering support. You can catch up on the latest Board news here.
Summer Hiatus
As is customary, From the President's Desk will go on hiatus for July. I wish you all rest, relaxation, and good health, and look forward to being in touch with you at the start of the next academic year.
---