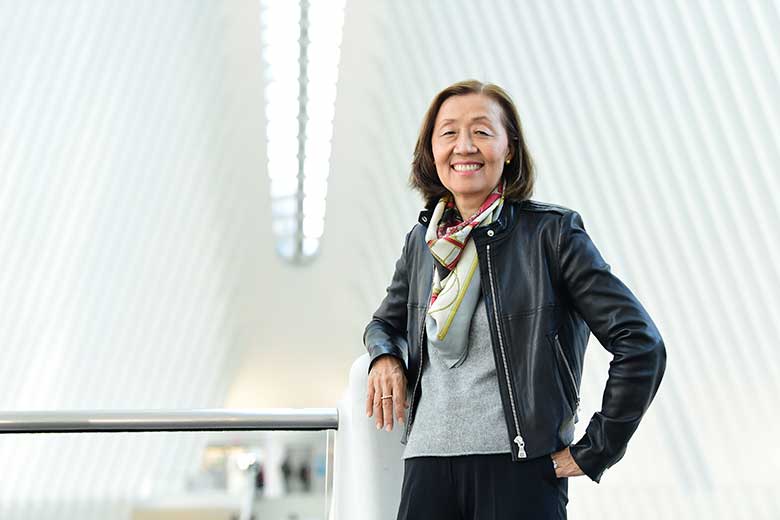 Kathy Yeu P'15, a professional coach and personal branding expert, typically works with top executives and creatives to help them define themselves and their products. Recently she also has been helping her daughter, Michelle Nigro '15, and her friends navigate the tricky straits of their nascent careers, and as a Sarah Lawrence College parent and donor, it occurred to her that there likely were Sarah Lawrence students who could also benefit from her skills.
Kathy is the founder of LEAP, a branding and coaching consultancy. "LEAP stands for 'live and embrace your authentic person.' It's very different from corporate branding because it is first delving deep into a self-discovery process," she says. "Figure out who you are, and then develop the language and imagery to share and live that brand across different aspects of your personal and professional life."
Kathy was introduced to Angela Cherubini, director of Career Services, who suggested Kathy offer a master class in personal branding for students in the internship practicum course, "Foundations in Workplace Culture & Well-Being," initiated by her office. Angela's team works closely with course faculty member Meghan Jablonski to support the students at their internship placements.
In the master class, Kathy gave a presentation specifically tailored to students to help them identify, integrate, and embrace their core values. She also shared insider tips on how to make their professional presence on LinkedIn more effective. "LinkedIn is a critical tool for networking and development," Kathy says. "If people want to look you up, it's where they will go."
"Personal branding can make students feel like they're being forced to pick one passion over another," says Angela, "which is why it was so helpful to have Kathy talk to students about how they can be their authentic selves, particularly on social media, without sacrificing what makes them unique."
Following the class, Kathy offered one-on-one coaching sessions to the students. In her session, Deena Zamman '23 expressed reticence about contacting Dave Porter '94, a successful alumnus whose work she admired. Dave is an award-winning composer who created some of the most memorable music of the Breaking Bad and The Blacklist television series.
"I told Kathy I was a composition student and she said, 'Haven't you already written music?' I told her I had and she said, 'Well then you should call yourself a composer, not a composition student.' That was powerful," Deena says. "Kathy helped me take my work more seriously, and encouraged me to reach out." The Career Services office connected Deena with Porter directly. "We had a great conversation," she says. "Dave was very friendly and helpful. He gave me a lot of practical advice about the business, and told me to stay in touch."
"It was very gratifying to be able to offer my abilities to help people at Sarah Lawrence," Kathy says. "Sarah Lawrence has continued to evolve with classes like this internship practicum, which helps students apply their liberal arts education to 'real world' opportunities. It gives them ways to connect so when they graduate, they're prepared."
***
Related Reading:
Career Services Wins Creativity & Innovation Award for Yearlong Personal Branding Initiative
---