Sarah Lawrence College's Office of Career Services will be honored with an Alva C. Cooper Award for Best Practices in Career Services from the Metropolitan New York College Career Planning Officers Association, an organization comprised of career services professionals from over 60 colleges and universities in the metropolitan New York area. The Sarah Lawrence team will take home the "Creativity & Innovation Award" in May for its yearlong efforts aimed at educating students on personal branding. It is the sixth best practice award for Sarah Lawrence's Office of Career Services since 2010.
"Receiving this award is a true honor," said Angela Cherubini, Director of Career Services. "But even more rewarding is knowing that our programming is making a real and demonstrable impact on our students' professional development."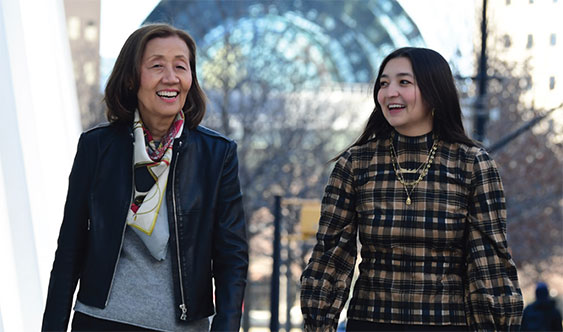 The Office of Career of Services has increasingly focused on the importance of Sarah Lawrence students marketing themselves professionally across platforms, offering personal branding appointments and recruiting experts from the College's faculty and staff community and its network of alumni, parents, and friends to advise students on how to own and hone their online profiles. In the fall 2021 semester, Career Services connected Kathy Yeu, parent of alumna Michelle Nigro '15 and founder of LEAP to Brand, with Psychology faculty member Meghan Jablonski to offer a master class on personal branding within Jablonski's undergraduate course Foundations in Workplace Culture & Well-Being, an internship practicum. In addition to offering the 90-minute master class in October, which she adapted from a presentation she regularly gives to corporate clients, Yeu met with students individually for one-on-one consultations. Inspired by Sarah Lawrence's focus on personal branding and helping students establish a professional identity, Yeu made a $25,000 donation to start the Kathy Yeu and David Nigro Fund for Career Development, helping to greatly expand career programs and initiatives each year.
"It's nice to see the great progress Sarah Lawrence has made in the level of career advice and support it provides to students," said Yeu. "Between the practicum taught by Meghan and the events and services organized by Career Services, students are well on their way to diverse, fulfilling careers."
(Related Reading: Making it Personal: Kathy Yeu P'15 Partners with Career Services to Set Students on a Path to Professional Success)
In addition to the partnership with Yeu and Jablonski, Sarah Lawrence's award-winning, yearlong focus on branding included a variety of programs and initiatives organized in collaboration with staff and faculty across many areas of the College. These included:
"TikTok, Instagram & Clubhouse: Leveraging Emerging Media for Career Success," an event organized in partnership with the Office of Alumni Relations that featured alumni experts in emerging media and an opportunity for students to have their headshot taken by a professional photographer.
Partnering with two student groups—the Pre-Health Alliance and THRIVE, a mentoring program for students of color—to help their members get professional profiles up and running LinkedIn.
"Polishing Your Profile: A LinkedIn Workshop," organized in partnership with staff from the Library and The Learning Commons and aimed at showing undergraduate and graduate students how to create a dynamic LinkedIn profile to leverage internship and job opportunities.
Career Services' annual Spring Internship, Career & Volunteer Fair returned in person after a COVID-induced virtual hiatus, and included a second opportunity for students to have their headshots taken by a professional for use on social and professional networks.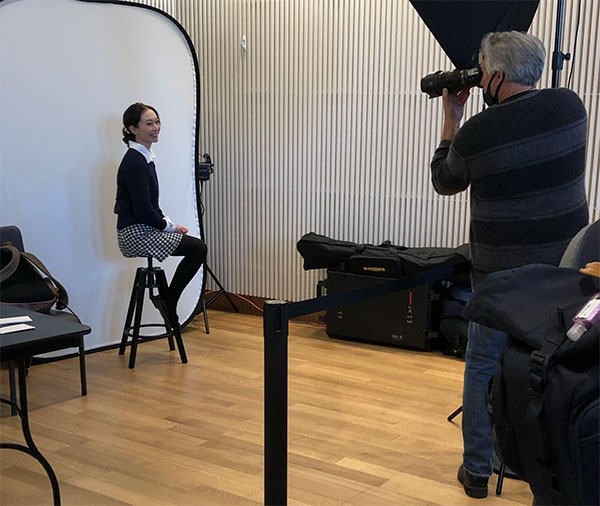 As a result of Career Services' efforts, as of this writing more than 720 Sarah Lawrence students have LinkedIn accounts—approximately half the undergraduate student body. Many of these profiles boast a professional headshot, taken at SLC. This is a key element of professional development, says Jamie Jordan '19 MFA '23, Assistant Director of Career Services. "According to LinkedIn, members with headshots are 9 times more likely to get connection requests, 21 times more likely to get profile views, and 36 times more likely to get messages," Jordan said. "By providing opportunities to have a professional headshot taken, we've eliminated a cost barrier and made a strategic investment in our students."
To learn more about the Office of Career Services, including how members of the Sarah Lawrence community can get involved, visit sarahlawrence.edu/ocs.
---