Dear Members of the Sarah Lawrence Community,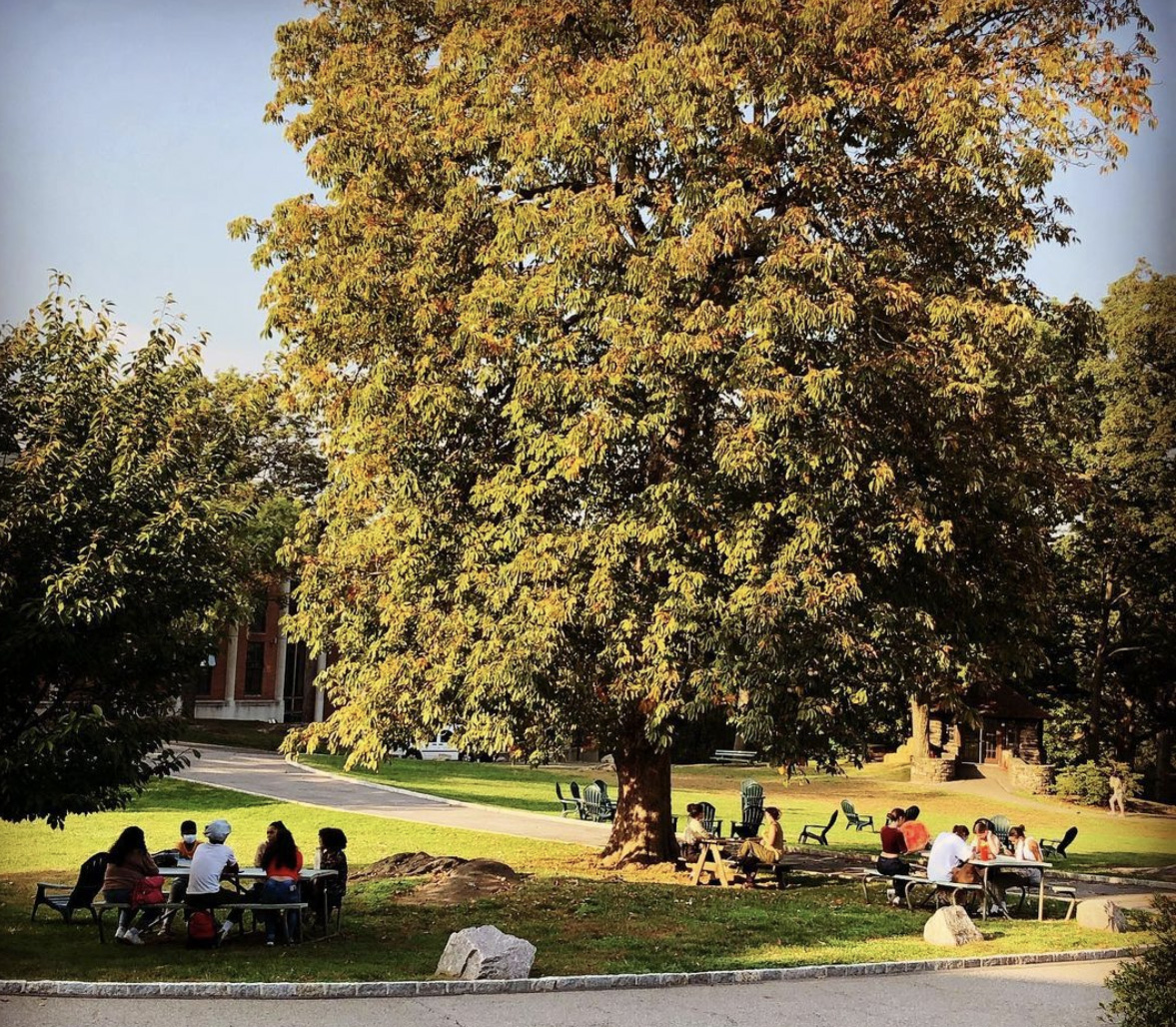 As we pass the midpoint of the fall semester, the arrival of cooler weather and changing leaves is accompanied by a quickening pace that will continue to accelerate to the last day of classes: an ever richer schedule of games, performances, talks, exhibits, and events along with a steadily increasing flow of students in and out of the library, the labs, and the studios as classwork and conference work culminate in final papers and projects.
I'm often asked what it feels like to be back to a fully in-person campus. The mild weather we have enjoyed this fall has, quite literally, allowed us to turn "inside out". Much that in the past would have occurred out of sight, behind closed doors—classes, conference meetings, study sessions, student interest group meetings, open mic nights—has instead been out of doors, visibly dotting the landscape of the campus, which has never seemed so full of life. This is a welcome change for us all, and overwhelmingly I would describe the sense of the semester—COVID-related protocols and challenges notwithstanding—as one of enormous energy and excitement, genuine gratitude to be here, and a thirst for engagement. We see it among our students in many ways, including the highest participation rate in clubs, athletics, and volunteer activities that the College has ever experienced. Yet at the same time, but not at all surprisingly when one thinks about it, the level of anxiety among our campus population is also high.
As we planned for this fall, we knew there was no turning the clock back to a pre-COVID time, and so we have intentionally focused on what it means to reconvene after so many months of dislocation, when students are eager to connect with others, but also, like all of us, out of practice at doing so, and at times fearful and uncertain. It can be quite shocking to return to a very full and visibly vibrant campus from the relative isolation in which many of us lived for an extended period, and to return to a campus that is not exactly the one you left abruptly a year and a half ago.
As I shared with families at our virtual family weekend this past Saturday, our residential student community is at a unique moment in the history of this College. The class of 2022 left campus during their sophomore year and returned as seniors, but without many of the usual intervening experiences. Most of our juniors, who left before the end of their first year, have yet to experience an entire year on campus. Our sophomores had perhaps the most disparate experience last year, when as first-year students many lived on campus for all or part of the year, but in a radically different way, without roommates, with dining that was often grab and go, when most teaching was virtual, building access was restricted, and many spaces were not used in their usual way. And while our first-year students arrived this September to begin a somewhat "normal" semester, they face all the usual challenges of first-years—learning how to navigate college life; "getting up to speed" on all things SLC; finding their place in this community—along with experiences before arrival that were anything but normal. Indeed, many of our first years saw the campus in person for the first time when they moved in.
All of which is to say that we are still figuring it out together, and we will continue to do so in the coming weeks and months. We have the good fortune to be a community that recognizes the efficacy of vaccines and the common sense of mask wearing indoors as providing an extra layer of protection, even as we tire of it. Our implementation team continues to focus on data-driven decisions, acting on the best information that we have, taken in the context of the particularities of our campus and surrounding community. And, thankfully, we continue to experience very low rates of viral transmission in our goal of ensuring a safe and uninterrupted semester for our students. As always, I encourage you to visit our semester information site, which continues to be a repository for information for the fall semester and, as planning ramps up, the spring 2022 semester as well.
Pre-pandemic, in conversations about our values and vision, the College identified "creating a community that is diverse, equitable, and inclusive" as a core value, but a value that remained too often aspirational for us. We had already begun the hard work to address a sense of isolation that sometimes dogged our students and a campus culture that at times could be hard to break into, and set ourselves the task of answering the question: What does an authentically "Sarah Lawrence" culture look like that feels inclusive for each and every one of our students? To be clear, we are not finished with this work, but I want to share with you some of the ways we are undertaking it and invite you to join us this year in a conversation on "Belonging".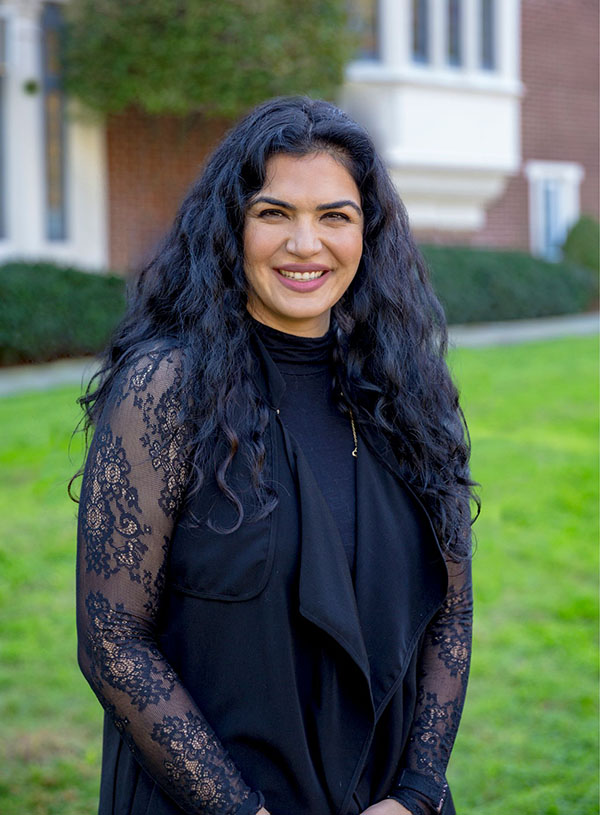 In the summer of 2020, recognizing how challenging the transition to Sarah Lawrence would be for the Class of 2024, we introduced a series of related programs to help acclimate our first years before they arrived at the College. These were designed in response to input from our current juniors and seniors and others before them about their experiences coming to campus. They included partial credit summer courses, a First Year Reads program, and Belonging at SLC, which helps introduce students to life at the College. Building on these efforts, we recently established the position of First Year Dean to further support our newest students, and Nahal Kaivan, PhD, joined us earlier this month in this role. Nahal comes to Sarah Lawrence from Duke University, where she served as an academic dean, staff psychologist, and in other positions focused on the premise that optimal mental health and wellness create the necessary conditions for student thriving and success.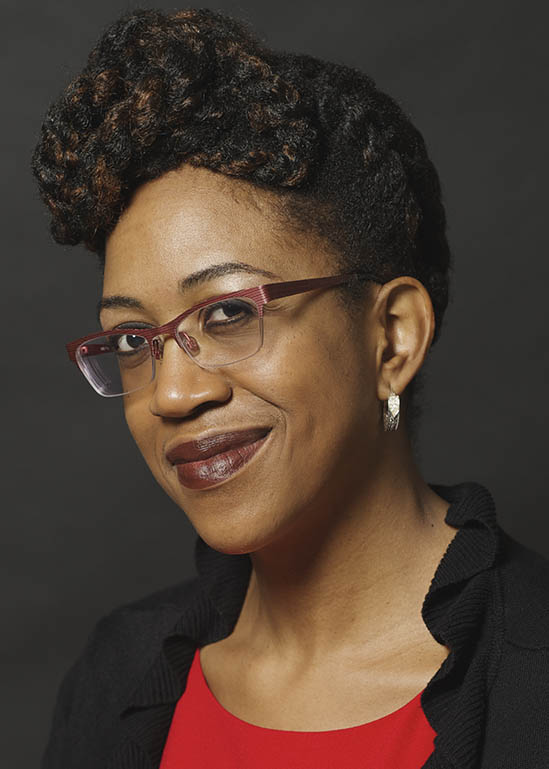 While we know that the challenges of feeling isolated can be particularly acute for first year students, they also extend to others. Simply put, working across all dimensions to help all members of our community feel a genuine sense of belonging is a critical focus for Sarah Lawrence right now. Ifeoma Kiddoe Nwankwo, our new Vice President of Diversity, Equity, and Inclusion, is a key leader in this work. She is spearheading this year's event series on Belonging, which kicked off last month with a conversation with Charles Yu about his book, Interior Chinatown. Next up is an event that will give you a chance to "meet" Ifeoma and hear her thoughts on the meanings, challenges, and possibilities of Belonging—past, present, and future. She'll be in conversation (virtually) this Thursday, October 28, at 5:30 p.m. with Lisa Coleman, New York University's inaugural senior vice president for global inclusion and strategic innovation and its chief diversity officer, and all are welcome to attend. Read more about this and other upcoming Belonging events on our website.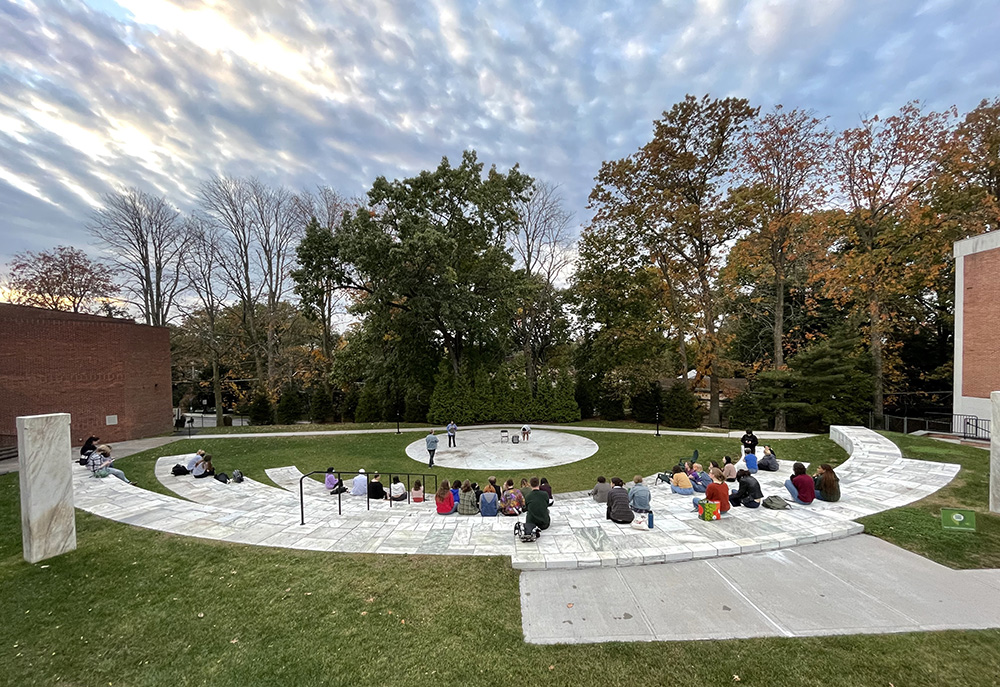 The two newest spaces on campus, the Barbara Walters Campus Center and the Remy Theatre, continue to prove instrumental in our ability to navigate COVID and it is a joy to see these spaces serving as vibrant hubs for activity, as places for serendipitous encounters with people and events, and as focal points for greater participation and engagement. Just before the pandemic we were excited to develop plans to renovate the Siegel Center as a new home for Common Ground, the LGBTQIA Space, and the Spiritual Space, along with kitchens for student use (one of which would be Kosher/Halal), a food sharing space, and offices for student engagement and DEI staff. We are eager to re-engage these plans and to secure the donor support necessary to bring this project forward as a key effort in our work on diversity, equity, and inclusion.
There will be more for me to share with you across this year as we move ahead on this critical work, but I know that as I write about "belonging", there are those in our community who will rightly point to times and situations in the past and the present where they believe the College has fallen short. We have, and we have to do better. But I hope you will agree with me that the aspiration to be a deeply inclusive community calls not just on "the administration", but on all of us. Many—staff, faculty, students, and alumni—are already engaging with one another to explore where we are as a community and where we are heading. I hope you will join in this vital work and I look forward to sharing with you in conversations and at events across this academic year.
Yours,
Cristle Collins Judd
President
president@sarahlawrence.edu
Instagram: @slcprez
---
Recent Announcements
Family Weekend
I enjoyed connecting, albeit virtually, with the parents and families who joined us on Saturday for Family Weekend. If you were unable to join us or would like to revisit some of the sessions that were held, visit the Family Weekend site for videos of the day's events.
Remembering Sara Wilford '72
I was saddened to learn of the passing of Sara Wilford '72, an alumna, faculty member, and program founder and director at the College for more than 30 years. Sara devoted her life to helping everyone she encountered, and she will long be remembered by all of us at SLC.
Go Gryphons!
Congratulations to the women's tennis team on winning the Skyline Conference Championship! The milestone marked the first Skyline Championship for the women's tennis program and the first Skyline Championship for any SLC team. Isabella Hardman '23 was named the Most Outstanding Player of the conference tournament.
The Learning Commons
This fall, The Learning Commons opened in the Esther Raushenbush Library. Born of a virtual learning commons that emerged during our period of remote learning, the new physical space is a convenient, central location for academic support services aimed at narrowing gaps that may exist in our students' educational backgrounds and experiences.
Peppermint at SLC
Last Wednesday, the Diversity, Equity & Inclusion team and Sarah Lawrence Theatre presented a special event featuring renowned drag queen and activist Peppermint. Hosted by Sarah Lawrence alum and fellow drag queen Julie J, the event was followed by a show from the SLC Drag Union. Watch the video
Events Calendar
There are a lot of terrific events coming up in the last half of the semester, many virtual and open to all. See what's ahead at slc.edu/events.
Semester Information Site
We continue to use our Semester Information Site as a way to communicate policies and procedures related to COVID-19, as well as test results and information on students in isolation and quarantine. We'll also use this site to push out information on the spring semester as our plans ramp up.
---