The Esther Raushenbush Library has long been known as a building filled with invaluable resources—stacks filled with books and journals, knowledgeable and accessible librarians and support staff, even the College Archives and all the history it houses. Now, the library is home to a brand new resource designed to support students throughout their time at Sarah Lawrence: The Learning Commons.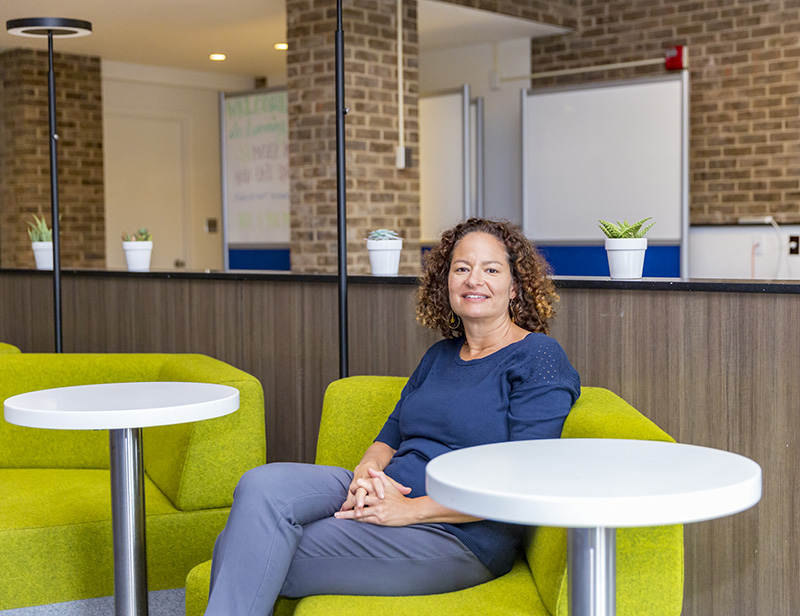 Nestled in a quiet, welcoming corner of the library's first floor, complete with an outdoor patio, The Learning Commons opened as a physical space at the start of the fall 2021 semester. But it got its start in the virtual space in 2020, spurred in large part by the COVID-19 pandemic. "We [in the Dean of Studies office] had been discussing ways to bring our academic resources together in a more connected way," says Rachelle Rumph, Associate Dean of Studies and Director of The Learning Commons. "When the pandemic hit it brought with it a greater urgency to give students a one stop shop for all the resources available to them. With classes shifting online and our student body being so dispersed, a Virtual Learning Commons allowed us to meet our students where they were."
Rumph worked with library staff, in particular librarian Kristina Bucher, to create a website that pulled together the most commonly used academic support resources—namely writing, math, and science mentoring and tutoring—along with popular workshops on topics such as time management and study skills. An online appointment system was created to make access to services and programs easier, and helpful external resources were also presented on the site. The Virtual Learning Commons proved to be a popular asset immediately, with the site seeing heavy traffic and students and faculty alike lauding the convenience of having so many resources easily available in one space.
Building on the success of the Virtual Learning Commons, and in looking ahead to the campus community coming back together in person in the fall of 2021, Rumph set out to establish a physical Learning Commons. With support from Bobbie Smolow, library director, it was determined that the Esther Raushenbush Library, with a space available on the first floor, was the ideal location: students working on a paper or studying with a tutor are just steps away from books, journals, reference librarians, and any other resources they may need.
Officially opened at the start of this semester, The Learning Commons is guided by its mission statement: to deliver "comprehensive and inclusive academic support services that meet the needs of a vibrant and diverse student body" by providing "a wide range of helpful resources that will enable all students to thrive within the College's unique pedagogical structure."
One such resource is the College's longstanding Writing Center. Led by director Carol Zoref and assistant director Kevin Pilkington, both members of the College's writing faculty, the Writing Center gives undergraduate and graduate students the chance to discuss, practice, and refine their writing skills—skills that are crucial across the curriculum at SLC. A team of students from the College's MFA Writing program serve as mentors, and an ESL/EAL instructor/grammarian provides support for students whose first language is not English, as well as those who just want to brush up their grammar and punctuation skills.
Academic support for students enrolled in science and mathematics courses is also on offer at The Learning Commons. Under the direction of Associate Dean of Studies for Preprofessional Advising Melinda Perlo Cohen, The Learning Commons uses a peer tutoring model that employs undergraduates, and students work in small groups to review topics covered in biology, computer science, general chemistry, organic chemistry, and physics. In addition, the Pre-health Program leads regular student-led study groups centered around a multitude of science and math courses. A "satellite office" of The Learning Commons—specifically, the Prehealth Programs Community Space—is tucked on the third floor of Bates, offering a comfortable and popular spot to relax, grab a cup of coffee, and study with friends in between classes.
"Peer tutoring is a great fit for our students, one that benefits both those seeking and offering academic support," said Rumph. "For students seeking some extra help, they get that from peers they may know or have crossed paths with. And our tutors are getting a job opportunity and real world leadership and teaching experience."
Rumph plans to grow The Learning Commons and expand its offerings as the academic year goes on, including offering peer tutoring in the languages. With the help of the Dean of Studies staff she also plans on expanding The Learning Commons website to include instructional videos and hands-on digital resources that students can access at any time. She  welcomes ideas and suggestions via email.
Rumph has high hopes for the role The Learning Commons will play on campus and the impact it will have on students for years to come. "Our students come from a wide range of backgrounds, but what they all have in common is that they're highly capable," she says. "Recognizing that not every student comes to SLC with the same educational experience, The Learning Commons is an opportunity to narrow gaps and level the playing field. We can make real strides in educational equity through the academic support we offer here, and, above all, that is my goal."
---