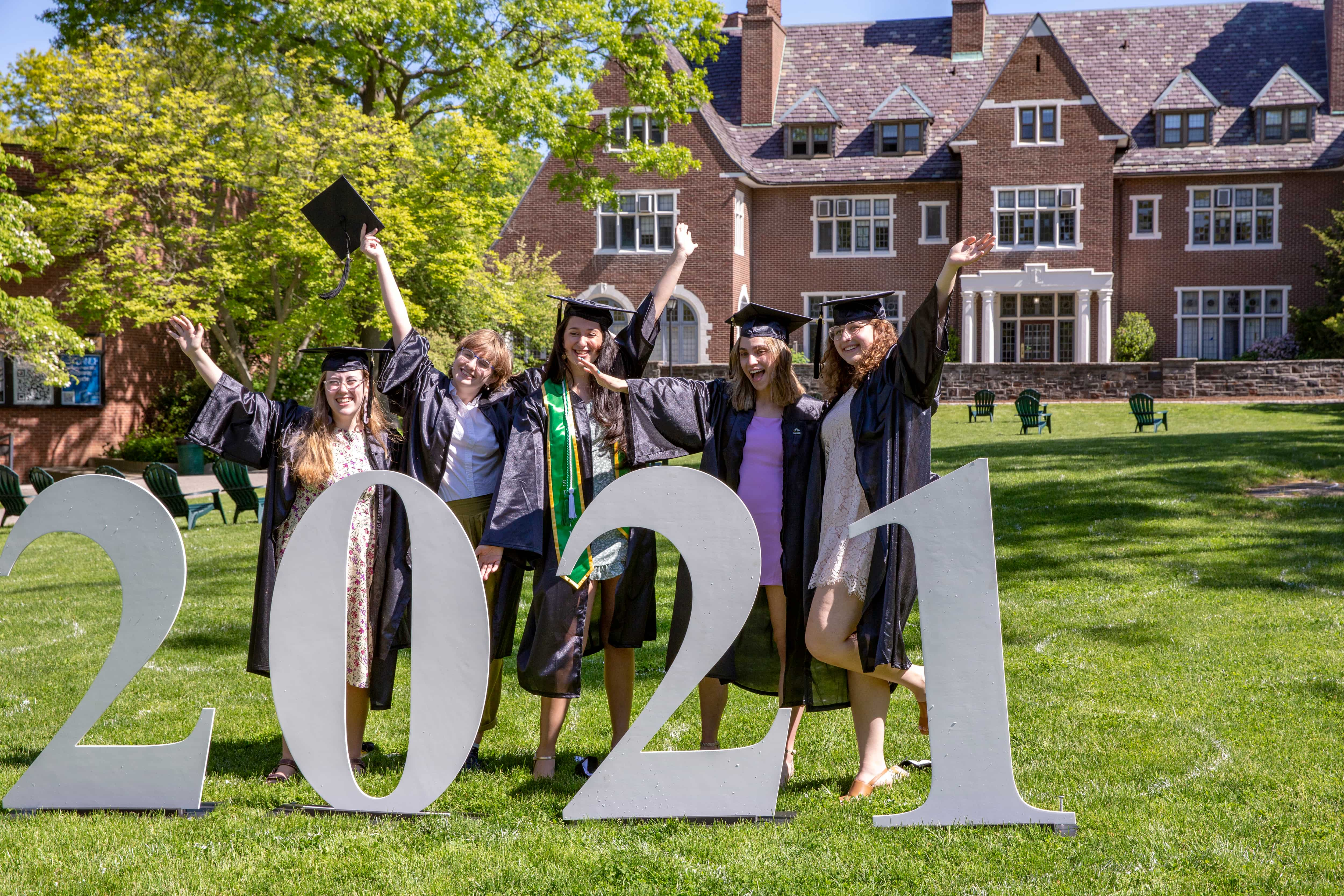 Friday and Saturday May 14 and 15 were met with excitement as the class of 2021 celebrated its accomplishments, finishing their coursework at Sarah Lawrence College and beginning the next chapter of their lives. 
From on campus and around the world - from Chile and China to Texas and Maine - more than 280 undergraduate and nearly 100 graduate students received their degrees this year in a ceremony that reflected the presence of a global pandemic, but also that the COVID-19 virus is slowly loosening its grips on New York. Both graduate and undergraduate ceremonies were virtual in order to ensure equity and safety for all members of the class of 2021, as well as their families, and represented the best of the College's theme of the last 15 months: "Sarah Lawrence Together." Videos of both the undergraduate and graduate ceremonies can be found here.
Undergraduate seniors who lived near or on campus were able to gather for an in-person watch party at the Barbara Walters Campus Center, made possible by a high student vaccination rate and extra COVID-19 testing administered by the College's Health & Wellness Center staff. Others joined from their homes surrounded by families and loved ones, and donning the regalia SLC mailed to all its graduates. During the ceremony, the class of 2021 was brought together through the power of technology, with the on-campus watch party and online participants live-streamed to each other.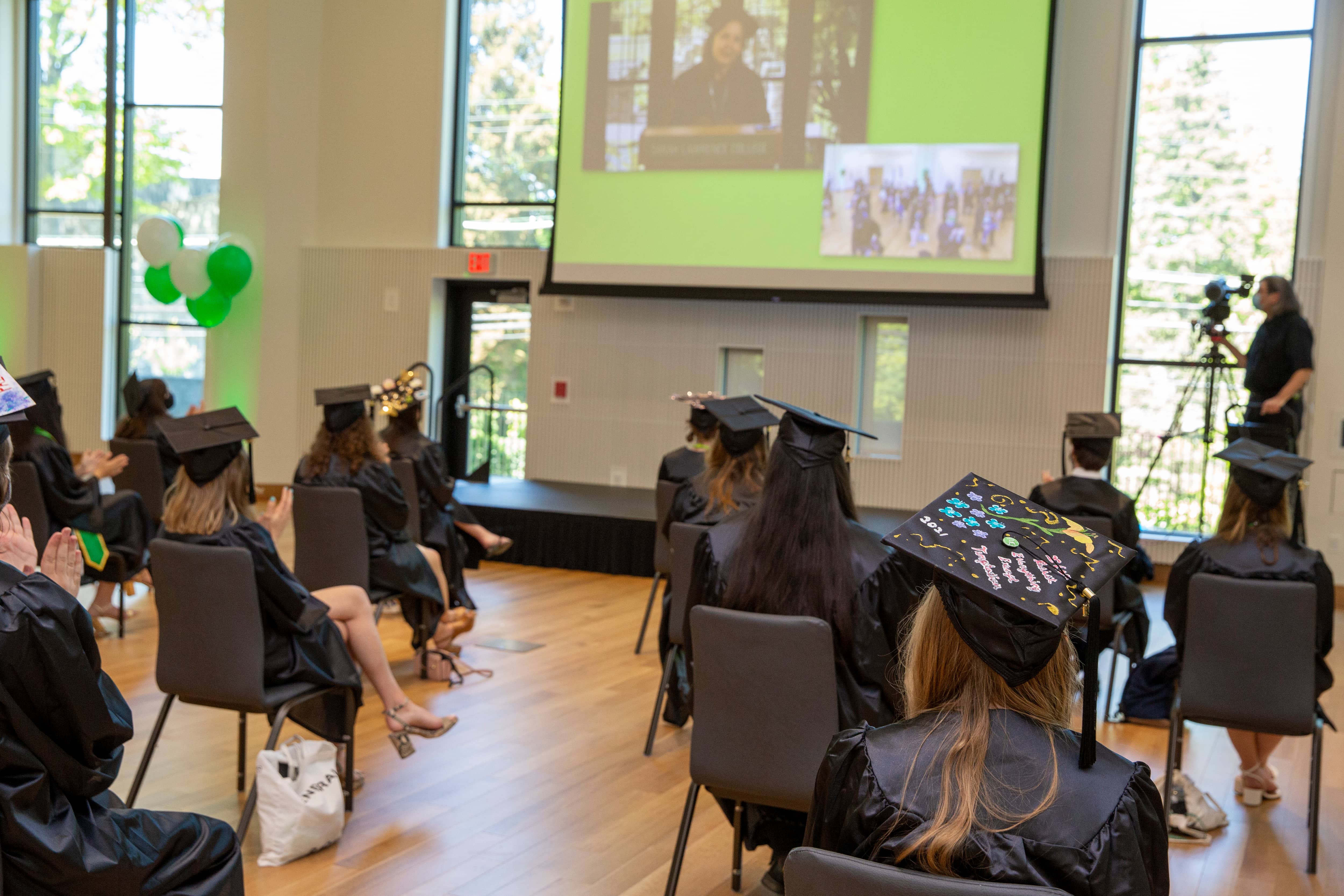 In her remarks to the undergraduate class of 2021, President Cristle Collins Judd highlighted this class's unique resilience, and the opportunity that lies ahead. "Your ability to make a path, to collaborate with others to connect your passions to create your future—and to be nimble enough to recreate it—is an extraordinary opportunity, experience, and accomplishment that very few college students are privileged to have," she said. "Here's what I hope you will hold on to from that: inventing yourself with the assistance of your don and others has given you the foundation and the ability to continue to adapt and reinvent yourself in the face of rapid, often unpredictable change."
This sentiment carried across both ceremonies. In President Judd's remarks to the graduate student class of 2021, she reminded them of their responsibility to help a healing world. "As the world recovers from the pandemic, the importance of compassionate healthcare providers and exceptional teachers is paramount," she said. "The prolonged absence of Broadway and book tours, and live music and dance, has again highlighted our fundamental need for these inspirations that feed our souls. It was a poet in January who captivated the nation… Teachers, who reimagined classroom design and course curriculum so they could continue to serve their students. Dancers who built distance into their movements to reflect this moment. Healthcare workers who, surrounded by sickness, brought humanity to their patients. And theatremakers, with stages illuminated by only a ghostlight, who created and shared their art in ways previously unimagined and created entirely new ways of being together across time and space."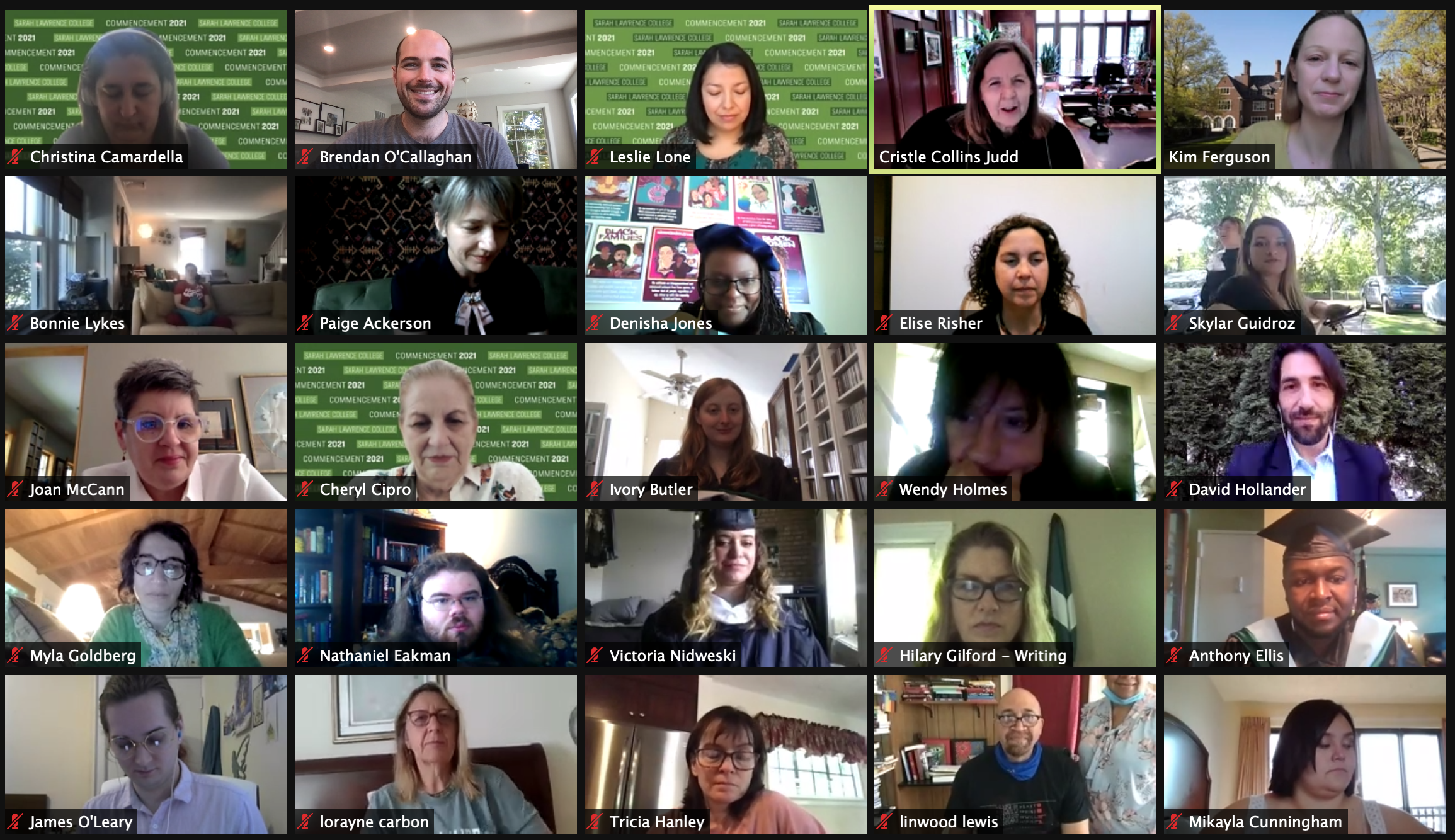 Indeed, Sarah Lawrence graduates use their liberal arts education to empower others and connect their passions to create their futures, stepping ahead to medical school, law school, doctorate programs, finance, healthcare, teaching, performing, striking out on an unblazed trail, or pursuing all of the above.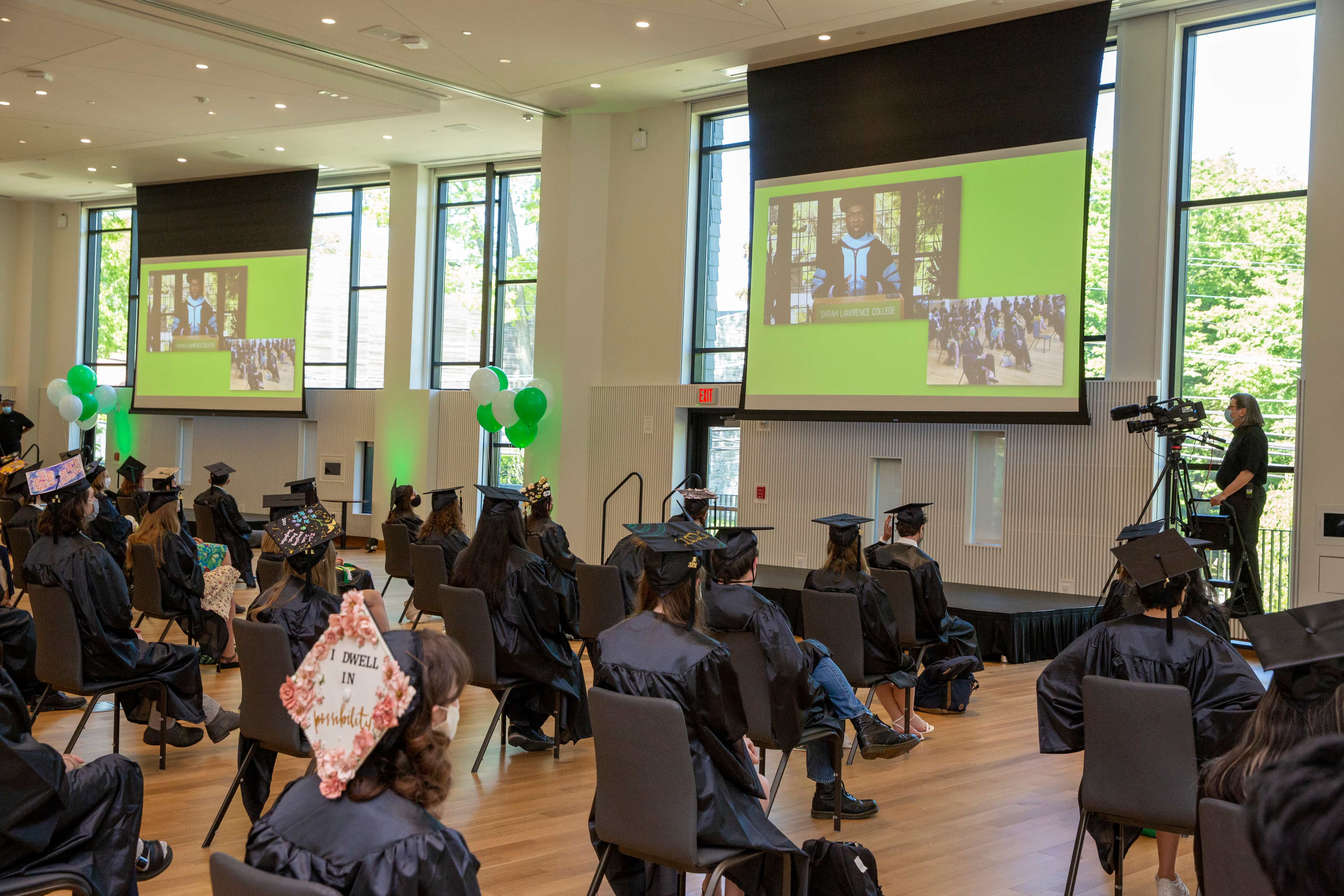 Congressman Jamaal Bowman, a lifelong educator whose district includes the College's campus, delivered the keynote address in both the undergraduate and graduate ceremonies, encouraging the newly minted graduates to use their skills and compassion to unlock the brilliance and potential in their communities. "We have seen the potential of the human race to accomplish unimaginable things in our current world," said Boman. "We watched in awe over the past year as scientists developed safe, life-saving COVID-19 vaccines at a record pace. We see great artists every single generation change the way we think about music, dance, food, and culture. We see groundbreaking academic work come from the hardworking scholars at institutions like yours."
Following the ceremonies, the newest members of the alumni community gathered with their faculty and friends, both virtually and remotely, to share each others' accomplishments and excitement and reflect on this momentous day.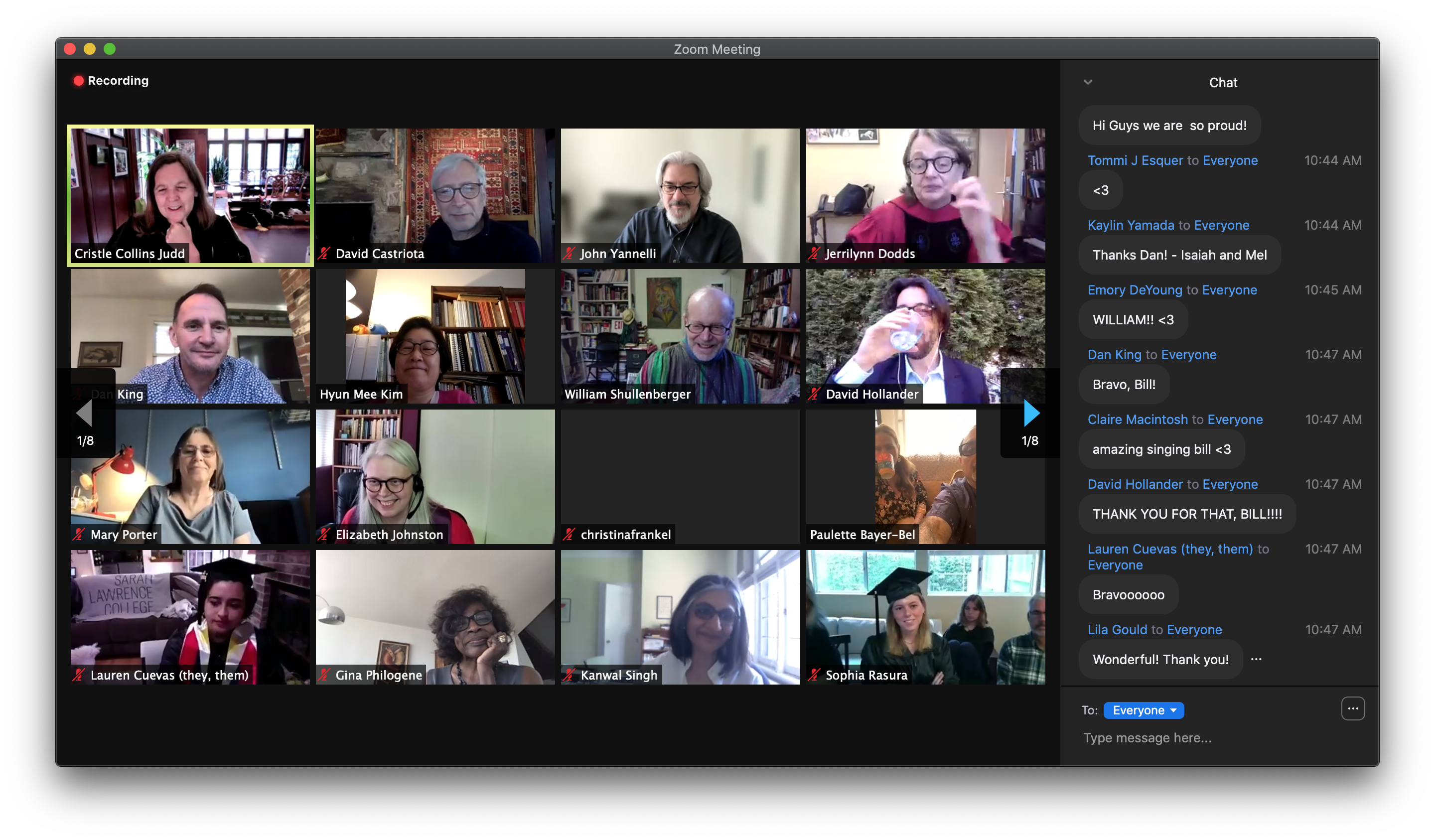 The undergraduate class of 2021 holds a special place in College history and in President Judd's esteem - the two arrived on campus at the same time in the fall of 2017 and have grown together the past four years. Her parting words to this special class calls on them to be Sarah Lawrence in the world. "This is my hope, my challenge, and my charge to you," Judd said. "Live into the promise of your Sarah Lawrence education. Continue to embrace intellectual and creative risks, to cross disciplinary boundaries with curiosity, nimbleness, and confidence, but also with humility, with humanity, with concern and compassion for others. Use your Sarah Lawrence education as global citizens not only for yourself, but to lead the way so that all can thrive in this complex and rapidly evolving world; you are uniquely prepared to contribute to society's well-being."
---