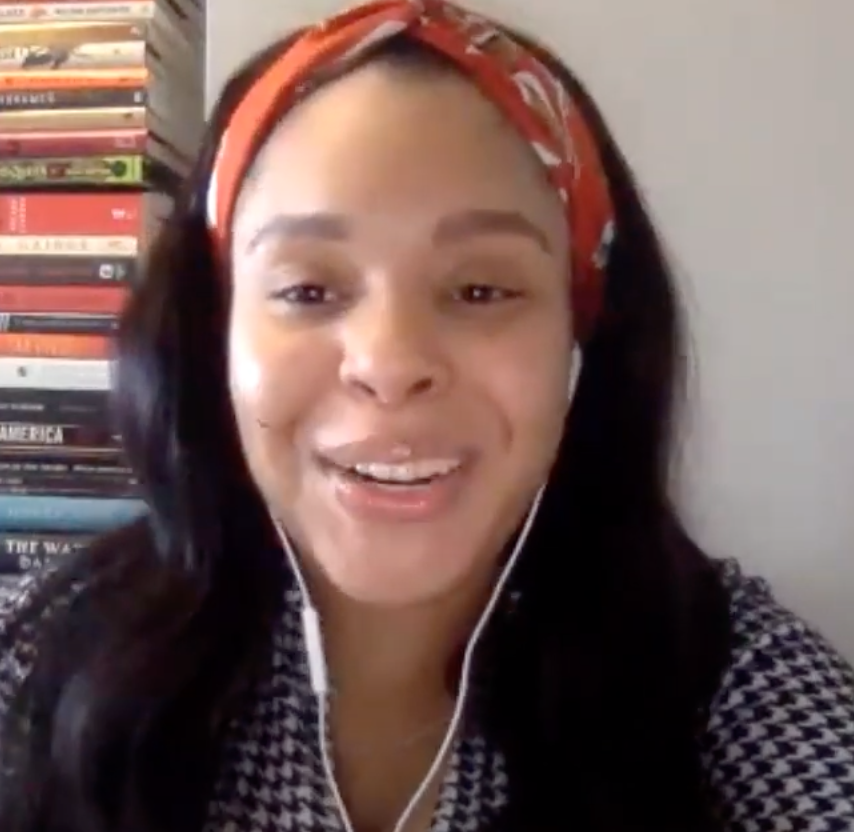 Storytelling and centering the people, places, and institutions that make up the fabric of a community is at the center of a new and innovative community partnership initiative led by Sarah Lawrence College to foster and cultivate civic engagement across Bronxville and Yonkers and the broader Westchester County region. 
Funded in large part by a five-year $1.2 million grant from the Mellon Foundation, this model for blurring the boundaries of higher education embeds Sarah Lawrence faculty members and humanities fellows in community organizations like ArtsWestchester, Bronxville Public Library and Schools, Center Lane Community Center, the Hudson River Museum, Wartburg, Yonkers Arts, Yonkers Public Library and Schools, and Young at Arts in order to directly provide their expertise and support these pillars in the community. Out of this collaboration, the stories cached in the memories of long-time residents come to life and the people and places at the foundation of this area's past, present, and future become central characters in a local history that holds a mirror up to decades of policy decisions made across the country and events from around the world.
"Sarah Lawrence is located at the border of two very different communities: Yonkers and Bronxville," said Melissa Frazier, Associate Dean of the College and a leader in the initiative. "The Mellon grant gives the College an opportunity to expand and reimagine its role as a convener and connector to the many partners and civic institutions across this divide. Through these collaborations, we also give our students a sense of place: these are our neighbors, this is the exceptional work underway, and you can be a part."
Oral histories and teaching the next generation of storytellers
At the Yonkers Public Library, Dr. Kishauna Soljour, a Sarah Lawrence College Public Humanities Fellow and faculty member, created the African American Oral History project that sought to tell and archive stories from the community, including an interview with Art of Teaching alumnus Dennis Richmond Jr., who has traced the history of his family to the antebellum north and south. While archiving and cataloguing these oral histories as well as a connected lecture series for public use, Dr. Soljour's teaching also extends to the future. Over several weeks in the fall, she taught interested youth from Yonkers the intricacies of sound engineering, which experts use to create podcasts, radio programming, and other forms of audio storytelling—documenting the past while also empowering the next generation to use their voices to tell their stories.
"Many people don't know the history of Yonkers," says Dr. Soljour. "What makes Sarah Lawrence and this endeavor so exciting is that we can be really creative in the stories we tell and ways we explore this history. It's been nice to work with students and community members and use their stories and interests as a way to bridge what they are seeing in the world and how those things have manifested in Yonkers' history." 
This spring, Dr. Soljour is teaching a course to Sarah Lawrence students entitled, "The City of Yonkers: Histories of Change, Continuity and Community" that explores Yonkers' story and how its peaks and valleys are intertwined with America's history and policy decisions. For conference projects, her students are creating podcasts that focus on specific components of Yonkers and its history, from politics to education - connecting students' interests and academic concentrations with the course's real-world subject matter.
Community and history woven through theatre
In late 2019, less than a mile up the river at the Hudson River Museum, Sarah Lawrence's Theatre and Civic Engagement program, led by Allen Lang, performed an original musical that told the story of Thomas Cole, a renowned Hudson Valley painter, in tandem with the Museum's exhibition of Cole's artwork. 
Building on the success of What Happened at Catskill Creek, Lang's and SLC's programming continues today in partnership with the Yonkers Public Library: "Our Yonkers, Our Youth, Our Stories'' is a virtual event series that explores essential youth programs in Yonkers, along with the amazing people who develop, create, and run them. Hosted by alumna and Yonkers resident Annie Lanzillotto MFA '90—a poet and storyteller—OYOYOS has highlighted Paul Kwame Johnson '74, co-founder of Youth Theater Interactions, a youth performing arts studio and education center in Yonkers, and has additional events scheduled for March 14 and April 11.
These programs "explore the role of the seer, the doer, and the visionary who makes a difference in our community by creating, leading, and developing essential and innovative programming that involves youth," says Lang. 
Digital storytelling and making this work available to all
Yeong Ran Kim, the College's Digital Media Fellow, has been working closely with Yonkers Arts, the Hudson River Museum, and Center Lane, a LGBTQ+ youth center to help tell their stories through digital media and to support collaboration with SLC students, faculty, and staff.
With the Hudson River Museum, Dr. Kim and Allen Lang are working with SLC students to curate a digital exhibit as part of the Museum's Landscape Art & Virtual Travel showcase. The student art, created during the pandemic, reflects the emotions of the era and students' experiences during this abnormal period of life. 
Building on Dr. Kim's work with public art exhibits, she directed a video for Yonkers Arts about their "Art in the Park" initiative, which seeks to bring the arts directly into community spaces by beautifying parks and basketball courts through murals, sculpture, and transforming natural landmarks in creative ways to become art themselves. As a component of this partnership with Yonkers Arts, Sarah Lawrence student artists will participate in the creation of these projects in the coming months.
On June 1, the first day of Pride Month, a video Dr. Kim created in partnership with Center Lane will debut and in July, she and Allen Lang will teach a week-long course about digital media and storytelling as part of the organization's annual youth summer camp, which is virtual this year, amidst the pandemic.
During the fall semester, Dr. Kim taught a digital media course called "Sonic Experiments: Listening and Queer Worldmaking" and is currently co-teaching a course with SLC literature faculty members Una Chung called "Archive of the Senses: Evoking Communnity through Perception." Long-term, Dr. Kim plans to create a website where all of the work completed as part of the College's civic engagement project is available to the public. 
What's next?
"This is our first full academic year with the Mellon grant and the College's fellows - we are excited to keep building on these efforts not only to create a more connected community, but also to strengthen our common threads for years to come," said Mara Gross, Director of Community Partnerships at Sarah Lawrence. "Opportunities for education, collaboration, and growth extend far beyond the classroom. This endeavor is long-term by design and not only helps to create a bridge between institutions and communities, but empowers these groups and our students to be active participants and to engage with one another – to work and learn together. 
"We are looking forward to welcoming two additional fellows who will start in the  2021-'22 academic year and who will be based at Wartburg in Mount Vernon and the Hudson River Museum in Yonkers," says Frazier. "Each fellow brings their own unique talents, interests, and expertise to the college and to our partner institutions. Together, we can continue to work to build community and expand our shared connections."
---