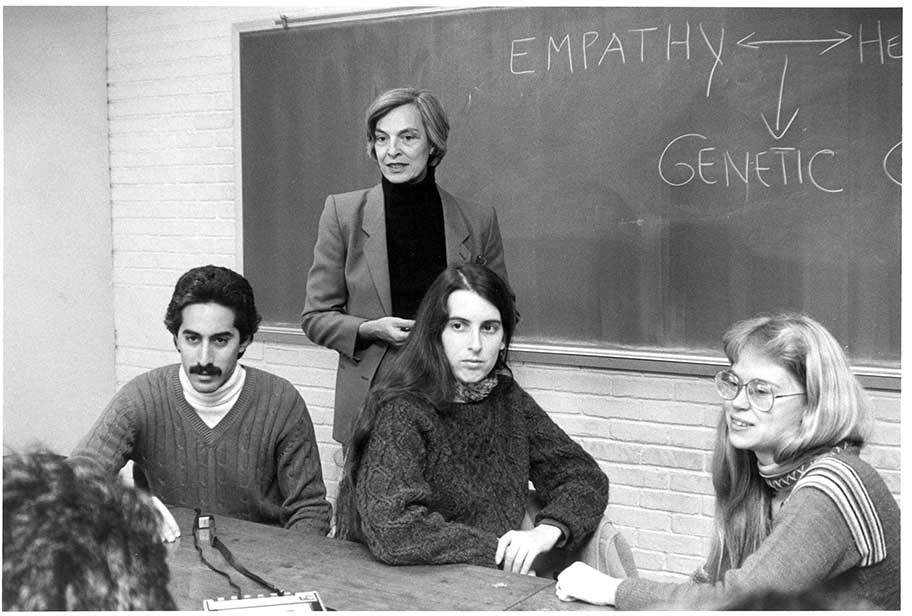 The Sarah Lawrence College community mourns the death of Joan H. Marks '51, who passed away on September 14, 2020. In 1972, Joan took the helm of what, at the time, was a three-year-old genetic counseling graduate program at Sarah Lawrence—the first in the nation. During her 26 year tenure, she would grow the program to the largest in the nation and blaze the trail for an entirely new field in healthcare, blending the tenets of psychology, advocacy, biology, and medicine in a manner that truly embodied Sarah Lawrence's philosophy of education. Personalized medicine and blending science with the humanities remained a centerpoint of her approach to healthcare and eduction, and in 1980, while leading SLC's genetic counseling program, Joan founded the College's Health Advocacy master's degree program, also the first in its field. 
She is the namesake for the program she built—the Joan H. Marks Graduate Program in Human Genetics—and received an honorary Doctor of Science degree from Sarah Lawrence in 2019 in recognition of her exceptional contributions and leadership to the College and to society. 
"Joan's visionary leadership has left an indelible impression on Sarah Lawrence College and on the world," said Sarah Lawrence College President Cristle Collins Judd. "She pioneered and sustained the creation of an entirely new field of study and endeavor in genetic counseling, benefitting millions of people across the globe, and contributing immeasurably to societal and individual understanding of the human genome."
In 2003, Joan received the Award of Excellence from the American Society for Human Genetics—the first woman and first non-medical doctor to earn this accolade. In 2012, she received the Natalie Weissberger Paul Lifetime Achievement Award, the most distinguished honor given by the National Society of Genetic Counselors.
Joan was born in 1929 and was part of an exceptional class of women at Sarah Lawrence. After earning her bachelor's degree, she went on to earn a master's degree in social work from Simmons College in Boston. She then embarked on a career as a psychiatric social worker at several major New York hospitals.
"Joan's imprint on the genetic counseling profession is far-reaching and unsurpassed," said Claire Davis, director of the Joan H. Marks Graduate Program in Human Genetics. "In true Sarah Lawrence fashion, she advocated for a world in which genetic counselors would be equally adept at providing patients with compassionate, humanistic care and deciphering complex science. She then brought this vision to life through her considerable savviness and aplomb."
Joan's husband of 67 years, Dr. Paul Marks, who led the Memorial Sloan Kettering Cancer Center, passed away in May, 2020. She is survived by two sons, Andrew and Matthew; a daughter, Elizabeth; six grandchildren; and two great-grandchildren.
A private family ceremony will be held to celebrate Joan's life. At the family's request, donations to the Joan H. Marks Graduate Program in Human Genetics can be made here and condolences may be sent here.
---