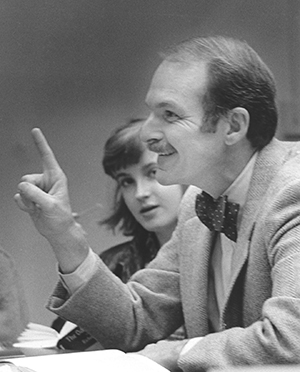 Update: June 1, 2019

David Bernstein will be honored at a memorial service at Sarah Lawrence on July 27 from 4-6pm. For more information and to RSVP, please e-mail collegeevents@sarahlawrence.edu.
***
Dear Sarah Lawrence Community,
I am sad to share that we have lost a longtime and well-loved member of the Sarah Lawrence community; faculty emeritus David Bernstein passed away in April. | Read David's obituary
David came to the College in 1969 after holding teaching positions at Harvard University and the University of Hawaii. When he began it was to teach European and English History, bringing courses such as English History: From the Roman Occupation to the Reformation; Medieval Culture and Society; and Reformation to the Industrial Revolution. He directed the Sarah Lawrence/University of Michigan summer program in London for seven years from 1971-77.
In 1973, David received a fellowship from the National Endowment for the Humanities to develop research in art history; he spent a year as a visiting scholar at Columbia University where he pursued work in early Christian and medieval art, taking seminars in Hiberno-Saxon manuscripts and Romanesque sculpture. David began no less than three major projects during his year at Columbia, and returned to Sarah Lawrence to expand his teaching repertoire to include a number of courses on medieval art, religion, and society. David published widely on Anglo-Saxon culture, the Norman conquest, and the Bayeux Tapestry. He gave numerous talks, both at scholarly conferences and for general audiences.
Ron Afzal, faculty member in Religious Studies and David's longtime colleague, remembers him this way: "He was a mentor to me. He was kind and generous with his time with a new professor. He believed deeply in the SLC system and demanded the best from his students." David taught thousands of Sarah Lawrence students and, for decades, was a significant figure at the College, retiring after 45 years in 2014.
The family held services for David shortly after his passing.
Sincerely,
Kanwal Singh
Provost and Dean of Faculty
Photo: David Bernstein in class with students, circa 1980s. From the Sarah Lawrence College Archives.
---