Tishan Hsu: Selected Works
November 12 – December 8, 2019
The Gallery at the Heimbold Visual Arts Center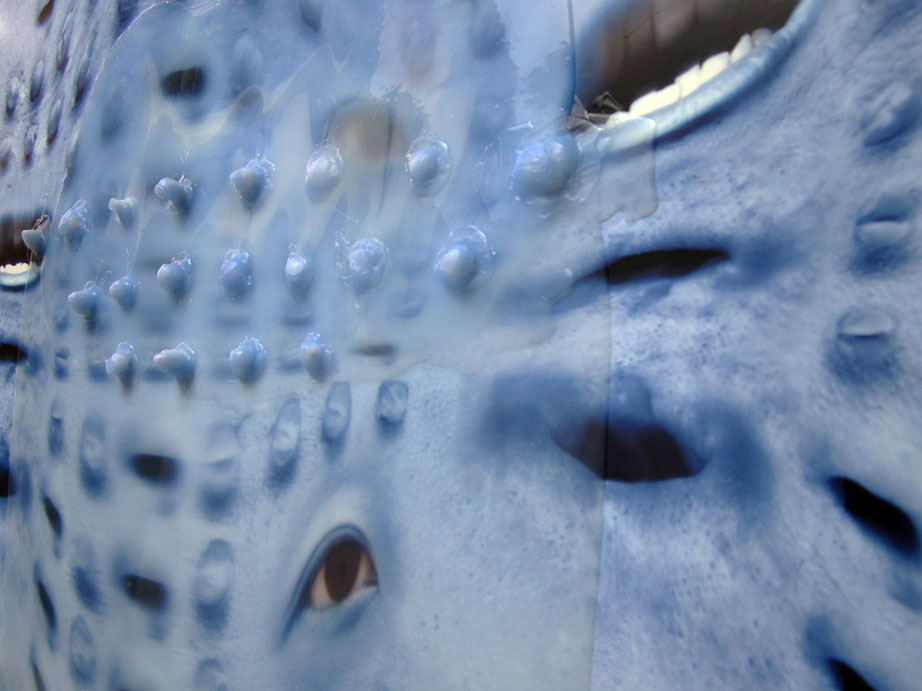 The Gallery at Heimbold Visual Arts Center is pleased to present Selected Works, a solo exhibition by Tishan Hsu. The exhibition will be open from November 12 to December 8.
Tishan Hsu is an artist whose practice has attempted to convey an embodied technology. Hsu's interest in technology has not been in the use of a particular apparatus but the perception of a technological affect. His work has included paintings, digital media projections and sculpture.
In Selected Works, Hsus' works range from the late eighties to the present, paralleling the liminal space of these mediums, to how our bodies and their technological extensions relate to each other. Making use of futuristic and warped forms, Hsu evokes science fiction and the unknown, bringing to the surface the notion of otherness. At the same time, technology is personal for Hsu; away of understanding himself within the liminal space.
Biocube (1988), comprised of aluminum, ceramic rubber and stainless steel, is reminiscent of a hospital cart, with flesh-like tiles concealing the interior, a sideways metal medical tray, bumps that look like hair follicles or cysts and wheels. It is as though the 'skin' has been stretched over the cube and the viewer is looking at a cart just as much as they are looking at a body. Hsu lived in the East Village during the height of the AIDS crisis and Biocube engages with this feeling of the body being surveilled and objectified by the viewer and the cube itself.
In Cordless 2.1 (1990-2018), the canvas is split into a polyptych that resembles a skin-colored video screen with each panels appearing as stills from a film. Hsu has always been interested in portraying the static of the television screen, which we see in Cordless as the movements in the painting feel like split-seconds of flicker from a monitor. Cordless 2.1 evokes the infamous shot in David Cronenberg's film Videodrome (1983), where a hand reaches out of the television and towards the viewer. Like Biocube, this work is a mirror into ourselves, but once we get to the last section of the painting, Hsu reveals a parting in the skin that leads the audience into emptiness. Behind the skin, there is nothing but darkness and the body and the metal remote are just a representation or an extension with no origin.
Through these evolutions in his work, Hsu has come to the question of his own relationship to technology and identity as an Asian-American man as Hsu explicates here, "It's not about identity, but absence of my identity and erasure of identity [...] also how technology is in some ways erasing identity or enabling it." Hsu uses technology as a vessel for understanding the body outside of the past or present.
Tishan Hsu (b. 1951) Born in Boston, Massachusetts, Hsu spent his first years in Zurich, Switzerland. He grew up in Ohio, Wisconsin, Virginia, and New York. Hsu studied architecture and environmental design at the Massachusetts Institute of Technology where he received his B.S.A.D. in 1973 and M.Arch. in 1975. While at MIT, he studied film at the Carpenter Center, Harvard University. He moved to New York in 1979, where he currently resides in Brooklyn. Hsu first showed in New York at the Pat Hearn Gallery. Since 1985, Hsu has shown extensively in the US, Europe, Mexico and recently Asia, with works in numerous public and private collections. From 1988-90, Hsu lived and worked in Cologne, Germany. From 2013-2016, Hsu maintained a studio in Shanghai, China, where he developed a project using historical family photographs and evidence of their absence, discovered in photo albums of extended family living in Shanghai.
Hsu recently had a solo exhibition at Empty Gallery, Hong Kong. He also participated in exhibitions at the CCS Bard Hessel Museum, Annandale-on-Hudson, Hirshhorn Museum, Washington, D.C., and the K11 Art Foundation and Tai Kwun Centre, both in Hong Kong. A survey exhibition of Hsu's work from 1982-2005, will be shown at the Hammer Museum, Los Angeles, and the Sculpture Center, New York, in Spring, 2020, and the Rose Art Museum, Waltham, MA, in Fall, 2020. His work is currently being shown in two group exhibitions: "Searching the Sky for Rain" at the Sculpture Center, LIC, NY, through December 16, 2019, and "Phantom Plane: Cyberpunk in the Year of the Future" at Tai Kwun Contemporary, Hong Kong, through January 4, 2020.
Selected public collections include Metropolitan Museum, New York, Centre Pompidou, Paris, Museum fur Moderne Kunst, Frankfurt, High Museum, Atlanta, Terra Museum, Mexico City, Los Angeles Museum of Contemporary Art, Los Angeles, Museum of Contemporary Art, North Miami, Rose Art Museum, Waltham and the Weisman Museum, Minneapolis. Hsu has served as a Member of the Board of White Columns and as a Governor of the Skowhegan School of Painting and Sculpture.
Hsu was a professor of Visual Arts at Sarah Lawrence College from 1994-2018, and has been a visiting professor at Pratt Institute and Harvard University. While at Sarah Lawrence, Hsu taught Sculpture, introduced Architectural Design, and assisted in the development of New Media in the Visual Arts Department.