George Cochrane '95—"Illuminated Manuscripts of the Inferno from La Divina Commedia"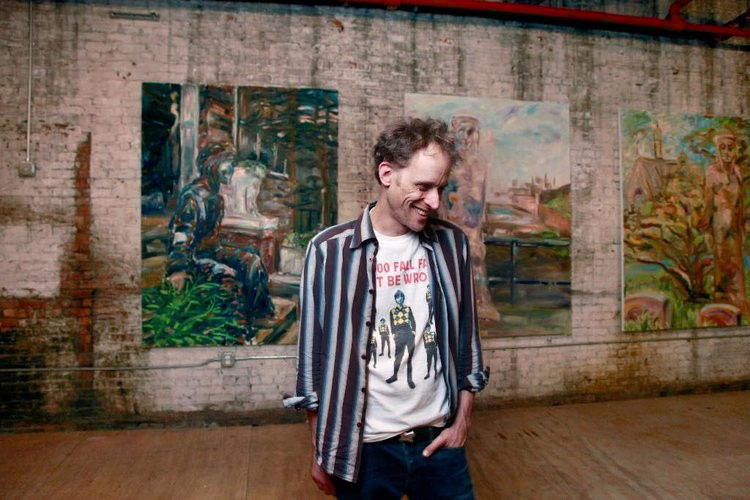 March 19 - May 20, 2018
Esther Raushenbush Library
Following on a presentation to Italian faculty member Judith Serafini-Sauli's class, "Dante's Divine Comedy: The Making of a New Illuminated Manuscript" in December 2017, George Cochrane will present his original artwork and manuscript of Dante's Inferno at the Esther Raushenbush Library.
At Sarah Lawrence, Cochrane studied primarily studio art and Italian, and spent his junior year on the Sarah Lawrence program in Florence, Italy, and on an internship at the Peggy Guggenheim Collection in Venice.
In 2014, publisher and president of Thornwillow Press Luke Pontifell asked Cochrane to make a new illuminated manuscript of Dante's Divine Comedy to celebrate the 750th anniversary of the poet's birth (2015). For over two and a half years, Cochrane hand-lettered Inferno, both in Italian and English, and created artwork for each of the 230 pages. A selection of the artworks will be on display, along with examples of the manuscript pages. The artist talk will include a slide presentation about the project and will connect Cochrane's current artistic practice and projects with his experiences as a Sarah Lawrence student living in Italy studying art and language over twenty years ago.
Sponsored by the Italian and Literature Departments
---
Works by Kris Philipps, Visual Arts Faculty Member (1983-2018)
March 26 - April 29, 2018
Barbara Walters Gallery
Opening reception: Thursday, April 26; 4 - 6 p.m.
Kris Philipps (born 1945, Fort Worth, Texas) received a BFA from Alfred University, Alfred, NY in 1968, studied at The Royal College of Art, London, England, received an MFA degree from the University of South Florida, Tampa, FL, 1971, and received a Tamarind Master Printer Fellowship, Tamarind Institute, Albuquerque, NM, 1971. She has held teaching positions at Binghamton University, Fairleigh Dickinson University, Rutgers University, and has been a member of the Sarah Lawrence faculty since 1983. Selected National and International Group Exhibitions include "A Convergence of Printmaking and Photographic Practice," CEPA Gallery, Buffalo, NY, Jan Cicero Gallery, Chicago, Ill "Images en Cajas," Tamayo Museum, Mexico City, Mexico, Suzuki Gallery, NY, NY "New Selections," Albright Knox Museum, Buffalo, NY, International Exhibition of Small Paintings, Toronto, Canada, "Photo-Graphics" Travelling US Exhibition organized by George Eastman House, Rochester, NY and "Small Works," Washington Square Galleries, NY, NY. Solo exhibitions include The Newark Museum, Newark, NJ, Stamphli Gallery, NY, NY, and Condeso-Lawler Gallery, NY, NY.