Lines Without Outlines: Eve Aschheim
September 10 - October 14, 2018
Barbara Walters Gallery
Reception: September 10, 5 - 6:30 p.m.
Conversation with Eve Aschheim and Richard Whitten: October 2, 1:30 p.m.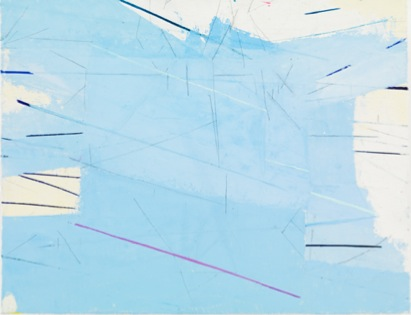 This show travels from 'T' Space, Rhinebeck, New York (August/Sept 2017), where it originated, and has been expanded to include a wider range of work, with drawing as a generative force. The inclusion of works in different mediums offers the viewer the chance to see how Aschheim moves drawing to painting, to photograms, to works that use both sides of Mylar's translucent surface.
Eve Aschheim is an abstract painter and draftsperson who seeks to create dynamic structures that exist between categories of thought. Her interests include implied motion, states in the midst of change, and a fictive reality that exists between multiple visual constructions. Along with her resistance to making a nameable image, she also attempts to make a memorable visual experience that cannot be corralled by memory. Aschheim's recent work with photograms allow her to experiment with "drawing in the darkroom" using objects, elements drawn or painted on translucent mylar, and tools including prepared flashlights.
Recent solo exhibitions of her work include Lori Bookstein Fine Art, NYC (2016), and Galerie Inga Kondeyne, Berlin (2015).  Museum exhibitions include the Weatherspoon Art Museum, Greensboro, NC, the Bannister Gallery, Rhode Island College, the New York Studio School, and Skidmore College, Saratoga Springs, NY.  Aschheim has received grants from organizations including the John Simon Guggenheim Memorial Foundation, the Joan Mitchell Foundation, the National Endowment for the Arts, the New York Foundation for the Arts, the Pollock-Krasner Foundation, and the American Academy of Arts and Letters.  Selected public collections include the Fogg Museum, Cambridge, MA; Hamburger Bahnhof, Berlin; Kunstmuseum Bonn, Germany; Kupferstichkabinet, Nationalgalerie, Berlin; Museum of Modern Art, New York; National Gallery of Art, Washington, DC; New-York Historical Society, New York; Morgan Library and Museum, New York; and Yale University Art Gallery, New Haven, CT.
Aschheim (b. 1958, New York, NY) received her BA from the University of California, Berkeley and her MFA from the University of California, Davis. She is currently Lecturer in the Visual Arts Program, Lewis Center for the Creative and Performing Arts, Princeton University.  In 2015 she co-taught a class with Professor Susan Stewart, "Drawing and the Line in Literature and the Visual Arts", which gave rise to Aschheim's "Horizon line paintings", exhibited for the first time at "T" Space and Sarah Lawrence College.  Aschheim made her first large mylar drawings for the "T" Space exhibition, also exhibited at Sarah Lawrence College. Aschheim lives and works in New York City, with her husband, the writer John Yau, and their daughter. 
---
Jenny Perlin
November 13 - December 9, 2018
Barbara Walters Gallery
Reception: Tuesday, November 13, 5 - 6:30 p.m.
Lecture: Tuesday, November 27, 1:30 p.m., Heimbold 135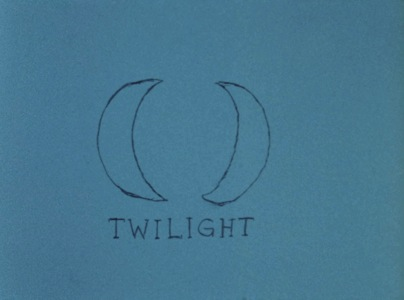 Jenny Perlin is an artist working in Brooklyn. Her practice in 16mm film, video and drawing works with and against the documentary tradition, incorporating innovative stylistic techniques to emphasize issues of truth, misunderstanding, and personal history. Her projects look closely at ways in which social machinations are reflected in the smallest fragments of daily life. In her films, Perlin often combines handwritten text and drawn images, embracing the technical quirks of analog technologies.
Jenny Perlin (b. 1970, Massachusetts) currently lives and works in Brooklyn. She received her BA from Brown University in Literature and Society, her MFA from the School of the Art Institute of Chicago in Film, and postgraduate studies at the Whitney Independent Study Program, New York. Her works have been shown in numerous exhibitions including at the Whitney Museum of American Art, New York; the Guggenheim Museum, New York; MoMA, New York; New York; the Drawing Center, New York; The Kitchen, New York; Mass MoCA, Massachusetts; Guangzhou Triennial, Canton: IFC Center, New York, New York Film Festival, Berlin and Rotterdam film festivals; Scottsdale Museum of Contemporary Art, Arizona, among others.
Perlin's work is represented by Simon Preston Gallery New York and Galerie M+R Fricke in Berlin. She teaches at The Cooper Union, Sarah Lawrence College, and The New School.