Susan Meiselas '70
Behind Closed Doors
January 28 - March 3, 2019
Barbara Walters Gallery
Caution: If you have experienced sexual violence, including sexual assault, sexual harassment, domestic violence, dating violence, or stalking, this exhibit contains material that may be triggering.
The Barbara Walters Gallery at Sarah Lawrence College is honored to present Behind Closed Doors, a solo exhibition by world renowned photographer artist Susan Meiselas '70. Opening on January 28 at the gallery in the Heimbold Visual Arts Center in Bronxville, NY, this show brings together two series, A Room of Their Own and Archives of Abuse, both of which delve deeply into the subject of domestic violence.
On display through March 3 will be a selection of 10 prints, five multimedia works, testimony, and collage from A Room of Their Own accompanied by archived materials from the San Francisco Police Department, audio, collages, and bus shelter posters from Archives of Abuse.
Commissioned by The Liz Claiborne Foundation and Multistory, each project approaches the focus of domestic violence with a devotion to the participatory role and voice of the subject.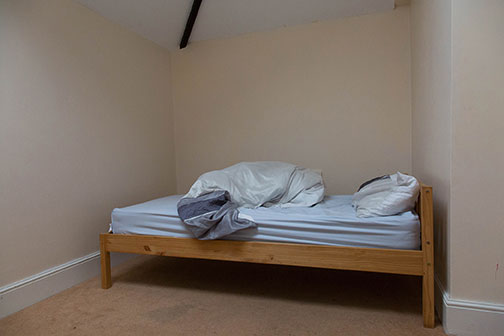 Susan Meiselas '70 is a documentary photographer who lives and works in New York. She is the author of Carnival Strippers (1976), Nicaragua (1981), Kurdistan: In the Shadow of History (1997), Pandora's Box (2001), Encounters with the Dani (2003), Prince Street Girls (2016), and A Room Of Their Own (2017). She has co-edited two published collections: El Salvador, Work of 30 Photographers (1983) and Chile from Within (1990), rereleased as an e-book in 2013, and also co-directed two films: Living at Risk (1985) and Pictures from a Revolution (1991) with Richard P. Rogers and Alfred Guzzetti.
Meiselas is well known for her documentation of human rights issues in Latin America. Her photographs are included in American and international collections. In 1992 she was made a MacArthur Fellow and most recently was awarded a Guggenheim Fellowship (2015). Mediations, a survey exhibition of her work from the 1970s to present, was recently exhibited at the Fundació Antoni Tàpies, Jeu de Paume, and the San Francisco Museum of Modern Art.