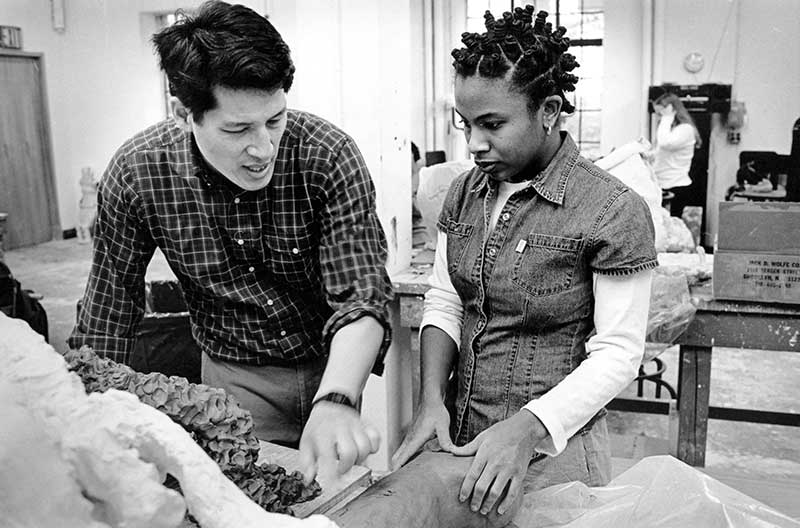 For four decades, Tishan Hsu has been creating groundbreaking art—including painting, digital media installation, and sculpture—addressing the question of how we, as human beings, embody technology.
In a March 2019 New York Times article entitled, "The World Catches Up with Tishan Hsu," curator Christopher Y. Lew of the Whitney Museum of American Art is quoted as saying, "We're all catching up with what [Hsu] was doing. He was so ahead of the curve," referring to a more recent wave of art that explores technology and the body.
Fortunately, for Sarah Lawrence, Hsu brought that same prescient sensibility to his 22-year tenure at the College. Not only did Hsu lead the Visual and Studio Arts department in growing and expanding course offerings in sculpture, but his fascination with the aesthetics of emerging technologies also made him one of the early supporters of New Genres, which encompasses a variety of media.
Hsu spearheaded the creation of the first studio space for interactive art. "Tishan could see immediately that for interactive art to make sense to students, we would need a studio space where they could work on installation," says Angela Ferraiolo (visual and studio arts), whose students benefitted from that studio space and have experimented with computation, projection and sensors, as well as interactive installation.
Hsu worked with Ferraiolo to convert the papermaking studio in the basement of Heimbold into an immersion room. Ferraiolo notes, "Getting that space on its feet and giving students a place where they could work with computers in a studio as opposed to a computer lab was the real turning point for New Genres at the College."
Further widening the scope of visual arts offerings, Hsu, who has a Master of Architecture, introduced a course in architectural design, the first ever offered at Sarah Lawrence. It was Hsu's clear vision for how these areas of practice enhanced conventional studio and fine arts. That course paved the way to an interdisciplinary design curriculum, which offers students who wish to go further in design fields a more coherent course of study.
Hsu's relentless intellectual curiosity provided his colleagues with inspiration as he explored the work of new artists, their methods, and materials, as well as new forms of representation. Once, Ferraiolo remembers Hsu noticed her reading Hito Steryl's The Wretched of the Screen, and the next time she saw him, Hsu had read the book and was eager to discuss Steryl's philosophy. "That was typical Tishan," she recalls. "He is as demanding intellectually as he is supportive."
For Hsu, the engagement of his fellow faculty members has been a bright spot: "They are passionate about their teaching and that made the experience of being on faculty at the College more than worthwhile."
Working with the students was also primary, he notes, citing the students' overall social and political awareness. He found the students to be creative, open-minded, and willing to take substantial risks. "Creating a class with those kinds of students was very illuminating for me," he says. "The pedagogy of Sarah Lawrence made teaching such a rewarding and enlightening experience."
Hsu retired last fall so that he could focus on the demands of his exhibitions. In March, Empty Gallery in Hong Kong showed his works spanning from the 1980s to 1990s, as part of Art Basel Hong Kong. The same gallery recently exhibited "Delete," comprised of Hsu's more recent work. As well, Hsu's art was also recently featured in "Glow Like That" at the K11 Art Foundation, also in Hong Kong. Next year, the first survey exhibition of his work, spanning the early 1980s to the mid 2000s, will be traveling from the Hammer Museum in Los Angeles, opening in February 2020, to the Sculpture Center in New York City, opening in May 2020.
While Hsu has been occupied with the demands of his exhibitions, he maintains his Sarah Lawrence ties, as many of his assistants are former students of his. He says, "Sarah Lawrence has come into my studio anyway."
Written by Suzanne Guillette MFA '05
---