Introductory Remarks from President Cristle Collins Judd
I am so pleased to introduce today's guest speaker, Maggie Haberman. An esteemed journalist, she is a White House correspondent for The New York Times and political analyst for CNN, a Pulitzer Prize winner, and a Sarah Lawrence graduate.
Maggie's fastidious reporting and insight offer a lens into the world of Washington, DC and the leadership of this country. Her ability to untangle complex issues and her dedication to facts and the truth are a public service to this country for which I am truly thankful.
As you all know, the foundation of a Sarah Lawrence education is the craft of critical thinking—to examine issues from multiple angles and to always dig deeper. Throughout her career—which began at the New York Post and includes positions at Politico and the New York Daily News—Maggie has done exactly that.
Please join me in welcoming Maggie Haberman back to Sarah Lawrence!
---
Maggie Haberman '96
White House Correspondent, The New York Times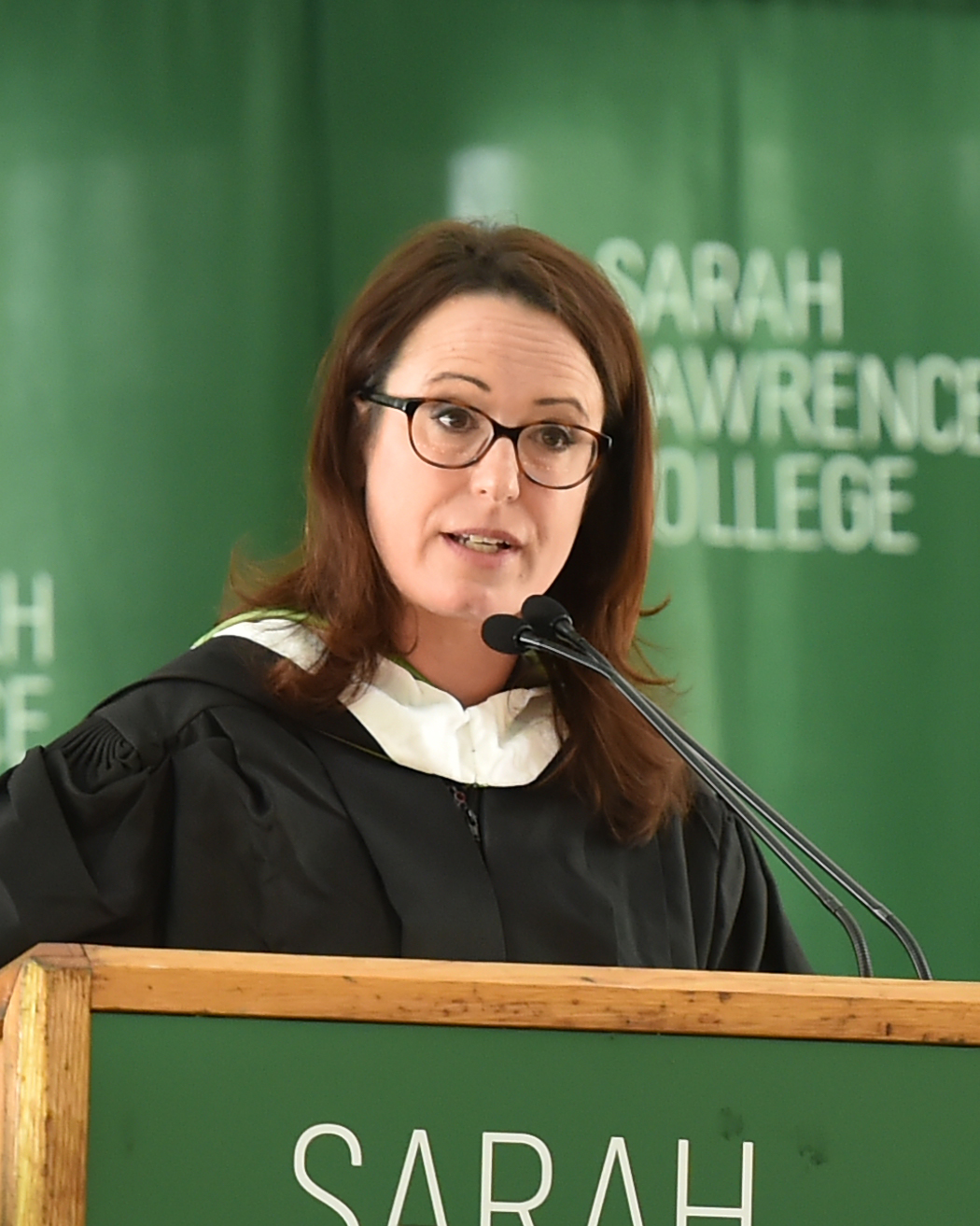 Thank you very much for having me today.
There are few greater honors than to be asked to give the commencement address at your college. But when President Judd first asked me, I said no. It is a big responsibility, to talk to all of you before you leave this corner of the world for whatever awaits you outside. I did not feel I was up to the task. But when she and one of my former professors, Bella Brodzki, asked again, I realized that it was an honor that may not come again.
So here I stand, and I want to talk to you about something that I hope will have meaning for you. I want to talk to you about second chances. I also want to talk to you about the dangers of rigidity, and about the power of finding the truth.
For me, all of those began here.
Sarah Lawrence was my second chance.
It was not where I started out as a college freshman. It was not on my initial list of schools as I prepared to graduate from a high school in New York City, where I dreamed about being a fiction writer and thought little about what it would require to make that a full-time profession. I liked my friends, but I did not like school.
So when I was applying to colleges, I listened to recommendations from others. I chose to go to Trinity College, where a family friend was a freshman. It was not the right place for me. I didn't know why I was there. I struggled with depression, something that is a source of shame to many of us, and yet something many of us have dealt with.
And, ultimately, I left. I needed to start over.
I made my way here, where almost no one knew me before I first set foot on campus. It was my second chance, and I was determined to make the most of it. I learned there can be something deeply powerful about failure. You can lie down in it, marinate in it, be still, stew. Or you can get up, not stand still, and start fresh.
At Sarah Lawrence, as you have learned, we had and have enormous control over our own destinies.
I was far from a perfect student, or even an assiduous one. But I loved my time here. I felt free. I thrived. I felt comfortable in my own skin for perhaps the first time in my life.
And I tried on different interests to see what best fit. I studied fiction writing, with, among others, the great Randall Kenan, whose teaching shaped my relationship to language. I had my critical thinking shaped by Bella Brodzki. And I had a warning from Cameron Afzal about my perennially late papers. I remember a conference at the end of my final semester, where he told me, gently, that he worried that, quote, I was going to get out into the world and not know how to meet a deadline.
I'll come back to that later.
When I left here, my prospects for a job were really uncertain. I had moved back to Manhattan long before I graduated. But I went on one interview after another at magazines, but no one would hire me. I ended up taking a job as a clerk at the New York Post in August 1996. I distinctly remember complaining about the work on the first day. It was shuttling papers back and forth from one desk to another, fetching coffee, sorting mail. It was not what I went to college to do, I told myself, and others I complained to.
But I stayed—I didn't have much choice, since my career prospects were dim—and I watched. I learned. By the end of the week, I had fallen in love with the place, with the rhythms of the newsroom, with the frenetic energy bouncing off the city desk editors, visible like wavy lines off asphalt on a hot day.
Once a week, still a clerk, a door opened: I was sent out into the city as a general assignment reporter. I was born and raised in New York, but as a reporter-in-training for a tabloid, I experienced it in a way I never had before. I went to parts of the city I had never seen, talked to people I had never encountered before. And it was sometimes painful, and scary, and uncomfortable.
I spoke to a man on a hospital floor, in a building I had found an entry to, who had just lost his pregnant wife and one of his children. I unfortunately reached the roommate of a subway-pushing victim before the police did; I delivered the news of her friend's death. I talked to the wife of a bus driver who had skidded off a highway on a holiday night during a drive to Atlantic City, leaving several people dead. On the advice of a skilled general assignment reporter, I would scan the eyes of bystanders crowded around a crime scene, looking for the tell-tale signs of a witness to the event.
And, after practicing each day to learn how to write a news story, I also learned how to meet a deadline. Thank you, Professor Afzal.
Since the pay was quite small for a clerk, I was also bartending at the same time, in order to pay my rent. Almost everything bad and everything good I've learned about human behavior and how to read people has come from two places—the newsroom and the bar. My years bartending were excellent training for becoming a reporter. It taught me about dealing with people—I read somewhere recently where someone described the skill of a bartender as being able to make conversation, and when that runs thin, asking a lot of questions of the person in front of them. So I learned to ask questions, even when it seemed like I had run out of ideas.
I spent six years at the New York Post, eventually becoming a full-time reporter in 1998. I met and later married my husband, Dareh Gregorian, while I worked there. I took another chance in October 2002, leaving the Post for the New York Daily News, which was perceived as a step up at the time. It was not the right place for me, and I knew it fairly quickly, although I stayed there for nearly four years.
By 2006, I realized I could make a choice—stay in a place where I wasn't happy, or move on. I decided I wanted to go where I could be happier. I went back to the Post, and I had a terrific four more years there. It was, in its way, another second chance. I believed the move would be viewed negatively by people in the news business, and that there was a chance I'd spend the rest of my career at the Post. I knew it was risk, but I was fine with that.
As it turned out, that wasn't where my story ended. An opportunity to work at Politico, a Washington-based website, came in 2010, when I was unexpectedly pregnant with my third child. I was scared to make the leap from local news to national, but I jumped.
It was a real risk. Politico was only a few years old. By then, I had two children and was pregnant with a third. I struggled to make good use of what I knew from local reporting, and to adjust my aperture to a broader political stage. The type of so-called "palace intrigue" stories that Politico excels at were something I had to learn how to do. My first year there was very hard.
But a year later, I found that my time at the tabloids had been invaluable—because I knew the advisers planning a possible campaign for Donald Trump. Trump had been a permanent fixture at the New York tabloids, especially on its gossip pages. He was invariably the "source close to Donald Trump" speaking to Page Six about his personal life, or who was coming and going at Trump Tower.
Since I knew the characters, I had the ability to navigate the often-disorienting world of Donald Trump, where there are always at least two factions at war, and where facts are treated as if they're malleable.
I had an experience early on that was a reminder of that. In February 2011, I spoke to Roger Stone, Trump's longest-serving political adviser, about what a Trump presidential campaign would look like. I knew that Stone was talking to Trump, and I knew from people in those meetings with him that he was indeed a part of the planning. So at my editor's urging, I did an interview with Stone. He went on at length, though he made clear he wasn't formally working for Trump, which I said in the story. The story ran with a large picture of Stone in the center of it.
The next day, I received a statement from Trump's office saying that Stone wasn't advising him. I had barely finished reading the e-mail when my phone rang, with Trump's assistant on the other end, asking me to hold for him. He got on the phone, and informed me, "Roger
Stone doesn't speak for me."
It was surreal—on the one hand, I knew from other reporting that Stone was involved in this effort. And on the other, I had the would-be candidate telling me it wasn't true. As I said, it was an early window into the disorienting sensation that has become familiar for journalists seeking to cover reality during the Trump presidency.
Trump of course did not run that year—during sweeps week for The Apprentice he announced that he would not begin a real campaign. But he did four years later. By then, I had been approached by an editor named Carolyn Ryan, who first oversaw New York political coverage at The New York Times, and then national political coverage. She had seen something in me that I had never seen in myself, which was an ability to succeed at the best news-gathering organization in the world.
When the election was winding down in 2016, I wasn't sure what was going to be next for me. I assumed I was going to cover the midterms for 2018. Instead, I have been a White House reporter for the last two and a half years, working primarily out of New York. In its way, it was my second chance at capturing Trump's relationship with the country.
My ability to report the kind of palace intrigue stories that are a staple of Politico has turned out to be useful in a White House where knowing who has the president's ear at any given moment reveals a great deal about how policy debates are shaped and won.
I've learned that skills can be used in different settings, and that the way you go about your job might change; abilities that seemed somewhat frivolous can prove to be incredibly significant, depending on your setting.
Throughout the presidential race, many of us wrote that Trump would almost certainly not win—especially those of us in New York City, who knew him as a C-list real-estate broker whose past was littered with casino bankruptcies and personal failures. What we didn't realize was that most of the country knew him from The Apprentice, where he played the character of a successful businessman who gleefully fired people.
I periodically thought he had a shot at winning, but I never let it sustain. Many of us were too rigid in our thinking. The idea that he could win ran counter to what people thought they knew about politics. No matter how many times reporters wrote about the reality of Trump's business record, people believed what they knew from TV, what they thought they knew with their own eyes.
I want to say something about truth. We talk a lot about people's personal truths. And we all have them. But my professional job is to try to capture objective truth, for people reading our coverage today, and for history. That has become a harder task.
It is made harder by a White House that does not do what most politicians do, which is spin and shade facts, but which frequently tells falsehoods and misrepresents facts. So our hunt for a baseline of fact is often impeded by its mediated twists and turns.
The special counsel investigating possible conspiracy between the Trump campaign and Russia, as well as possible obstruction of justice by the president, recently finished its work. Its final report repeatedly referenced the work of the Times, the Washington Post, and other news outlets, citing witnesses who, under oath, affirmed our stories, no matter what officials have said in front of television cameras.
The truth is not always pretty, or easy. But it is there. And it is vitally important not to blur it with emotion or hyperbole, because it can lose its power.
You are graduating at a convulsive moment in domestic politics, and many people feel at sea. But just as it is important to find truth, it is equally important not to fall prey to a rigid mindset. Despite the uncertainty of this moment, I hope in your next steps, you will not be rigid in your thinking. That you will be open to hearing other people's arguments and where they are coming from, no matter how repellent that may feel at times. It may not change your own thinking, and it shouldn't always, but it might help you see the landscape more fully.
My time at Sarah Lawrence helped me understand the importance of patience, of assuming good faith in others, and of finding the truth.
But some of the challenges are the same. In an ever-faster news cycle, I now meet not just one but as many as six deadlines a day.
My time experimenting with different classes at Sarah Lawrence taught me what I was good at, and what appealed to me most, like trying on different beat assignments at a newspaper. Or trying on newspaper writing in the first place. And I've learned that some skills of mine have become relevant in a new way over time.
You are about to step into a new world, one with less familiarity. You may have secured the job you've dreamed about for years, or you may be stepping into something temporary until you figure out what's next. You may find yourself questioning whether your choices are the right ones. You may wonder if the path you've chosen is the right one. What I hope you will remember, always, is that your path will not be linear. That mistakes can be undone. That opportunities are often masked as failures. And that second chances do exist.
Congratulations to the class of 2019.
Remarks as prepared for delivery