Good morning fellow Sarah Lawrence grads, faculty, staff, and welcomed guests. Today is a great day—one that we have all been waiting for for one year, eight months, and 20 days... for some of us, longer.
When I was first asked to give this speech, I laughed. I was told to present something that is congratulatory and inspirational… but lately, I've been finding it hard to feel inspired or congratulatory. Between the additional $52,000 in student loan debt, the seemingly unending job search, and all around uncertainty… it's a lot.
So I asked my sister: How does one sound happy when they're scared shitless? After laughing, she recommended that I focus on the triumph that it took to take this road. At first, I didn't know how to respond to that: Triumph? What do you mean, "triumph"? What have I actually accomplished while the world, MY world, is literally and figuratively falling apart?
Then it hit me.
We have done something amazing. Some of us packed up our entire lives and moved to one of the most expensive cities in the world on the chance that we would see today. Many of us have battled with loneliness, depression, loss, financial, housing, and food insecurity on top of being students, teachers, employees, and everything in between… and yet we are still here today. And all of us have spent countless hours in classrooms, in studios, on trains commuting to unpaid, required internships, and writing essays, plays, and books—not just so that we could leave today with two or three letters next to our names (though that is a big factor), but because we made the decision to persist. To create. To teach. To dance. To challenge. To heal.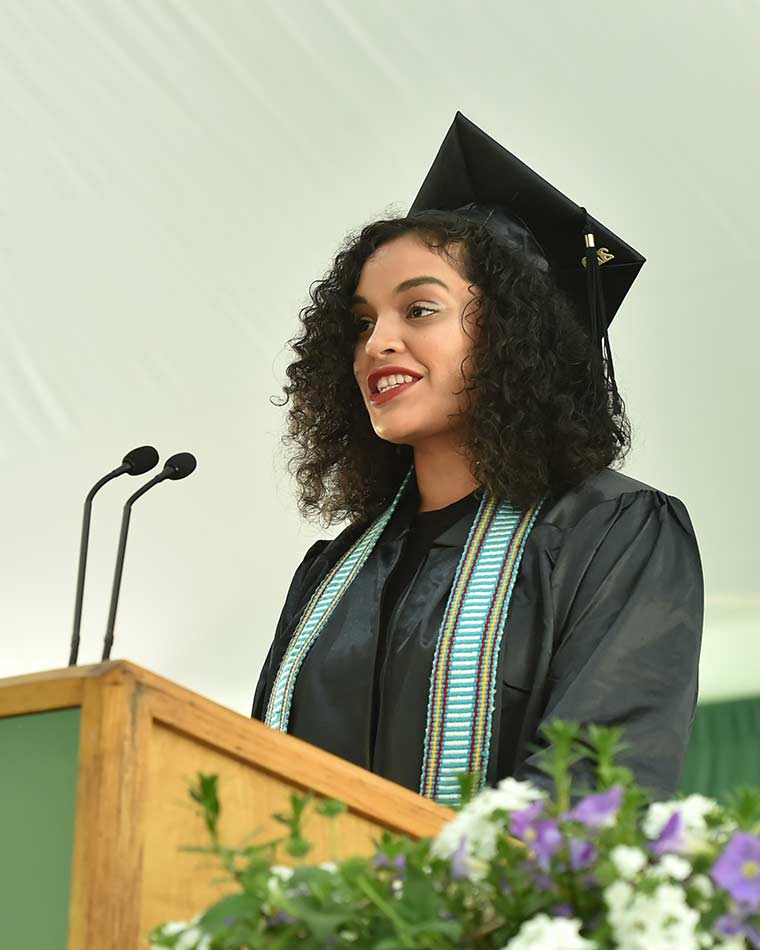 As we leave here today for what may be the last time, I would like for us to reflect on our time here: the people that we have met, the connections that we have made personally and professionally, and on all of the trials and successes that have led us to this moment of celebration.
Now is about that time in the speech that I'm supposed to give an inspirational quote so I will leave you with this message from Haruki Murakami: "Sometimes, fate is like a small sandstorm that keeps changing directions. You change direction but the sandstorm chases you. You turn again, but the storm adjusts. Over and over you play this out, like some ominous dance with death just before dawn. … And once the storm is over you won't remember how you made it through, how you managed to survive. You won't even be sure, in fact, whether the storm is really over. But one thing is certain. When you come out of the storm you won't be the same person who walked in. That's what this storm's all about."
This afternoon, there will undoubtedly be feelings of sadness, of relief, of uncertainty, of exhaustion, of happiness, and most importantly of accomplishment. So once again: congratulations, Sarah Lawrence graduates—no—MASTERS of 2019. We did it, now let's keep doing it.
Remarks as prepared for delivery