Introductory Remarks from President Cristle Collins Judd 
It is my pleasure to introduce today's guest speakers. Yes, that's plural.
As you know, a Sarah Lawrence education is rooted in the power of dialogue—that deep and collaborative exploration of a topic, policy, or idea is a catalyst for intellectual growth.
And so in the spirit of dialogue and the breadth of content it cultivates, today's commencement keynote will take the form of a conversation between two pioneering scientists and public servants.
I'm unsure of the formal definition for "power couple," but I am going to invoke artistic control and say that Diane Baker and Francis Collins are exactly that.
Diane Baker is a graduate of Sarah Lawrence's Joan H. Marks Graduate Program in Human Genetics, and is a pioneer and leader in the field of genetic counseling. After studying here, she went on to become a founding faculty member and director of the genetic counseling program at the University of Michigan. She has also served as president of the National Society of Genetic Counselors (NSGC), and in 2004 was the recipient of the Natalie Weissberger Paul Achievement award from the NSGC. In 2010, the University of Michigan established the Diane Baker Alumni Lecture and Award in Genetic Counseling in honor of her contributions to the profession.
For those of you keeping track, that makes two Sarah Lawrence graduates here today who have received the Natalie Weissberger Paul Achievement award.
Joining Diane on stage today is the Director of the National Institutes of Health, and her husband, Dr. Francis Collins. As leader of the NIH, Dr. Collins oversees the work of the largest public supporter of biomedical research in the world, spanning the spectrum from basic to clinical research.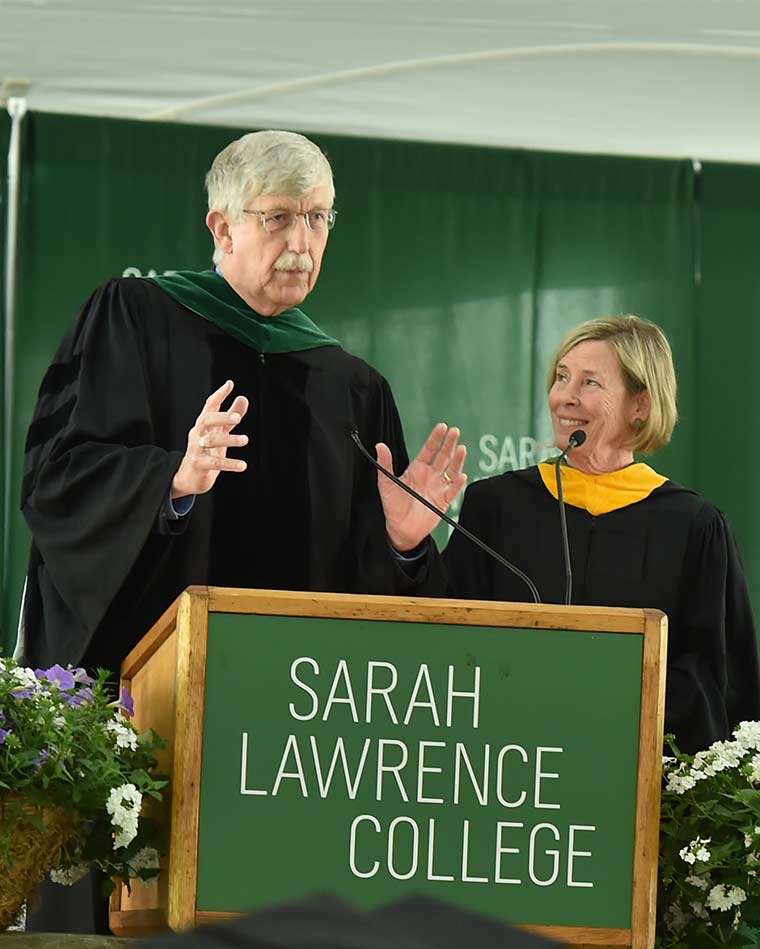 Indeed, NIH funding has led to medical breakthroughs for HIV and cancer treatment, and has allowed scientists to explore the patchwork of genes that blend together to make the mystical duck-billed platypus.
In 2009, he was appointed the 16th director of the NIH by President Barack Obama, and in 2017 President Donald Trump announced his selection of Dr. Collins to continue to serve as director.
A physician-geneticist, Dr. Collins is noted for his landmark discoveries of disease genes and his leadership of the international Human Genome Project, which culminated in 2003 with the completion of a finished sequence of the human DNA instruction book.
Before coming to the NIH, Dr. Collins was a Howard Hughes Medical Institute investigator at the University of Michigan. He is an elected member of the National Academy of Medicine and the National Academy of Sciences. He was awarded the Presidential Medal of Freedom in November 2007, and received the National Medal of Science in 2009.
Please join me in welcoming Diane Baker and Dr. Francis Collins.
Remarks as prepared for delivery