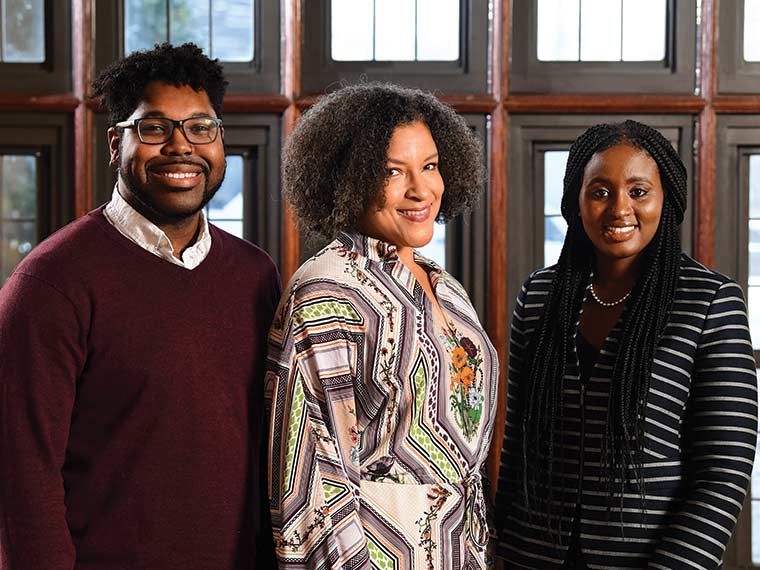 "Belonging is feeling that you are actually part of a community—and that's what we're striving to achieve for everyone at Sarah Lawrence," emphasizes Fatiah Touray, the College's new vice president for diversity, equity, and inclusion (DEI) and special assistant to the president.
Touray recently sat down with equally new DEI staff—Amada Sandoval, associate dean for engagement, diversity, inclusion, and equity; and Ronnie Benion, assistant director of diversity, equity, and inclusion—to talk about the challenges and goals of their work. Building upon the expansive contributions of Al Green, dean of equity and inclusion, who retired last spring, and Natalie Gross, former director of diversity and campus engagement, the new team is focusing much of its work on closing the gap between marginalization and acceptance for underrepresented populations.
What are some of the DEI challenges facing everyone in higher education?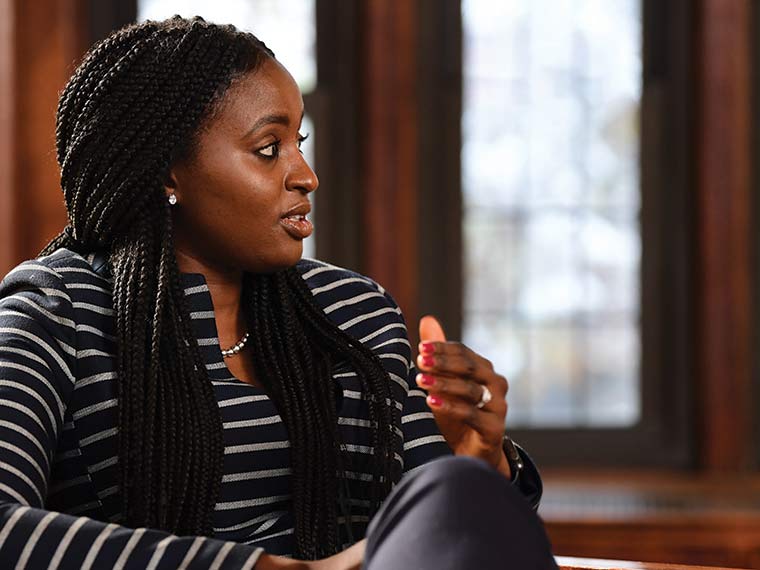 Fatiah Touray: First, there's the diversity, equity, recruitment, retention, and promotion of faculty of color, and addressing which faculty are tenure track. Women and minorities are not promoted at the same rates. Then there's gender nonconforming awareness. I think most people know LGBTQ, but this new generation is identifying in a number of ways that we haven't even been able to quantify until recently. And spiritual life. When you think about the state of the country right now, that's a reflection of what we actually see on campuses—the rise of anti-Semitism and anti-Islamic sentiment.
Amada Sandoval: I also think a lot of colleges are having trouble accommodating ability and learning differences. And then there's the conversation that goes, "I don't have a problem, I'm not a racist." Not believing you're a racist doesn't do anything for racism. Only policy change and action do something for racism.
Ronnie Benion: A lot of colleges are very reactive, but not proactive. An issue comes up, and they focus on How do we fix that? as opposed to How are we anticipating needs or potential needs?
Touray: And you can't talk about diversity without addressing the history of this country. It's been 400 years since the first slaves came to America in 1619. And the first interactions of settlers with Native Americans—there's also a violent history around that. So when race comes up, it's still very contentious, but you have to talk about it. But diversity, of course, is about gender identity, sexual orientation, religion, socioeconomic status, disability, and culture as well.
Sandoval: I've observed people wanting diversity in their organization, but not wanting anyone who thought differently or had different cultural norms. So diversity means all of that—you don't just want different-colored versions of yourself.
Benion: And it's also about how those identities interplay and the context in which they interplay. It may be different here on campus than it would be in the city.
Touray: It's one thing to have diversity in terms of getting numbers up in student, faculty, and staff representation, but are these individuals really being included and folded into the conversation, or are they just being tolerated? You want to walk into a room and not have the validity of why you're there questioned, or your qualifications or background.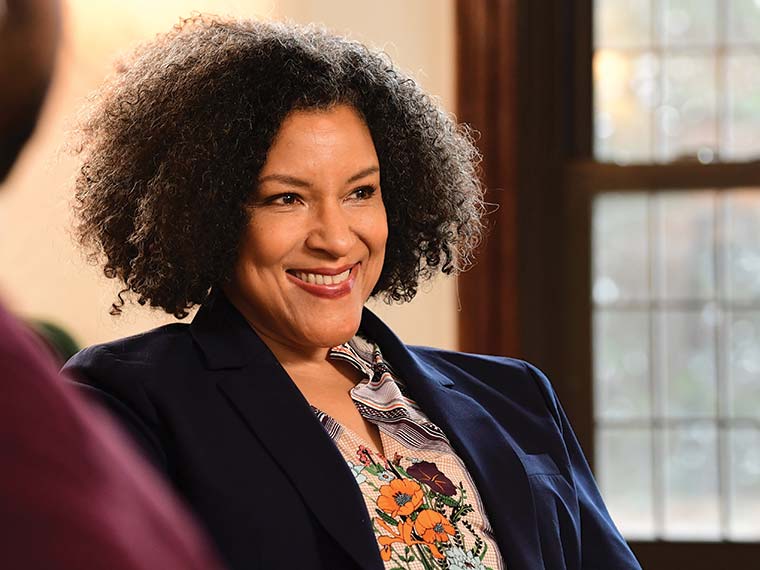 Sandoval: There are dominant cultural narratives that are operating, whether we acknowledge them or not. So maybe we're happy with the socioeconomic, gender, sexuality, religious, racial, ethnic, national diversity that we have, but how are those groups interacting, and are those individuals still being marginalized within our diverse space, or do people have a sense of belonging?
What about transparency? How does that come into play?
Sandoval: Young people have a different expectation for institutional transparency because of social media. Some institutions are still functioning on a pre-digital media strategy, which was: If you just don't comment, the situation will blow over. Those rules are gone.
Touray: There's an accountability that wasn't always there. Essentially, we are having the same conversations that we've had for years, but now I can record you. What gets printed, what gets heard is no longer selective.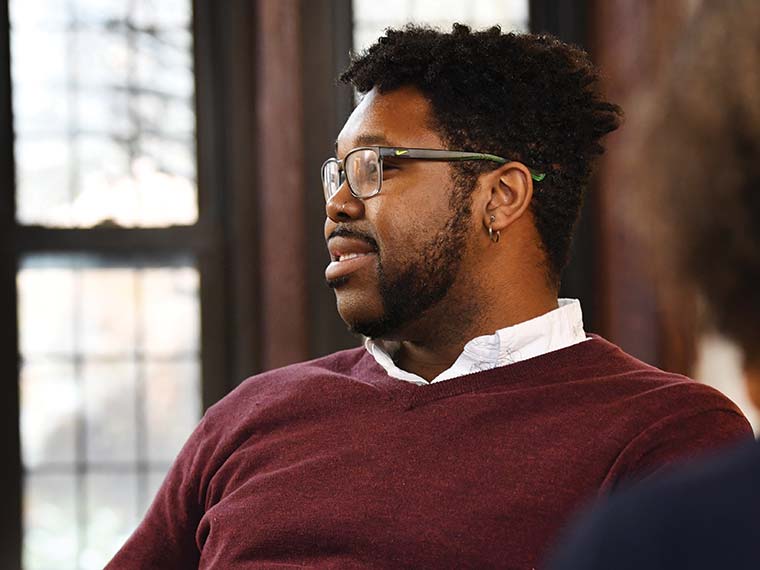 Benion: Transparency is also about how and when you communicate. You can't sit on it for a week, two weeks. A lot of what I hear from students and peers is: We want some communication of what's going on. It doesn't have to be every detail, but they want something.
What does success look like in terms of DEI at Sarah Lawrence?
Touray: We've launched a campus climate survey for all faculty, students, and staff to measure DEI and belonging at SLC and to obtain real data so we can see where we are and where we're going. We know what the national issues are, and Amada has been doing focus groups with students who are giving us great anecdotal feedback. But the survey will be essential. That data can be used in any number of ways to help us pinpoint the main issues to focus on. That will really be the catalyst to take us through our first academic year.
Sandoval: I think with diversity, it's like kneading dough. You're bringing the edges to the center over and over again. If you think of that as people on the edges—people whose experiences and perceptions and values are marginalized—you need to keep finding a way to incorporate the edges. Someone will always be out there in the margins.
Benion: It's true; it's really never-ending. When it comes to DEI work, you may come up with solutions, and they may work for five, 10, or 20 years. Then you have to rethink things, because the population changes.
What do you hope students will take with them from the work you're doing here?
Touray: One of the things we're implementing is diversity education, so that when students graduate, they will have interacted with DEI issues through the curriculum itself. Diversity education will emphasize core things students need in order to interact in this world.
Benion: I want students to learn more about themselves and the world around them. When you go out and join the workforce, you won't like everyone, you won't have the same philosophies or experiences, or approach situations in the exact same way. But how do you work with and seek to understand, and challenge in a professional way, what you see going on?
Touray: For example, you may be well versed with the use of pronouns because of your education at SLC, but if someone is international and they don't necessarily have that concept, how are you going to react? Will it be combative or will it be in a more educational mode?
Sandoval: You can't educate people by canceling them. If you come out with an attitude of superiority, no one will want to learn from you. So one of my things is acceptance. Other people are not you. They have strengths you don't have. You have strengths they don't have. How can you learn from each other, instead of competing with each other to prove that you're more woke?
Meet the DEI Team
Vice President for Diversity, Equity, and Inclusion and Special Assistant to the President
Fatiah Touray brings extensive leadership experience in higher education to her position as Sarah Lawrence's top diversity officer, which is complemented by her nonprofit work and training as a lawyer and classroom teacher. Under her leadership, Sarah Lawrence is continuing to invest significant effort and resources to foster a welcoming and inclusive environment for all students, faculty, and staff from every background and identity.
A born-and-raised New Yorker and first-generation college graduate, Touray held positions of increasing responsibility at New York University, where she most recently served as assistant dean for diversity and international students. As the senior diversity officer for 7,500 students in NYU's College of Arts and Science, she led initiatives to increase underrepresented student retention as well as participation in research opportunities. She has had exceptional success working directly with students as well as across institutions to create systems and programs to support all members of the community in reaching their full potential. Under her leadership, underrepresented student enrollment tripled within NYU's Academic Achievement Program, and participation in research grants, travel, and projects grew by 55 percent. In addition to her programmatic leadership, she advised more than 200 students, guiding them in major selection and helping to connect their passions with their aspirations for the future. Touray has also been an ardent supporter and partner for faculty. At NYU she served on the Faculty of Arts and Science Faculty Diversity Initiative and authored the college's "Pedagogies of Inclusion" faculty modules, which were implemented across academic departments.
Touray's focus on mentorship and direct engagement with students has been on display at every turn in her career. While in law school at Howard University, she founded Girls II Women, which connected women in law school with girls in junior high school for one-on-one mentorship, tutoring, and even a mock trial program. After law school, she clerked for The Honorable James L. Jackson in the New Jersey Superior Court family division.
Associate Dean for Engagement, Diversity, Inclusion, and Equity
In her role at Sarah Lawrence, Amada Sandoval leads a team that includes the assistant director of diversity, equity, and inclusion as well as student leadership and engagement professionals, overseeing student organizations, the Barbara Walters Campus Center, and the affinity spaces for student groups. She develops, delivers, and assesses training curricula on diversity and inclusion issues for staff and faculty members and addresses diversity and equity issues that arise in the classroom.
Sandoval served as director of the Princeton University Women's Center from 2001 to 2019 and as a faculty academic adviser for Princeton's Wilson College from 2005 to 2019. During this period, she led the expansion of programs, trainings, support resources, and other services by effectively cultivating partnerships across the university and actively engaging students to create meaningful change. Prior to her tenure at Princeton University, Sandoval led recruitment efforts for underrepresented minority applicants at Motorola, Inc. and on the admissions board for the Harvard Graduate School of Business Administration. She earned her undergraduate degree in English and American literature from Harvard University, Radcliffe College, and is a master's degree recipient and doctoral candidate in the Department of English and American Literature at Princeton University, with a research focus on race, class, and gender in film noir and hard-boiled detective fiction.
Assistant Director of Diversity, Equity, and Inclusion
Ronnie Benion supports the associate dean for engagement, diversity, inclusion, and equity by providing oversight to the student identity spaces and working with identity-based student groups. He also presents workshops, advises the Real Talk @ SLC Dialogue program, supports student-led initiatives, and co-advises the Diversity, Advisory, and Programming Subcommittee of the Committee on Student Life.
Prior to joining Sarah Lawrence, Benion was a residence director for Ithaca College, where he supervised, trained, and evaluated a staff of 12 resident assistants by utilizing the learning partnerships model. In this role, he partnered with faculty to implement the learning outcomes of the Resident Engagement Model through educational events within the residence hall and developed the Resident Engagement Community Development Model to promote social and emotional learning, diversity and inclusion, and sustainability. He also served as chair and co-chair of the Diversity & Social Justice Committee within the Office of Residential Life, providing oversight of the Resident Assistant Diversity Curriculum and the Staff Learning Series on Inclusion.
Benion earned his BA in English at the University of Texas at Austin and his MS in student affairs in higher education at Miami University in Ohio, where he worked in the offices of Diversity Affairs and Residence Life, and in the Department of Student Affairs in Higher Education.