NPR business journalist Uri Berliner '77 often takes a quirky approach to explain how economics make the world go 'round. Like buying in bulk at Costco.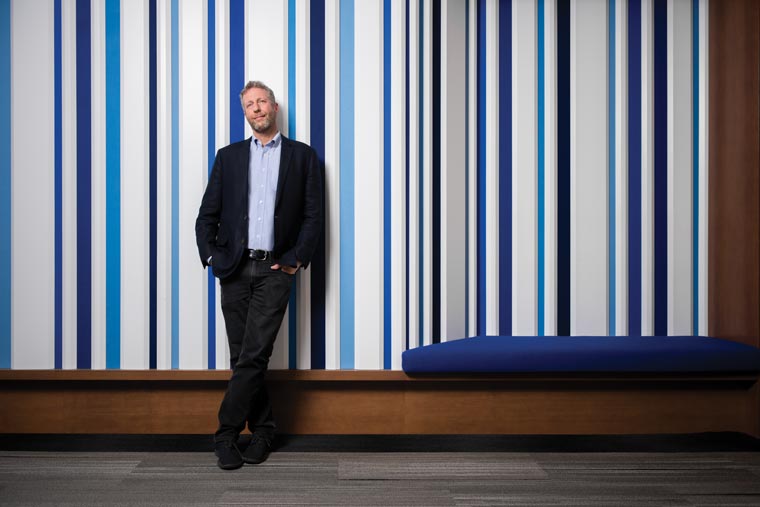 NPR senior business editor Uri Berliner '77 once took an economist shopping at Costco, where they loaded up on garbage bags, nuts, and undershirts. They weren't there to restock NPR's supply closet, but to address a question: Can buying in bulk provide a hedge against inflation? (Answer: no.) The real point of the shopping trip, however, was not to tell listeners how to grow their money. Berliner had decided to stake $5,000 of his own cash on retail goods, real estate, and coffee futures to shed light on how arcane segments of the investing world work.
As regular NPR listeners might recognize, Berliner's series, Dollar for Dollar: Adventures in Investing, bore many of the hallmarks of a classic NPR piece: an immersive real-world jaunt narrated with a dash of character and, where appropriate, a pinch of humor. In the underwear aisle, Berliner hesitated over buying T-shirts in packages of six, because it implies "a long-term commitment to staying who you are" by avoiding weight gain.
It's a reportorial approach rooted in the network's beginnings, but one just as effective in the podcast era. To engage listeners today, Berliner says: "The personality of the host or the performer—we let that come out more, because of the form. It's often a little more informal. Maybe we'll do something a little more experimental."
Reporting on the economy has come a long way since the days when the typical newspaper business section was jammed with stock market tables. Phenomena like the OPEC oil embargo of the 1970s gave rise to the wider recognition, as Berliner puts it, that "more things are explained by economics than politics in terms of how the world actually works." That spurred a whole industry of explanatory reportage on complex financial topics leavened by cheekiness. Think author Michael Lewis on the economics of baseball or the book-and-podcast Freakonomics.
Now, however, with the international economy having developed into a pulsing network of touch-sensitive nerves capable of quickly sending pain around the globe, the demand for clear reporting is greater than ever. With newly enacted US tariffs leading to the prospect of trade wars with China and other longstanding trading partners, questions persist about the potential impact on the US economy. Such complex events, Berliner says, make it easy for the average person to "get overwhelmed by the clatter of news." His role, he says, is "to get to the bottom of how incredibly influential the economy is to regular people, and to explain it well."
"More things are explained by economics than politics in terms of how the world actually works."
Raised in New York City—the only child of Eva Kollisch (German/literature, emerita), who taught at Sarah Lawrence for three decades—Berliner began his journey to the airwaves at a small weekly newspaper in the Hamptons. While the enclave teemed with wealth in the summer, Berliner found himself drawn to the stories of the fishermen and carpenters who made up the year-round community. At one point, his nose for news led him to an investment adviser with a felonious bent who had taken some of the locals to the cleaners. Berliner's reporting on the scam introduced him to writing about finance and provided a lesson in the personal impact of the world of investing. "It's not abstract," he says. "The victims may be people you know."
Berliner came to NPR headquarters in Washington, DC, in 1999, fresh off a Nieman Fellowship at Harvard. A decade later, while overseeing the network's coverage of the worldwide financial crisis that began in 2008, he edited and supervised a new program, Planet Money, created to explain what on earth was behind the collapse in housing prices.
The crisis, Berliner says, "was terrible for the country, but it was pretty good for economics reporting," because it awakened in many Americans a desire to understand what had gone awry and how it might affect them. Though his work on Planet Money ended in 2012, Berliner has had a role in shaping both the daily news reports and the themed podcasts that have proliferated at NPR ever since.
He's worked on NPR teams that have received some of journalism's most prestigious prizes, including a Gerald Loeb Award (for Your Money and Life, which explored how ordinary people are affected by their financial decisions) and a Peabody Award (for stories revealing how Wells Fargo had punished whistleblowers). More recently he's focused on the growing reach of tech companies such as Google, Amazon, and Facebook.
Oh, and that shopping spree? Along the way, Berliner dropped $450 online—"somewhat impulsively," he told listeners—on a painting by an unknown Lithuanian artist. "I didn't bother with research," Berliner said in the piece. "I just liked the way it looked." A year later, an appraiser told him it might be worth $900—a smart investment, even considering the $139 fee to ship it overseas.