Theatre Faculty, 1997–2018 | Director, Graduate Program in Theatre, 2009–2018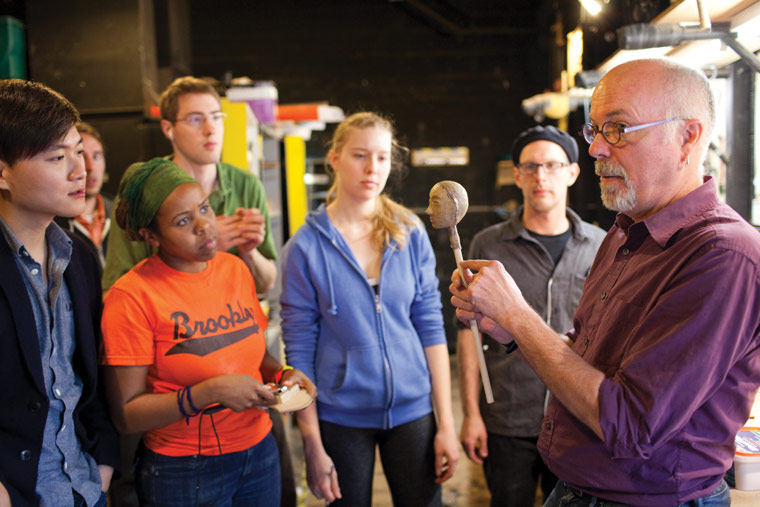 Dan Hurlin's mother evidently was not a big fan of flotation devices. When it came time to teach her children to swim, her method was to row them out in a boat to the middle of a lake, impart a few words of encouragement, and toss them overboard.
Hurlin '79 (theatre) likes to tell his students that story to explain his sink-or-swim approach to developing new work. Terrifying? Absolutely. But with Hurlin, one of America's most provocative and accomplished puppeteers, the results speak for themselves. "Whenever I start a project," he once told The New Yorker, "I have no idea what the hell I'm doing."
It's not so much a confession as it is a clue to Hurlin's creative process. Schooled as a Sarah Lawrence undergrad in the doctrine of the deep dive, Hurlin relishes the process of intensive exploration, trusting that he'll find his way back to the surface. Eventually.
It's in that same spirit that Hurlin is poised to make his latest big leap. At the end of the academic year, after two decades as a faculty member and director of the Graduate Program in Theatre, he's stepping down to devote more time to his artistic pursuits.
Even at a college where performing arts faculty commonly enjoy active professional careers, Hurlin stands out. "Dan's career and experience in the theatre program are unique, not only in what he does, but also that he has kept such a high profile as a director, a producer, and a performer," notes Sara Rudner (dance).
"Dan built a remarkable graduate program, where interdisciplinary, devised-theatre artists create personal, truly original work." —Shirley Kaplan (theatre, emerita)
It's perhaps more conventional, at this stage of their professional lives, for sage masters like Hurlin to go in the opposite direction, to transition from the stage to the classroom. But Hurlin's decision says a lot about the urgency he feels to speak up, with his mute puppets, about the injustices he sees in society.
"Dan is a true artist, and he can't not respond to the world around him," observes his former student, Josh Rice MFA '14, now a fellow puppeteer and colleague. "That's a gift."
Hurlin's work—including A Cool Million (1990), Quintland (1992), Hiroshima Maiden (2004), and Disfarmer (2009)—is known for being as timely as it is obscure, exploring such issues as corporate greed, corruption, isolation, violence, and destruction.
Such resonance is noteworthy, says Adrienne Willis '01, given how often Hurlin reaches back to the distant past for his source material, as he did most recently with Demolishing Everything with Amazing Speed (2017). The work is based on four wordless scripts written by Italian futurist Fortunato Depero in 1917. Hurlin stumbled on the previously unknown scripts in 2013 while on a fellowship in Rome.
"He has his finger on the pulse before there's a pulse," marvels Willis, who heads LUMBERYARD Contemporary Performing Arts in Catskill, New York, where Hurlin serves as artistic adviser.
What's next for Hurlin? If history is any indication, he may have absolutely no idea. But colleagues such as CB Goodman MFA '15, an accomplished performance artist who both studied and worked with Hurlin, say they're inspired by Hurlin's willingness to take the plunge.
"It's going to be fascinating to see what he does," Goodman says, speaking for many of Hurlin's admirers. "I can't wait."