We are pleased to offer free online info sessions, workshops and events to those interested in the field of health advocacy.
Sarah Lawrence now offers both a Master of Arts degree and advanced certificates in a completely online and asynchronous fashion, allowing individuals to tailor their education to their needs and interests. Check back soon for new events and view our recent events below.
---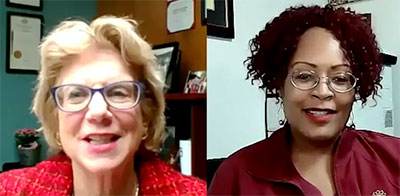 As part of our ongoing conversation on the impact of Dobbs v. Jackson Women's Health Organization decision, we hosted a panel of experts to discuss the medical consequences of that ruling. The decision has made abortion illegal and inaccessible in some states, impacting care for people in large swaths of the country. Panelists discussed the various impacts in different regions and for different population groups. Despite the challenges and barriers, many providers and advocates continue to work towards normalizing abortion and increasing access to care.
---
Spring Open House
A virtual Health Advocacy Open House with program faculty and the work you'll engage in as a student. Covered information includes the advanced certificate "Program Design and Evaluation for Health Advocates
Nailing your Application
If you are ready to apply to the Health Advocacy Program at Sarah Lawrence College this virtual session is designed to help you complete your application.
Overcoming Burnout/Compassion Fatigue (a workshop for carers)
This interactive workshop is for anyone who is a caregiver for people in their personal lives or professional roles.
Masters Program or Certificate(s)? Which is Right for You?
Information Session: Bridget Bohannon, Health Advocacy Program Director talks about the benefits of each.
What is Health Advocacy and is it Right for You?
Information Session: Bridget Bohannon, Health Advocacy Program Director and faculty in the program explain what health advocacy is and if it's right for you.
Why SLC?
In this information session you will learn more about the field of health advocacy and why you should pursue your studies at Sarah Lawrence College.  Meet faculty, staff and alumni of the program.
Making an Advocacy Plan/Letter to the Editor or OpEd
In this FREE virtual workshop, participants will learn from SLC's experts how to develop an advocacy action plan with the goal of bringing about social and/or organizational change on behalf of a particular health goal, program, interest, or population.  Participants will learn how to get started, identify stakeholders, and develop "asks" and messages. Participants will have the opportunity to write a Letter to the Editor or OpEd on an issue of their choice.