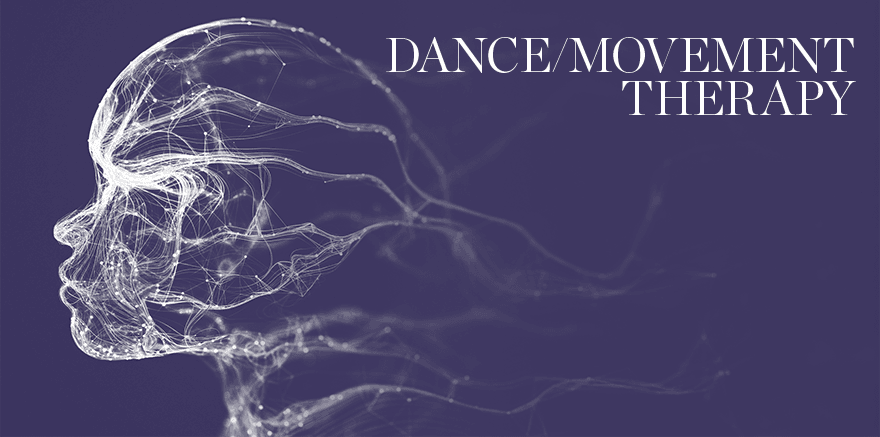 Using an embodied, process-oriented approach to learning, the Sarah Lawrence Dance/Movement Therapy program is a 2-year Master's degree that invites you to engage in critical thinking about the body, movement, and relationships. You will learn a way of thinking and being in the world that promotes interpersonal sensitivity, cultural dexterity, and an ability to effect change through listening, understanding, and engaging the whole being.
Why pursue your training in Dance/Movement Therapy at Sarah Lawrence College?
We are one of one of only seven programs in the country approved by the American Dance Therapy Association to provide Masters level training in Dance/Movement Therapy
You can take full advantage of the College's proximity to New York City and our connections to its vibrant dance and dance/movement therapy communities.
Small class size on an intimate campus allow for personalized attention and development of the whole person
The program's focus on social justice is also reflected in the larger college community
This degree prepares you to take the New York State licensing exam for creative arts therapists and to receive the R-DMT credential from the American Dance Therapy Association (ADTA) upon graduation.
Program & Requirements
Program Overview
The Dance/Movement Therapy program:
Blends theoretical perspectives and practical fieldwork
Integrates the historical, developmental, cultural, and clinical aspects of dance's ability to heal and promote change
Empowers students to explore their own relationships with dance from the perspective of personal growth, reflective use of self, and social action
Enables students to develop and integrate their own movement abilities using their cognitive, emotional, and social resources as a means of building connections with their clients and facilitating growth and change
Permits students to engage with professionals from the Dance, Psychology, Child Development, Art of Teaching, and Health Advocacy programs
Provides a setting for ongoing research and innovation among established practitioners
Program Requirements
The M.S. degree in Dance/Movement Therapy can be completed on a full-time basis in two years. The program's structure does not allow for part-time study.
Program requirements include:
Completion of 60 credits.
Clinical internships totaling 700 hours, with at least 350 hours of direct client contact. Internship placements include therapeutic preschools or community programs, elementary or secondary schools, or child-life programs on pediatric wards, adult psychiatric hospitals, rehabilitation facilities, and nursing homes.
Clinical fieldwork, which provides opportunities for observation, research, and practicum experience. Many first-semester placements are at the

Early Childhood Center

, the campus laboratory preschool, which allows students to study typically developing children from ages 2 through 6.
Master's project and thesis, during the program's second year. 
Typical Course of Study
Classes are scheduled to meet two days per week, with fieldwork and internships occurring on non-class days. Students will need to have flexible schedules in order to meet fieldwork and internship requirements.
Courses involve movement participation and/or experiential exercises in a seminar format with class discussions. Verbal and movement participation are expected of all students.
Year One, Fall Semester
Graduate Seminar in Methods and Theory of Dance/Movement Therapy I
Movement Observation I
Human Growth and Development
Group Work: Theory and Practice I
Professional Orientation and Ethics
Anatomy & Kinesiology
Year One, Spring Semester
Graduate Seminar in Methods and Theory of Dance/Movement Therapy II
Movement Observation II
Psychopathology
Group Work: Theory and Practice II
Clinical Fieldwork Orientation
Research Methods
Year Two, Fall Semester
Graduate Seminar in Methods and Theory of Dance/Movement Therapy III
Movement Observation III
Clinical Internship
Clinical Internship Practicum I
Clinical Treatment Planning
Graduate Thesis I
Year Two, Spring Semester
Graduate Seminar in Methods and Theory of Dance/Movement Therapy IV
Clinical Internship II
Clinical Internship Practicum II
Graduate Thesis II
Skills & Experience
A strong background in dance is essential. Students should demonstrate concentrated study in a classic, contemporary, or world dance form and some experience in at least one other dance style or a body-mind modality such as yoga. Proficiency in basic elements of dance, such as improvisation, choreography, and teaching, is also preferred.
Interest and experience in working with and helping others are also important. Applicants should be self-reflective and respectful of individual differences, with a commitment to working as a therapist.
Career Opportunities
A graduate degree in dance/movement therapy from Sarah Lawrence College will prepare students for careers working in medical facilities, psychiatric hospitals, nursing homes, rehabilitation settings, residential programs, and schools, as well as many other clinical and educational settings. Advanced level DMTs also provide services in private practice.
Dance/Movement Therapy is eligible for licensure and third-party reimbursement in many states. The Sarah Lawrence program prepares graduates to take the New York State licensing examination for Creative Arts Therapists.
Sarah Lawrence College's Dance/Movement Therapy Program is approved by the American Dance Therapy Association. DMT Graduate Programs that meet the requirements stated in the ADTA Standards for Graduate Dance/Movement Therapy Programs satisfy all professional requirements for the Registered Dance/Movement Therapist (R-DMT) credential.
Certification
The Sarah Lawrence program prepares graduates to take the New York State licensing examination for Creative Arts Therapists.
Many states require certification or licensure of dance/movement therapists as mental health counselors. Students are advised to consult their state credentialing requirements for specific information.
The American Dance Therapy Association (ADTA) provides information about the profession and about the Dance/Movement Therapy Certification Board. Sarah Lawrence College is approved by the ADTA as a graduate program in Dance/Movement Therapy.