The Thomas H. Wright Lecture, inaugurated in 1995, honors Thomas H. Wright's dedication to Sarah Lawrence and his long service on the Board of Trustees. An endowment, established by the Leon Lowenstein Foundation, funds the lecture.
Mothering, Reimagining & Starfishing: A Radical Way Forward
Featuring Jodie Patterson 
October 15, 2020
Virtual event 
Activist Jodie Patterson introduces the concept of front-loading Mothering as a proactive strategy for building better, stronger, more cohesive communities.
"Often when we talk about family and parenting, there is an implicit assumption that we're referring to heteronormative, white centered, cisgender, nuclear groups with two adults raising one or more little people. When I speak of Mothering I'm most definitely not speaking specifically to cisgender women or heteronormative families or white people. I'm putting a word I know well, MOTHER, to the activity of intentional building of people and communities."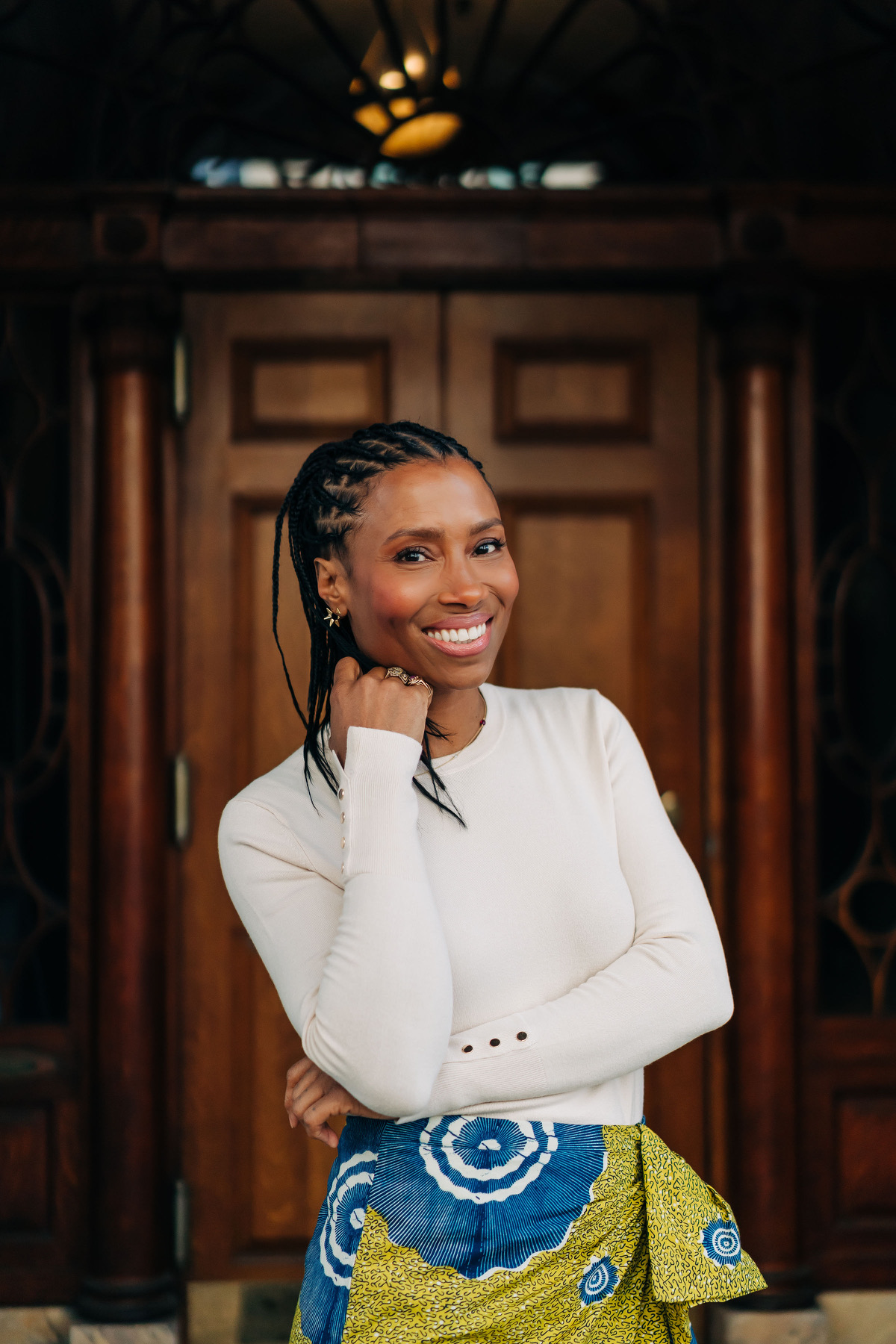 Jodie Patterson is a mother of 5, author and a globally recognized LGBTQIA activist. As a public speaker, Ms. Patterson uses her platform to discuss topics of radical parenting, identity, and gender. When her son announced at the age of 3 "Mama, I'm not a girl. I am a boy" she set out to inform herself, shift her own bias and change the way her community understood gender. Patterson chronicles this journey in her memoir, The Bold World: A Memoir of Family and Transformation - hailed by Alice Walker as "Marvelous". Cosmopolitan Magazine filmed a mini documentary on Patterson's family in 2016 - reaching over 11 million views on Facebook.
Ms. Patterson was elected Chair of the Board of the Human Rights Campaign Foundation, and works closely with the organization's Parents for Transgender Equality Council. Ms. Patterson sits on Mount Sinai's Institute for Health Equity Research Task Force, is on the Advisory Board of the Ackerman Institute's Gender & Family Project, and serves as a key advisor to Mount Sinai's pioneering Center for Transgender Medicine and Surgery.
In 2012, Ms. Patterson was chosen as one of Dell Computers' "Dell Inspire 100"—a select group of world changers in the fields of entrepreneurship, philanthropy, education, and media. In 2017, Ms. Patterson was appointed by the United Nations as a Champion of Change for her advocacy work. And in 2019 Patterson was awarded Most Influential Mother of the year by Family Circle Magazine.
Jodie lives in Brooklyn where she co-raises her children with love, education and family solidarity.
2019
Social Justice Belongs in Our Schools
Sydney Chaffee, '05
Watch the lecture video on YouTube 
2018
Small Actions for Big Justice
Albert Sykes
Watch the lecture video on YouTube

2017
When All Else Fails, We Must Protect Childhood
Denisha Jones, PhD
Watch the lecture video on YouTube

2016
Preserving Childhood at School: The Importance of Being Little
Erika Christakis, MPH, MEd
Watch the lecture video on YouTube

2015
Recognizing, Understanding, and Transforming Inequalities into Opportunities in the Classroom
Steven Hawkins, Executive Director of Amnesty International USA
Joshua Bogin, Director of Springfield Magnet School Program, Springfield Public Schools
Jan Drucker, PhD, moderator
Watch the lecture video on YouTube

2014
Asking Questions and Trusting What You're Told
Paul Harris, PhD
Watch the lecture video on YouTube

2013
The Environment of Childhood Poverty
Gary Evans, PhD

2012
Teaching and Learning in a Diverse and Inequitable World
Patricia Ramsey, EdD
Watch the lecture video on YouTube

2011
Voices of Children Voices of Teachers: Reclaiming the Classroom
Mary Hebron, MA

2010
When Parents, Educators, and Clinicians Collaborate: Classrooms for All Learners
A Panel Discussion with Stephanie Petrillo Gould, MEd, CSP; Maggie Hoffman; and Cassandra Hyacinthe, MEd
Jan Drucker, PhD, moderator

2009
Consuming Kids: Reclaiming Childhood from Media and Corporate Marketers
Susan Linn, EdD, Co-Founder and Director of the Campaign for a Commercial-Free Childhood, and Associate Director of the Media Center of Judge Baker Children's Center
Watch lecture video on YouTube

2008
Where da Heat Go: Social Justice, Agency & Science
Angela Calabrese Barton, PhD, Associate Professor of Teacher Education, Michigan State University

2007
Children and Nature Design Principles
David L. Sobel, MEd, Director, Teacher Certification Programs; Co-director, Community Based School Environmental Education Program, Antioch New England Graduate School

2006
Open Pandora's Box: Curiosity in the Classroom
Susan Engel, PhD, Director of the Program in Teaching at Williams College

2005
Building a Community/Building a School
Nancy Mann, MA, Principal, Fannie Lou Hamer Freedom High School

2004
Reflections on Teaching: Relationships, Possibilities, and Power
Jane Andrias, MA, Leader in New York City's progressive education movement

2003
Nurturing the Remarkable Powers of Children
William Crain, PhD, Professor of Psychology at The City College of New York

2002
Processes of Change in Schools
Tom Roderick, MEd, Executive Director of Educators for Social Responsibility, New York City Metropolitan Area

2001
Pathways to Literacy: Non-Standardized Approaches to the Enhancement and Assessment of Literacy Across the Curriculum
Frank Smith, PhD, Writer and Researcher, British Columbia, Canada

2000
Rethinking Standards and Assessment
Harriet K. Cuffaro, EdD, Professor Emerita of Education, Bank Street College of Education and Staff Developer at the City and Country School, New York City

1999
Play and Learning
Celia S. Genishi, PhD, Professor of Education, Teachers College, Columbia University

1998
A New Look at Families, Schools and Child Development
James P. Comer, MD, Maurice Falk Professor of Child Psychiatry, Yale University Child Study Center

1997
Rethinking Teaching: What Schools Can and Should Be
Linda Darling-Hammond, EdD, Stanford University

1996
Conflict as a Fact of Life: Families, Schools, Communities
Regina Arnold, PhD, Professor of Sociology and Associate Dean of Studies, Sarah Lawrence Colleg e

1995
Family/School Partnerships: Working Together for Children
Patricia Carini, Founder of Prospect School and the Prospect Archives and Center for Education and Research, North Bennington, Vermont