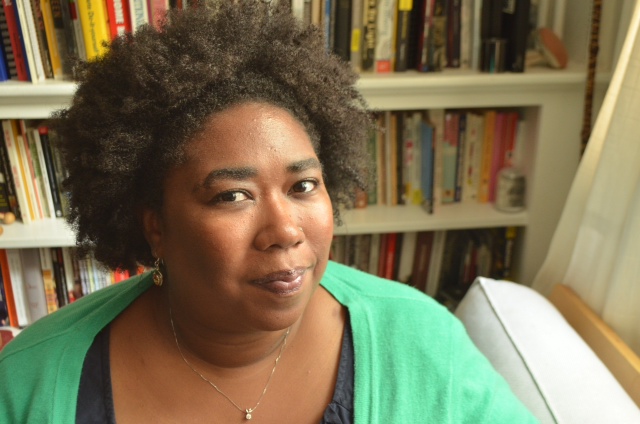 Khaliah Williams '02 is a college counselor and English teacher at The Berkeley Carroll School in Park Slope and a current fellow at the Kimbilio Center for African American Fiction. She is a member of the Alumni Association Board.
Why did you choose Sarah Lawrence?
If I were to be perfectly honest, I didn't know much about Sarah Lawrence when I first told my mother I'd be applying. I actually opened a college guide and pointed to the school name that looked the most appealing and said, "I'm applying to Sarah Lawrence," so that my mother would leave me alone. Since I had already made the statement, I figured I would at least have to request a catalog and application. If I had to pinpoint one thing, I would say that the catalog of courses the Admissions Office sent to me became my bible. I read it cover to cover. I could have told you anything and everything that was between those pages. I chose Sarah Lawrence because I wanted to study theater and Italian and film history and literature; and I knew that I would never have to sacrifice any of those disciplines because of a core curriculum. I also loved the idea of being at a place where writing was central.
Did you have a favorite class?
This is a hard question, so I'm going to ignore it and give you three favorite classes I know for certain shaped my life beyond my four years at Sarah Lawrence. "Film History of the 1930's" with Bill Park was my First-Year Studies course. It was actually my last choice, but Bill was an incredible don and I learned how to write in that class. "Writer's Gym" with Cassandra Medley was another class that was incredibly important to me. Kate Scelsa '02, Laura von Holt '02, and I have been writing buddies since 1999 and we can credit Cassandra for not only bringing us together but for also pushing us to write through the inner critics that are always trying to silence us. Lastly, "Advanced Italian" with Judy Serafini Sauli. When I first studied with her as a first-year, she would stop me on paths around Westlands and speak to me in Italian and I understood nothing (sorry, Judy!), well maybe I understood better by the end. But Judy helped to build something incredibly important to hundreds of Sarah Lawrence alumni through the Florence program. Sarah Lawrence in Florence and that last Italian class helped me build a great deal of confidence in myself. It exposed me to writers like Natalia Ginzburg and the conference work I did in that class was the first piece of long form fiction writing I did the entire time I was at Sarah Lawrence. I left school wanting to write a novel because of the literature we read and the writing I did.
You're a college counselor and English teacher at The Berkeley Carroll School in Park Slope, which you've described as your "dream job." What do you love about it?
I work in an environment with people, both faculty and students, who are a constant source of inspiration. In a very turbulent world, I get to come to a place that isn't afraid to confront what's outside its doors but also manages to be a respite from it all. In my daily work with students, now mostly as a college counselor, I enjoy watching them work their way through the process. I love the moment when someone discovers the college where they're going to spend the next phase of their education. I like seeing the excitement that comes with an offer of admission from a school they've applied to and I'm always impressed by their resilience when things take a different course than the one that was hoped for. I am also very grateful that I get to come to a place that supports me not only as a college counselor, but also as a writer.
You have a student who is now a member of the class of 2021. What advice do you have for her and the other first years?
If you find yourself afraid to take a class, then that's the class you should take. I was terrified of taking a fiction writing class while I was at Sarah Lawrence. I thought everyone would be better than me, I was convinced I had no ideas. It's a regret I'll always have. So if you think that math class sounds scary, that is probably the class you should register for.
You're working on a novel and collection of short stories, publishing essays online, and are a current fellow at the Kimbilio Center for African American Fiction. How do you balance your writing with the rest of your life?
What is this balance you speak of? I write when I can, which is usually in the summer and during the winter and spring breaks. This past summer, I was a Writer in Residence for Writers in Baltimore Schools and in between spending time with the amazing young writers from Baltimore, I made some good progress on my novel. I always wish for more time, but I find it where I can.