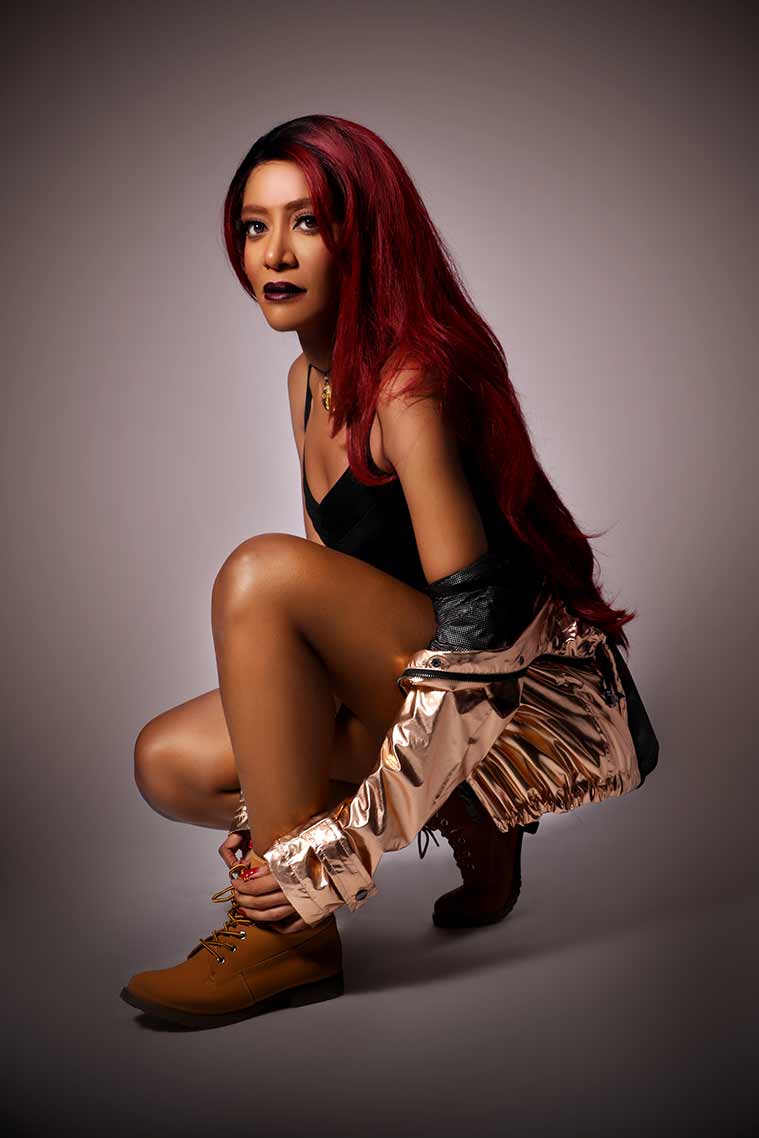 Coined "the next great songstress" by The Huffington Post, Yvonne Sangudi '10 is a singer as well as the founder and CEO of Éclat Media Enterprises, inc. in Los Angeles, CA. She got an early start in show business at the age of nine, recording, writing and performing music. Yvonne's debut single, "Tanzanite," peaked at #35 on the iTunes Top 100 Pop Charts and her second single "MistaRomeo" charted at #1 on BuzzMusic's Top 50 Hits In Los Angeles Charts.
Why did you choose Sarah Lawrence?
I chose Sarah Lawrence College for many reasons. During the application process, SLC was the only college interested in my passions for music and requested a copy of my demo tape. Apart from its prestigious alumni, credible name and prime geographical location, Sarah Lawrence just fit my educational prospects perfectly. I knew it was the place for me to continue honing my musical skills, expand my knowledge with the renowned curriculum and conference writing system, immerse myself in the opportunities NYC had to offer, and become a better educated person overall. My stint at SLC was the greatest four years of my life. If I could go back in time and do it all over again, I'd do it in a heartbeat. The woman, entrepreneur, and musician that I am today is due in no small measure to Sarah Lawrence College.
Did you have a favorite class?
Every class at SLC was my favorite class and I'm not just saying that. Every professor had their own unique flavor which they brought to the curriculum. I had an eclectic mix of classes that ranged from poetry to environmental economics to politics; each class brought out different aspects of my personality and interests. The class that ultimately changed my life in my freshman year and set the tone for my next four years at SLC was "Reading Text, Reading Code" with Demetria Royals. The course focused on exploring the use of technology in the modern world. I did my conference paper on technology in the music industry and spent three months working on my first album which I presented during our last class. The album led me to perform for distinguished personalities, including the president of Tanzania, Jakaya Kikwete, in 2007, first lady Laura Bush and the president of Liberia, Ellen Johnson Sirleaf, in 2008.
What was your favorite spot on campus?
Different parts of campus have different memories for me. Marshall Field was where I first sang "Edelweiss" in Eddy Pierce Young's "Self-Discovery Through Singing" course in my freshman year; Andrews House was where I lived my first year and wrote/produced my first album (in my tiny dorm room); Reisinger Hall was where I put on my first solo concert in 2008; Westlands was where I went to read a book or think of music lyrics; The Pub was my go-to hang-out spot to catch up with friends; and of course I can't forget Heimbold Visual Arts Center where so many of my dreams were cultivated. Every spot had a special meaning to me!
How did your time at Sarah Lawrence prepare you for your career?
Now that I'm older I understand the value and meaning of going to college. College is where you find your life's purpose. Some of us get lucky and know what we are meant to do at an early age. I was fortunate enough to discover my passion for music at the age of nine years old, but at college is where I found my true voice. Sarah Lawrence prepared me for my career in music and entrepreneurship by allowing my capabilities to blossom and unfold. I challenged myself in subjects I'd never studied, I wrote 40-page thesis papers on topics I'd never explored and most importantly I became more confident in myself as a woman, a woman of color, an immigrant, a singer, a songwriter, and a performer. Sarah Lawrence embraced my creative self-expression, encouraged me to break free of my self-imposed limitations, and face my fears. If not for SLC, I never would've been exposed to all the internship opportunities which ultimately led to me getting a full-time job at NBC Universal in Los Angeles just six months after graduating. This unique opportunity fueled my desire to launch my company in 2012. Sarah Lawrence was the perfect foundation for me to write my story and the perfect stage for me to sing my song.
What is your favorite part of attending Reunion?
Reunions are a walk down memory lane. My most favorite part of reunion is being back on campus, retracing my footsteps and reliving memories that led me to where I am today. It's hard to believe I began college 14 years ago and graduated a decade ago! Being back at SLC will, I hope, give me inspiration for new creative ideas. Reunion will also give me the opportunity to express profound gratitude to my alma mater for paving the way in my life. I'm excited to see professors (hoping they'll remember me since I'm a redhead now) and seeing my old dorm room where I wrote my first album. And of course the cherry on the cake is seeing old friends!