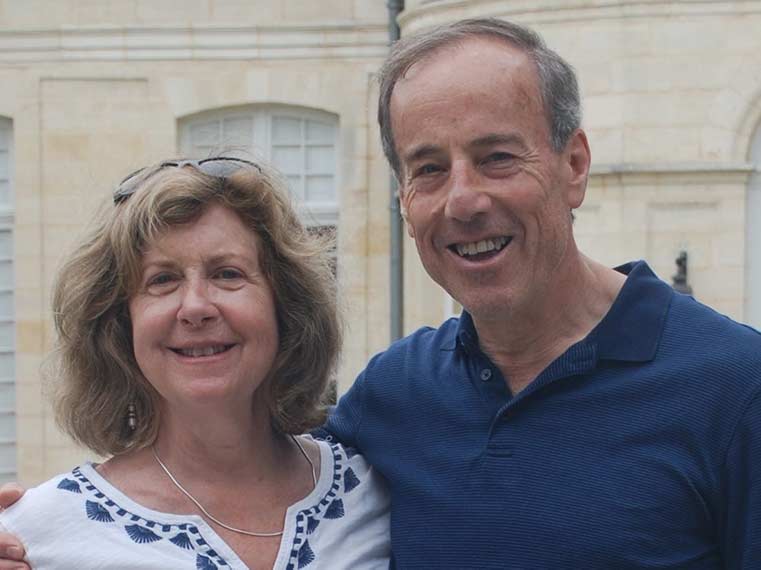 Donald Miller '75 is the father, husband, brother, son, and best friend of alumni.  He is father to Carolyn Miller Pierce '08 and Zachary Miller (his greatest accomplishment in life), husband to Lauren Radovsky Miller '76, brother to Sheila Miller Bernson '71 and for the last 46 years, best friends with Peter Schnall '75. In his day job, he serves as a family physician in a community health center in downtown Lowell, Massachusetts.
Why did you choose Sarah Lawrence?
I was pretty bored in high school. My mind was hungry for knowledge but not the way it was being doled out in school. I knew about Sarah Lawrence all of my life as my mom was in the class of '36. When college hunting I was very excited by the prospect of being able to study political science and history to my heart's content without any science or math requirements. I also loved the idea of following my own intellectual journey in very small classes taught by teachers who were hired solely for their teaching acumen, not grad students or winners in the "Publish or Perish" game.     
Did you have a favorite class?
Creation Narratives, taught by Vaselin Kesich.
What was your favorite spot on campus?
Before the Esther Raushenbush Library was built, the library was housed in MacCracken. I found odd nooks in the upstairs stacks with desks. I went there to study in peace on Sunday mornings when everyone else on campus was asleep.
When did you know you wanted to be a doctor?
In my junior year, being a nascent tree-hugger, I took a course on environmental science taught by Hal Zeliger (who also taught organic chemistry). At our first conference, having zero science background, I naively asked him to teach me organic chemistry. He said, "Sure!" I ended up not only loving it, but meeting the 8 or 10 pre-med students at Sadie Lou. One of them (Lynn Comley '75) said to me one day, "Hey Donald, you'd be a great doctor." I thought it over and realized that my mission in life was best realized one-on-one as a healer rather than as a crusading political activist. I did an academic 180° and the rest is history.
What is your favorite part of attending Reunion?
All of us are older, wiser, and less shy, so socially it's much easier than when we were young. Mostly I love being part of a living vibrant product of the SLC pedagogy with like-minded sisters and brothers. It is a unique community that has shaped and enriched my life immeasurably. Being among alumni of all ages makes me feel ontologically at home.