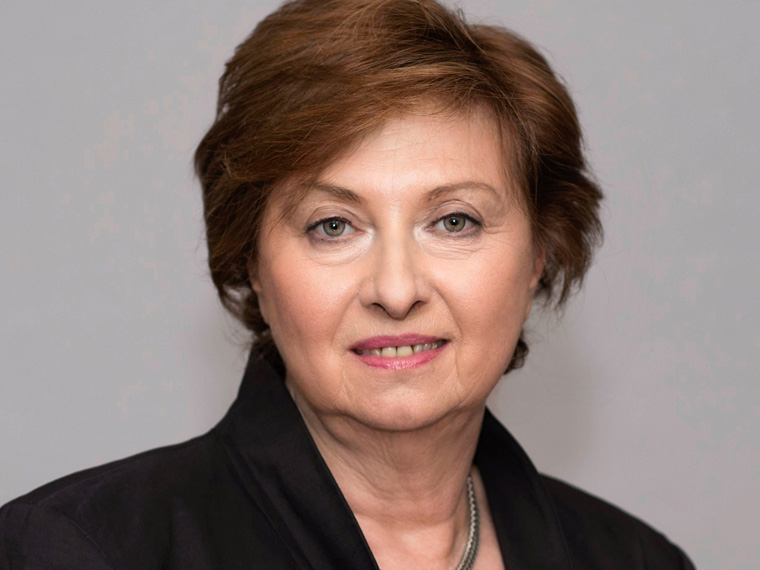 Judyt Mandel '68 served for more than 28 years in the foreign service, with postings in Moscow and London.
Why did you choose Sarah Lawrence?
I did not pick Sarah Lawrence College so much as the College picked me. I grew up the child of Holocaust survivors who came to the United States in 1950, when I was two and a half years old. My parents struggled to make ends meet, to learn English, and to adapt to customs that were very different from those they knew in the small towns in Poland from which they came. They spoke Yiddish, and Yiddish was my first language. I was fortunate to have a principal in my public high school in Brooklyn, New York, who encouraged students to reach far beyond their comfort zones, to apply to private colleges that represented the best of American education. I learned about Sarah Lawrence from my principal, Dr. Abraham Laskin, who wrote a column for The New York Post about colleges at that time. I was attracted by the seminar and colloquium style of learning at Sarah Lawrence, the College's flexibility in letting students tailor a curriculum that suited their needs, and the intellectual excitement I sensed when I visited the campus. Students were enthusiastically discussing, debating, engaged in exchanging ideas everywhere I looked. The most important factor was that Sarah Lawrence not only accepted me, but offered me the scholarships—without which I would not have been able to attend.
Did you have a favorite class?
During my sophomore year, I was allowed to take the senior seminar on European Intellectual History, taught by Professor Daniel Resnick. It brought together in a new way so many the elements of past studies, history, literature, languages, etc. in which I had been interested, and opened new ones. I could not wait to get to class and devoured every new reading as soon as soon as I could get my hands on it. It was my first experience of an interdisciplinary course, and one that I sought to replicate in my subsequent studies, including in graduate school at Columbia University's School of International Affairs, where I pursued my Master of International Affairs degree following an interdisciplinary track. I also appreciated that Sarah Lawrence let me study Russian and Italian, and audit French literature courses at the same time. My don, Gaziella Barta, supported my unorthodox choice of courses, and I am eternally grateful for that.
What was your favorite spot on campus?
My favorite spot on campus was the library, especially the reading room/commuters' lounge, with its comfortable armchairs and sofa, where I spent most of my studying and reading time. My freshman year, I commuted to Sarah Lawrence from my parents' home at the southern tip of Brooklyn, a two-hour trip via subway, commuter train from Grand Central Station, and fifteen minute walks to and from the stations. I was able to spend three nights a week on campus in the house for "day" students, but the library was my home, the place that was inviting, quiet, and cozy. I confess that I fell asleep in the big armchair on many occasions, but it was a pleasant interlude.
How did your time at Sarah Lawrence College shape your career?
Sarah Lawrence solidified my determination to pursue a career in international relations. Although I did not have the opportunity to study with Ada Bozeman, the doyenne of international relations, I did get to study in Geneva, Switzerland during my junior year at the Ecole des Hautes Etudes Internationales, one of the leading academic centers for international relations, and the University of Geneva. I spent my senior year at the London School of Economics and Political Science, concentrating on political science and Russian politics, which have been at the core of my professional interests for the last fifty years.
The exposure to a multinational student body and professors steeped in international politics, economics, history, and culture were the best preparation for my eventual entry into the Foreign Service of the United States, where I served in the US Embassies in Russia (twice), London, and Washington. In Washington, I served for five years on the staff of the National Security Council under Presidents Reagan and Bush, focusing on US-Russian relations and arms control and prevention of proliferation of weapons of mass destruction. I subsequently worked as a consultant for international business development for an engineering and construction management company that operates global projects, and as a professor of political science for military officers. In 2016, I was an Adjunct Professor at Columbia University's School of International and Public Affairs, leading a Capstone Course on US-Russian Cooperation in Preventing Proliferation of Weapons of Mass Destruction, the culmination of several of my professional interests.
Virtually every class and instructor contributed to building the skills and knowledge upon which I would draw for more than 30 years. Most important, they taught me how to learn, and how to apply the analytical skills and problem solving methodology I honed at Sarah Lawrence, to any subject, and any problem. In fact, when my engineering colleagues asked me what I knew about construction, I could easily answer that my Sarah Lawrence education taught me that I could learn about anything, and apply what I knew to any situation.
And the friends and teachers I met during my Sarah Lawrence College years, especially in Geneva and London, have remained important stars in my life. Marc Slonim, the director of the Geneva Study Abroad program was a mentor who not only directed me through the academic network of European international relations studies, he introduced me to the man that was to become the love of my life. I met my best friend Eileen Barkis Hoffman on the plane taking us to London to study at LSE, and we have remained inseparable through two continents and myriad other upheavals.
What are you most looking forward to at Reunion 2018?
I am looking forward to reliving vicariously the excitement and intensity of my college years: the discussions that lasted late into the night, the discovery of new books, new ideas, and new friends, and feeling like 18 again. Although neither of my two sons chose Sarah Lawrence for their university education, I hope to bring them to the campus for a visit, so that they can experience the place that played such an important role in shaping my future. Of course, the campus has changed considerably, but so have I. The reality of a vibrant and forward-looking campus grappling with the challenges of 2018, educational, political, and cultural will be the real prize.