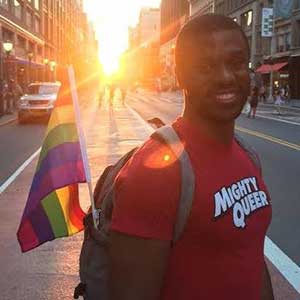 Eric Glover '09 is a screenwriter with Meow Wolf, an arts and entertainment group creating immersive, multimedia experiences. In 2017, his script Panthers received the Grand Prize from WeScreenplay's TV Pilot Competition.
Why did you choose Sarah Lawrence?
I chose Sarah Lawrence because of my best friend from high school, Nick Falgout '09. We were both passionate about authoring fiction, and he told me that Sarah Lawrence had a great writing program. In addition, my Prospective Students Day visit facilitated meeting such wonderful, generous, and kind people on campus that I felt confident I could have a happy future there. (It also helped that Sarah Lawrence offered an attractive financial package.) Nick changed my life by encouraging me to apply—and my time at Sarah Lawrence became one of the most positive experiences I have ever had. 
Did you have a favorite class?
It feels extremely difficult to pick one favorite. My First Year Studies course in fiction writing was a dream—led by Lucy Rosenthal, who taught with such heart that it was impossible not to love her. The class was filled with students whose prose was poignant, hilarious, and remarkable. Another fiction writing course the following year, with Brian Morton '78, was a landmark class for me. I am still in awe of the people I shared it with; their writing was, without exaggeration, awe-inspiring—and even outside of reading their work, I fell in love with who they were as people. Brian himself turned out be such a force of compassion, grace, and humanity that he effortlessly became my hero, and I hope to be the kind of man he is one day. Fred Strype made me believe in myself as a screenwriter. Doug MacHugh did the same for me as an actor. Komozi Woodard, Priscilla Murolo, and Ron Afzal challenged me to rethink everything about what I knew of history. And the classmates I had consistently enriched each of my learning experiences. I had several favorite classes, and I was Sarah Lawrence's luckiest student.
What was your favorite spot on campus? 
My favorite spot on campus was the South Lawn, where I would play frisbee twice a week during freshman year. I met so many good people during those games—and forged relationships that remain intact to this day. A bonus of playing on the lawn was seeing random friends make their way through the heart of campus and being able to enjoy their unexpected company, however briefly. Nothing beat it. Between sprinting shirtless in the sunlight and exchanging smiles with people I loved on and off the field, I'll always cherish that spot.
What drew you to screenwriting?
My friend Dylan Morgan '09 told me that Fred Strype was an incredible screenwriting teacher, and I heard from other friends, too, that he was the kind of person who made class seem endlessly worthwhile. I met with Fred years before I actually took a course with him, and he made such a great impression that I always kept him in mind as a future mentor. During my senior year, I knew I had to finally give his class a shot. Strangely, it hadn't occurred to me beforehand that screenwriting might be my passion; I knew I liked writing prose, but for some reason, my enthusiasm for film and TV hadn't inspired me to reconsider my creative future until I took Fred's class. Now that screenwriting is my main pursuit, I'm grateful to both Fred and Dylan for their influence on me.
What are you most looking forward to at Reunion 2019? 
My favorite part of my five-year reunion was simply hanging out with friends—some of whom I knew well already, some of whom I got to know better for the first time. I didn't drink much in college, so it was particularly nice to have some booze with buds and let loose in ways I hadn't let myself before. We danced, we laughed, and we made the most of seeing each other. I look forward to doing the same at my ten-year reunion this year. I feel so incredibly lucky to know the classmates I graduated with—and reconnecting with these brilliant, compassionate, talented, brave, and beautiful people will be my privilege.