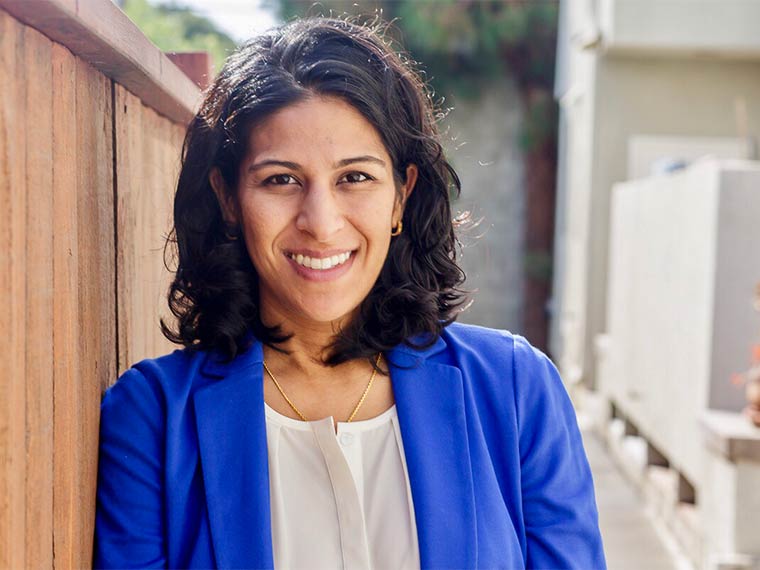 Sonia Arora '05 is the Director of College Counseling at Colorado Academy and lives in Denver with her husband and toddler twins.
Why did you choose Sarah Lawrence?
As a teenager, I didn't visit colleges or have a particular path in mind, and I experienced the College for the first time on move-in day! Something about liberal education, theatre, being near New York City, and the hallmarks of Sarah Lawrence students – progressive, creative, innovative – sparked my interest. It all worked out just right. Sarah Lawrence empowered me to be a lifelong learner and problem-solver.
Did you have a favorite class?
Too many! SLC classes were very meaningful to me. I quickly befriended fellow students and took great pride in growing as a reader and writer because of role models, both faculty and peers, around the table. Everyone at SLC is so inspiring! Professors such as Kasturi Ray, Lyde Sizer, Shanti Pillai, and Priscilla Murolo challenged me. I loved American Studies, Labor History, and most anything in the Women's History department. Priscilla was generous enough to take me in when I had only a vague idea for a senior thesis project. She was so wise to the ways of the world, and I quite sheltered in comparison. Conversations we had then still surface in my mind. Now, fourteen years later and with a few grey hairs of my own, I love catching up with her to mark the passage of time in our lives.
What was your favorite spot on campus?
Memories flow for me when I walk into Westlands, the heart of campus. Our beloved yet humble Common Ground space used to be there, as well as the Admissions Office and Westlands Desk itself. What a beautiful place. I spent a lot of time in the library, too! I remember combing through shelves, amazed, excited by everything that was in reach. There were always friends, acquaintances, or faculty at each turn, happy to catch up.
What drew you to college counseling?
I began working in education because I like school communities. People tend to be energetic and engaged. Dynamic teachers and mentors have had a big impact on me. I should note that Lyde and Priscilla helped me see my potential as an educator. And through APICAD at SLC and as an active student on campus, I worked with administrators and even worked formally in the Admissions Office as a student tour guide and ambassador. I segued from teaching to college counseling fairly early in my career because I loved supporting students at that particular crossroads: applying to college is a time for developing your voice, for adventure, for courage, all of which is scary when you're seventeen. Working at my own high school now and serving on the senior administrative team is an absolute dream. Sometimes I have to pinch myself!
What is your favorite part of attending Reunion?
I attended my 10th reunion and hope to attend more! There was a moment when I found myself sitting on the south lawn talking with two of my classmates, Ann Fountain '05 and Beth Lassner '05, both of whom have adorable sets of twins. I bounced them in my lap and wiped up a little happy drool. Beth and Ann and their partners later became a huge source of support for me when I had a surprise set of twins just two years later! In retrospect, it is surreal – the serendipitous moments and connections at reunion. I'm grateful.