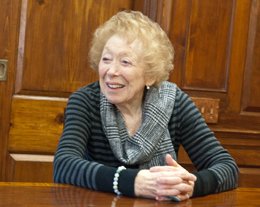 Muriel was in her mid-eighties when she published her first children's book, "When Louis Armstrong Taught Me to Scat." She has since written a second book, titled "Play Louis Play: The True Story of a Boy and His Horn," which was a 2012 Junior Library Guild Selection, a recipient of the Paterson Prize, and is nominated for the Texas Bluebonnet Award. Her forthcoming poetry chapbook, "What Women Will Do," will be available this year. Muriel is a veteran Writing Institute student, and has participated in a number of poetry workshops at Sarah Lawrence College. She lives on Long Island, and has been commuting to Sarah Lawrence for the better part of a decade.
You've published a children's book and a biography, but you also write poetry. Which form speaks to you the most, or do you transition easily between them?
You know, when anything is good, if it's poetry or if it's good children's fiction, it speaks to me. It's almost like swimming. I find that in moments of stress or in moments of revelation, it's poetry that I go to. Of course, if it's possible, I like to filter it through children's fiction.
I wrote as a kid, always, and then I was divorced in the late 60's, and that's really when I came to poetry. I wrote poetry for children, but I never sent it out.
And then I met my husband who wrote educational material. He was also a novelist and a short story writer. So we collaborated on a workbook, "The World of Vocabulary," and that was in the 70's, and that's still out today. It is the most successful vocabulary and reading comprehension book around.
Have you collaborated since, or do you consider writing to be a more private experience?
Writing is a very private experience. Very. I think if I had to collaborate I would never be satisfied. You have your own opinion, and the way you want to go… but there have been many successful collaborations.
You taught elementary school for 22 years. How did teaching impact your writing?
I was a school teacher for many years, though initially I was a journalist. I was a journalism major. I didn't know anyone who went to a [private] college. Everybody I knew had to go to a city college. As a journalism major I worked on newspapers, so I always loved writing. And then, when I was married and had children, I felt I had to have a change. I couldn't go off all day and leave them.
So when we moved to a private house I discovered that instead of liking the women's company, I liked the children's company. So I used to have the children a lot in my house. I discovered I loved being with kids. Adelphi was 5 minutes away, so I went to Adelphi and got an MA in teaching. I had a love affair with teaching for twenty odd years. And I loved it.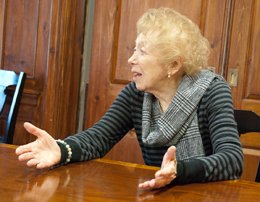 What's it like working with publishers and agents?
Terrible. I didn't like it one bit. I didn't have an agent. I went to a writing retreat, which was from Friday to Sunday, and Saturday night the big entertainment was to volunteer to read [our] stuff, and I read my picture book, "Scat." 
I didn't know there was an agent in the audience, so when I got through he came over to me and he said, "I know somebody that would buy that in a minute." I said, "Who?" He said, "Chronicle." I said, "You've got to be kidding." He said, "No." And I was about to ask him would he be my agent when someone came over and said, "Scott, would you be my agent?" He said, "Darling, you don't make enough bucks for me." I said, "Oh my God." I shut my mouth.
And then, when I got home… I called him. I said, "Look, I'm not just sending it to the children's department. I have to have the name of an editor. I want it to go to someone specific." So he said, "Okay," and he gave me the name of a field editor who worked for Chronicle. Chronicle is in San Francisco. And I sent it to her. In two weeks she calls. She wants it, but she says that doesn't mean it gets published. [She's] recommending it to them. All the editors have to agree.
That took a year and a half because they only met once a month for acquisitions. And one month they were purchasing another company, and another month the head editor was sick, and another month she was on vacation. So it just stretched out.
When George Saunders came to speak at Sarah Lawrence last year, he said that he often has three stories going at the same time. Do you have a specific process or, like me, do you write when the mood strikes?
I work on a few. I multitask. And when I get frustrated, or a little tired… I go to something else. And, it's the only way I know. Sometimes, let's say you're working on two or three stories—they block you from the necessary tasks that you must do during the day, and I hate to tell you what gets neglected. But not my work.
In "The Nature of the Fun," an essay by David Foster Wallace, he says that fiction is essentially a "hideously damaged infant" that is "grotesque because [it is] imperfect. And yet it's yours." How do you react to your own writing when it is finished? Are you proud, appalled, confused that you've created something separate from yourself?
Well let's say I'm up late at night and writing, and I think what I wrote is absolutely terrific. I get up in the morning and I look and I say, "What shit." I rip it up, you know? You have to look at it objectively, and then you produce a better specimen, a better piece of work. I think it's very important to have input from others. I'm a great believer in having some kind of group where you all hear one another… if you have a group where everyone is sincere about doing their best, then they care also about you doing your best. And that's very important.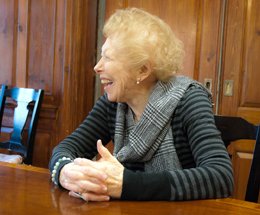 How has the Writing Institute affected your work?
Oh my God. It's enriched my life. If I didn't have writing, I would have almost nothing. I cannot eliminate the wonder of my marvelous grandchildren. And I have great grandchildren too… But I don't see them every day, I don't see them every week. My writing is my life. And, it doesn't even really matter a hell of a lot—but it adds to it—if you get published. What's important is the act of writing.
My time here has been fantastic. My time here has given me the courage to continue writing the book I'm working on. I researched it for years and years and I had files and files and I was always running to my file to put in something interesting. And then I realized it's not the facts, it's the story that's important. And I think I learned that from [Writing Institute teachers] Jimin [Han] and Pat [Dunn].
The past two years I've been working with the novel, studying with that fantastic team (Jimin and Pat). Listening to others' work and befriending young writers has been a boon. I think the company of younger people and the perspective of their works adds fuel and spirit to all aspects of my life. These years have enriched my life immeasurably.
What is the project you're currently working on?
[I'm writing about] Hatshepsut. She was remarkable. There's very little information on her. I had to embroider a lot. It's historical fiction. How did she get there? Through a lot of skullduggery. She dressed as a man, but she didn't fool anyone. Everyone adored her. A historian (Mark Millmore) called her "The first great woman in history."
Are you writing the piece as strictly historical fiction, where you're trying to imagine her in a literal sense, or are you applying some of the mythology? Are you taking a more poetic approach?
I'm trying to have a more poetic approach. I feel it has a kind of ancient quality to it. I don't know if I'm succeeding everywhere, but I'm trying. There's a political argument, but I have a lot of work to do there.
Muriel's poetry chapbook, "What Women Will Do," was published by Finishing Line Press, and is available here.
Interview by Craig Ledoux MFA '13