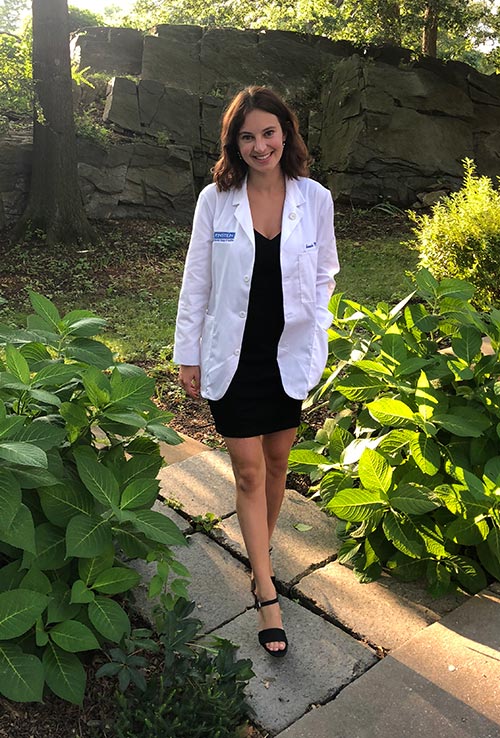 How did Sarah Lawrence College prepare you for medical school? 
Having experienced large lecture courses in the past, I am so grateful to have taken all of my medical school prerequisite coursework at Sarah Lawrence. The small class and lab sizes make a difference, and so does the accessibility of the faculty. At Sarah Lawrence, I wasn't afraid to stop by my professor's office to ask for help or to provide feedback on the coursework. I felt as though I already had a great foundation in the sciences when I began studying for the MCAT.
My time spent conducting literature reviews and writing conference papers has set me apart, as not all medical students can assist with writing and editing manuscripts for research publications. In addition to taking my prerequisite coursework, I enjoyed the flexibility to take courses in the humanities without worrying about fulfilling major requirements. I was able to choose conference projects that related to my interests in medicine no matter what the course was, and because of this I have a unique perspective to share with my medical school classmates when it comes to public health, medical ethics, and other clinically relevant topics.
What internships or other activities did you participate in while a student at Sarah Lawrence College?
I became a certified Peer Health Educator at Sarah Lawrence, which helped me gain leadership experience and serve as a liaison between my classmates and Health Services on campus. I also worked as a TA and tutor in the sciences. I enjoyed when the pre-med club hosted talks by physicians, medical students, and scientists who shared great insight on their careers. I volunteered at the Saint Anthony's Free Medical Clinic, in the nearby Bronx, with other pre-health students from Sarah Lawrence College. New York City is home to so many medical professionals who are often eager to mentor students. I took the time to shadow physicians in different specialties and eventually I found a mentor who was a good fit for me. I also participated in a year-long clinical research internship program at NYU Langone Medical Center, which allowed me to network and ended up opening doors for job opportunities after I graduated. 
Why did you go to medical school and why did you attend the medical school you did?
I entered college as a theater major and did not know that medical school would be part of my career path until about halfway through college. At some point, I recognized that my interests lie in the natural sciences and that my fascination with clinical medicine was only growing. I knew that I loved the problem-solving nature of practicing medicine, and I had a desire to make a direct impact on the lives of those who are in need of healthcare but have difficulties accessing it. A career in medicine seemed obvious at this point, yet at the same time it seemed out of reach. I did not know any physicians, and I doubted my abilities to complete all of the steps towards medical school within my last two years of college. Once I gained shadowing, volunteering, and work experience in the clinical setting, I knew I would do anything it took to reach my goal of becoming a physician because I could not see myself pursuing any other career.
I was fortunate to have several options when it came down to choosing where to study medicine. My financial aid award played an important role in my decision, as did the location of the school. When I narrowed my decision down to two schools, I visited both of them and spoke to current students to better picture myself in each setting. In the end, I went with my gut feeling.
Do you have advice for current Sarah Lawrence students considering a career in medicine?
Take advantage of all the learning opportunities and health-related events that Sarah Lawrence and New York City have to offer. Don't be afraid to reach out to physicians and research labs in the area to inquire about shadowing, mentorship, and work opportunities. Pursuing a career in medicine is unique because of the many years dedicated to training. You should have a full understanding of what this path entails before you dive in! Take your time, and do not make any important decisions until you are ready—such as registering for the MCAT, applying to medical school, or deciding on a specialty.