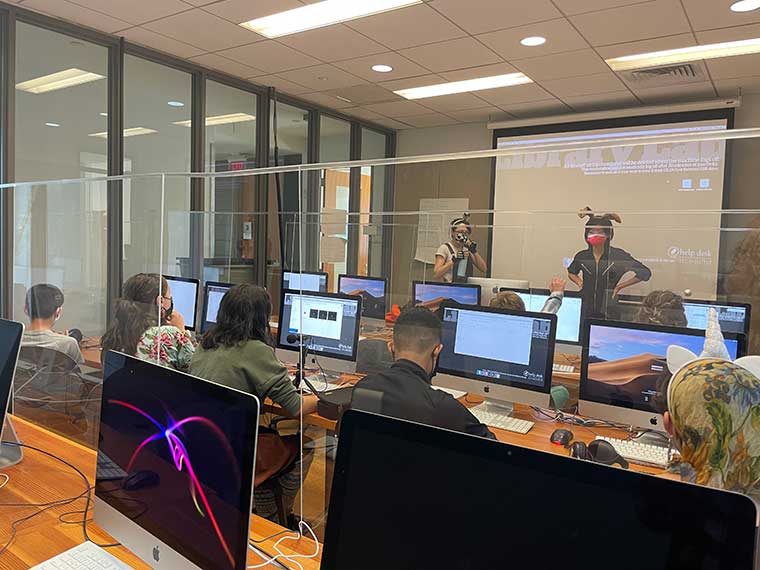 In the fall of 2021, Sarah Lawrence College offered on campus, a free four-part digital media workshop for youth between the ages of 12 and 15. Dr. Yeong Ran Kim and Sarah Lawrence College students taught and supported youth participants to create short audio pieces and culminate in a podcast series to tell stories about themselves and their communities.
This semester's theme was "sound and environment." Participants learned to retune their ears to their everyday surroundings, in order to find untold stories about our relationship with our surroundings through listening and sound composition. In so doing, we aimed to vitalize creative making, in which the participants found a new way to share their unique perspectives and stories about their experience with the environment.
Skills such as field recording, scripting, audio editing, and remixing were explored. On the final Saturday, November 6th, families to were invited to celebrate the participants' accomplishments.

* This workshop is generously supported by Andrew W. Mellon Foundation.
Transcribed Audio Files
Students
Lily
If I woke up and I was the last person on the world, I would do so many things. I would probably raid all the stores and try all the food I wanted to. I would also go through all the houses and pick one and settle there. I like looking a bunch of big houses because they look really cool. I would probably also try to learn as much as I could. Well, at least what I wanted to. And read books to get better at everything I'm actually interested in, like art. I would also try and do more art because I think it would be nice when you're all by yourself. It would be something nice to do you. When I got bored, I'd probably try and get big buckets of paint and paint everything with really colorful colors because it would make everything look nice and happy and it would also be entertaining to do.
 I would also try on a bunch of clothes from all stores and I would read all books to remember people. If I got lonely, I would try and save all the animals I could and probably keep some as my pets, as pets of my own. I would save all the animals because I really like animals. And I think they're all so cute. I would go to all the stores and all the pet shops and all those places and try and free them all. And I wouldn't be able to take care of them all, but I would try my best.
One other thing I would do is try and visit all the places I wanted to because I think that would be really fun. I've always wanted to go to a bunch of places like a different amusement parks, or just parks in general role, or stores, or museums. After all these things and all this going through everything, I would probably write a book also. And even though it might seem useless because no one would read it, it would be fun because it would be like I could read it and it would be about me and it would be for myself.
So it would be really cool to write a book. Also, it would probably be a really interesting book from being the last person alive. I feel like as being the last person to be alive, I would feel really free and it would be fun, but it would also be very lonely because people really depend on others and it would be really scary to be this independent. If you were the last person on the earth, what would you do?
Maya
Once upon a time, Harrison the potato farmer, lives quite alive in North Carolina. I'm a potato farmer. I hate dinosaurs, but I sure do love my potatoes. Potatoes equal money, and I'm a farmer. One day Harrison the potato farmer decided to take a walk into his backyard. He instantly regretted it. Oh no. There's a thing in my farm. Get out of my farm thing. That was a medium size dinosaur in the farmer's potato farm, eating all of his potatoes. Hey, don't yell at me, poo poo head. I'm a dinosaur lizard, and this is my home. The farmer was confused and angry. This ain't your home, and these ain't your potatoes. You need to get out of here, and stop eating my potatoes. I'm not going to do no such thing, especially because I love potatoes so much.
 The farmer and the dinosaur both did not know anything of what to do. The farmer decided to do what first came to his mind. All right, dinosaur. Let's fight. I challenge you. The two prepared for a long battle on the potato field. The farmer pulled out his poke ball. Breloom, I choose you. The dinosaur was not impressed. Wow. What are you going to do with the weakling like that? Cyndaquil, I choose you. The farmer and the dinosaur both looked at each other angrily. Suddenly the farmer started crying. Why, I'm so jealous. I wanted a Cyndaquil all my life. I've worked so hard, but I could only get a Breloom. Not that I have anything against Brelooms. The dinosaur was sympathetic.
He thought long and hard and decided that it was best maybe that they wouldn't fight and came to a nice compromise. Hey buddy. How about we trade? What, you would do that for me? Just a simple potato farmer who only has a Breloom. Of course, buddy. You know, I may just be a dinosaur lizard thing, but I work hard on training my Pokemon, and I know I can see that you are a good Pokemon master. Wow. Thank you. No, thank you. As long as you give me potatoes, I'll give you my Cyndaquil. Wow. I'm shocked. Thank you. Friendship.
Porter
Porter:  (singing)
Speaker 2:  Mom, Porter's trying to get out of a party again.
Porter:  Today, being an introvert has gotten a lot better than it was years ago. With lockdown, and the introduction of Zoom, I can be alone, and do school virtually without anyone seeing or hearing me. One of the worst things that an introvert could've experienced before lockdown was being forced to go to a social gathering/event. I can't speak for everyone, but for me personally, being forced to got to someone else's house, and having to talk to people for hours is just pure torture. One of the great things about lockdown was the ban of these gatherings, and any event my mom would invite us to wouldn't happen anymore. That song you just heard was essentially me verbalizing my mind any time someone wants to talk to me at an event, which is rare now due to lockdown, and the strategies that I use to become uninteresting. I can't even imagine what it was like for people in the 20th century not having technology advanced enough to instead of actually talking to people, just texting. The torture.
Terrence
Speaker 1: Hey grandpa, what's in these boxes?
Speaker 2: Oh, that's some of me and your grandmother's pictures back in the day.
Speaker 1: Whoa, you and grandma look really cool.
Speaker 2: Yes, I wish your grandmother was with us right now.
Speaker 1: Aw, don't be sad grandpa. She's in a better place now, we all miss her
Speaker 2: Grandchild hugs Hunter. You know what kids, would you like to hear a story about how your grandma and I met?
Speaker 1: Yeah.
Speaker 2: Okay. Once upon a time, there was a boy named Jack and a girl named Ellie. Together, they grew up as best friends. Jack's family was a family of hunters and Jack's loved hunting. And on the other hand, Ellie loved to explore and find new things and new people to have fun. After that, Jack and Ellie met up out of town realizing that Jack and Ellie had feelings for each other and soon got married and had one child named Alexandra.
Speaker 1: Whoa, that's so cool. You and grandma are Jack and Ellie? Wait, that means mom is Alexandra. What happened next grandpa.
Speaker 2: Okay. What happened next was-
Speaker 1: Oh, Hey dad. I'm here to pick up the kids, can you call them down?
Speaker 2: Sure. Grandchild get ready, your mother is here.
Speaker 1: Oh, okay.
Speaker 2: Bye kid.
Speaker 1: Bye grandpa. Thanks dad.
Speaker 2: Anytime.
Vaughn
Here's your host, [Vaughn Young] with the car radio. Today, we will be talking about the VW Bus, and here's some of its facts. The car was made in 1956. It has nine seats, top speed of a hundred miles an hour, zero to 60 in 10 seconds, big four beaches with the surf rack the company, Volkswagen, sold. And it was big for Route 66.