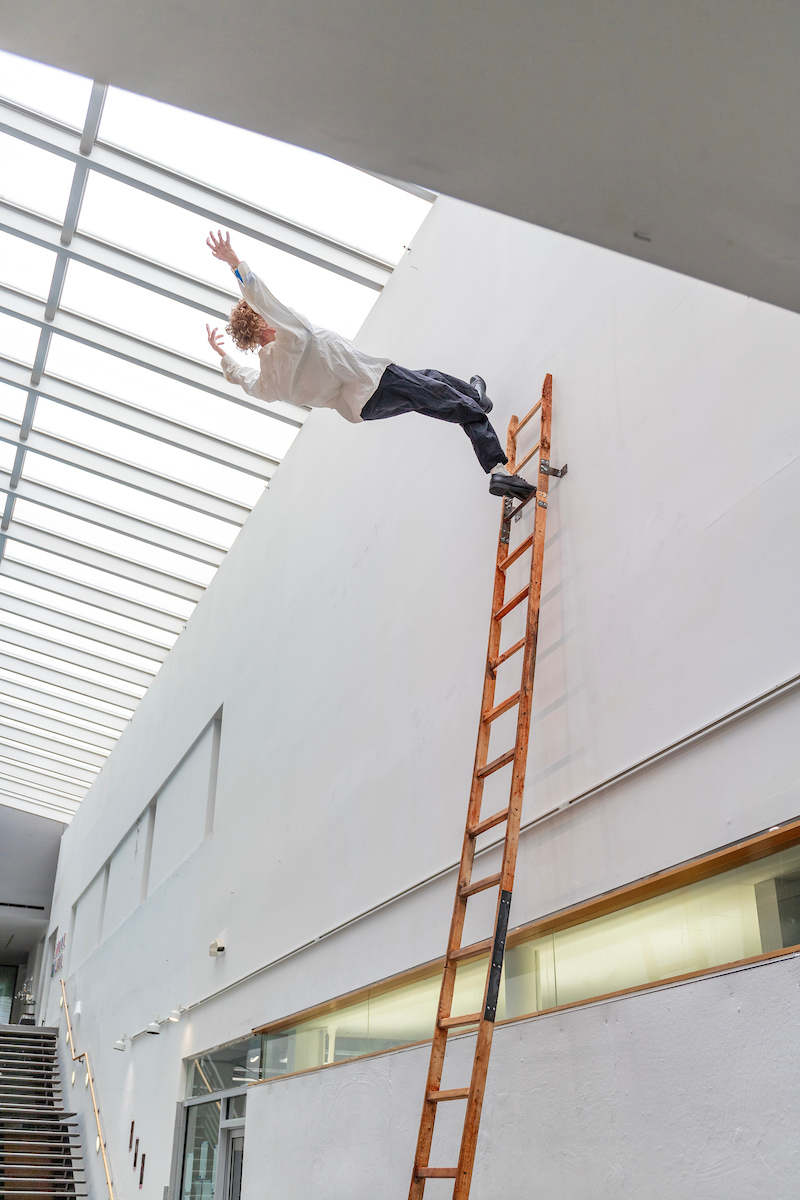 Chris Crary '23 wanted to see things from a new perspective — so he built himself a ladder. 
Born and raised in New York City, Crary's fascination with art began early in his life, and his time at Sarah Lawrence only served to deepen his passion. Blending studio art, art history, and philosophy, he honed his skills while nurturing a profound understanding of the art world.  "I've always been interested in art, and consistently took visual art classes during my time at Sarah Lawrence," said Crary. But it was during his junior year that Crary's artistic vision truly took shape, as he combined his carpentry skills with his creative flair to bring large wooden sculptures to life.
Then, as his senior year approached, Crary set his sights on a grand vision – a single, monumental work that would captivate viewers and redefine the space in which it was displayed. Inspired by the unique environment of the Heimbold Visual Arts Center, his primary goal was to create a piece that would transform the way people perceived the space. And so his piece, "Chris Crary Climbs a Ladder," was born. 
"Chris's artwork brilliantly packs tragedy, humor, and pathos into a seemingly simple moment or act, frozen in time," says Crary's don, Visual and Studio Arts faculty member and 2023 Guggenheim Fellow John O'Connor. "The initial impact of his sculptural installation belies its material intensity and slow reveal – this work transformed the architecture of Heimbold and its meaning continued to evolve as it was observed and discussed by all who encountered it over time."
Meticulous planning became the cornerstone of Crary's ambitious project as he sought to replicate the challenges and intricacies of creating and installing large-scale sculptures, mirroring the real-world process as closely as possible. He devoted a significant portion of his time to experimentation and testing, with the goal of ensuring a safe and successful exhibition.
Drawing from his experience working alongside Gabriela Salazar, his former sculpture professor, during the creation of a large-scale work for the Whitney Museum of American Art, Crary gained invaluable insight into just how much planning is required for such an ambitious endeavor. Recognizing the rarity of such experiences in undergraduate art programs and the opportunity before him at Sarah Lawrence, he grabbed the opportunity to push the boundaries of his art further than ever before.
"Unlike my previous projects, every detail of this project was meticulously planned and designed, and the installation was shockingly smooth," said Crary. The gravity-defying piece stops people in their tracks and will continue to do so for the foreseeable future. "Fortunately, thanks to the passion and of so many of the staff at the College, the work will be moving to the Esther Raushenbush Library over the summer where it will be reinstalled in a long term home."
Crary, who graduates in December 2023, will continue his art practice in New York City and has already found a studio space where he can continue creating remarkable works of art. Crary's climb up the ladder of artistic achievement serves as a reminder of the limitless possibilities that can be achieved through artistic vision and innovation.
---