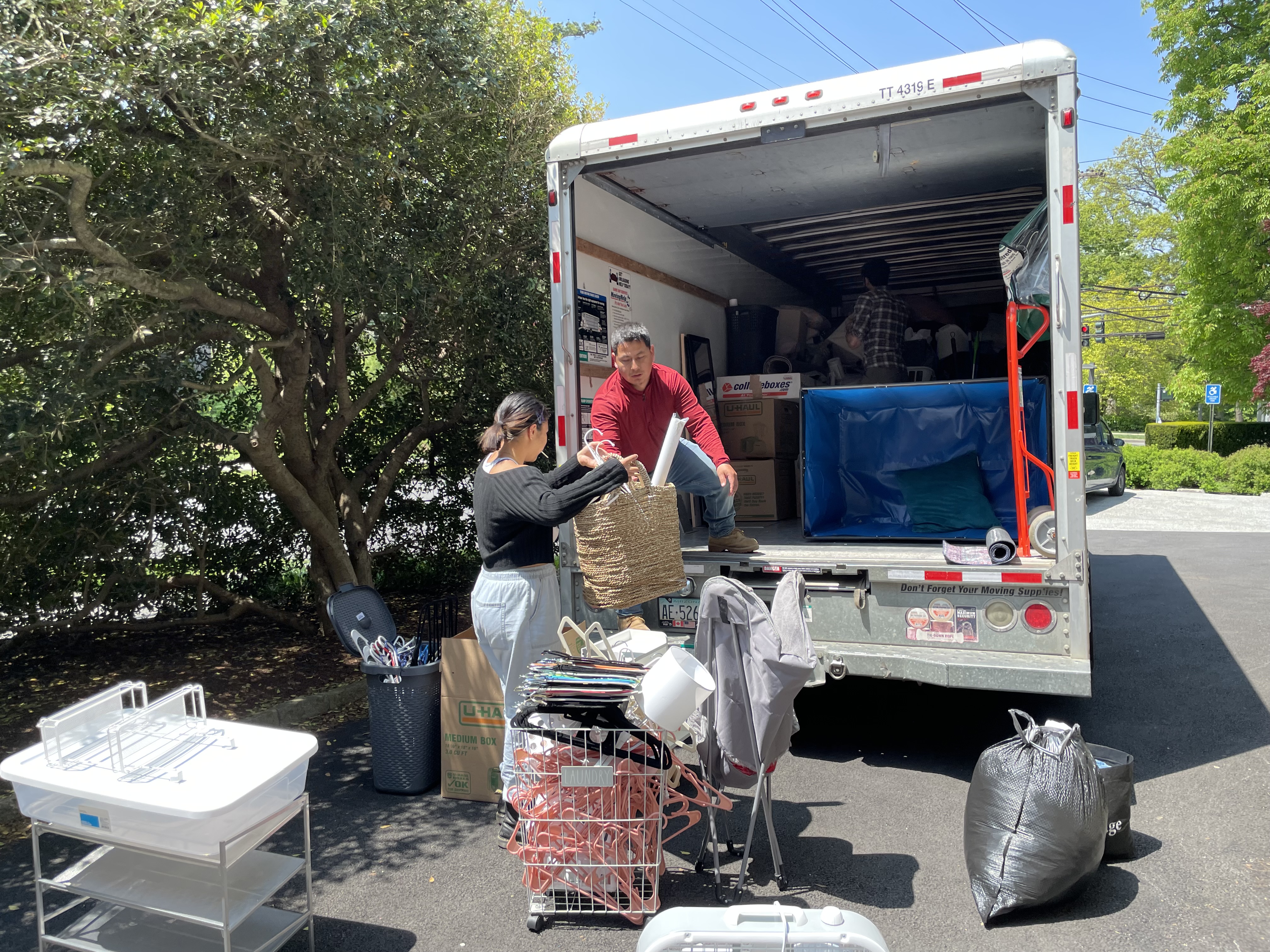 A bottle of shampoo, bed risers, ramen noodles, and a too-snug t-shirt from orientation. This May, as students were cleaning up and clearing out of their dorm rooms, a group of volunteers from the College ensured that new or gently used dorm supplies could find a new home in one of our surrounding communities. 
The "Give & Go" initiative is a collaboration between students, faculty, and staff on the College's Sustainability Committee and multiple community partners, including the Friendly Fridge Foundation, Westhab, and Hearts & Homes for Refugees. 
Since the onset of the pandemic, these organizations have worked to alleviate an unprecedented need for food, clothing, and shelter in our surrounding communities. In response to this increased insecurity, the Sustainability Committee repurposed its annual Salvage Drive into Give & Go; the major difference between the events being that 100% of items collected at Give & Go are redirected to community partners.  
"With Give & Go, our students engage in reciprocity with our neighbors and the natural world," says Tricia Hanley, Director of the Child Development Institute and Chair of the Sustainability Committee. "By dropping off a donation, they are giving something that they might normally throw away a new life and minimizing their environmental impact." 
Prior to Give & Go, each community partner provided Hanley with a list of items that could be utilized by the populations they serve. The most ubiquitous requests came from the Friendly Fridge, a food pantry in the Bronx founded during the peak of the pandemic.
After earmarking items for the eight other community partners, the Friendly Fridge received six vans full of stuffed animals, food, and basic essentials for redistribution. According to Selma Raven, who co-founded the mutual aid group in 2020, every item was claimed within minutes of being set out. 
"People had so much joy at seeing and taking sanitary products, cleaning supplies, spices, snack bars, and so much more," says Raven. "By taking a few steps to redirect, our landfills are a little lighter and stress levels of many are lower."
In addition to the Sustainability Committee and partners like the Friendly Fridge, Give & Go is made possible by the College's Operations and Facilities team, which provides support and space for the initiative in the midst of move out, Senior Week, and Commencement.
"It's a busy time for everyone at the college," says Mo Gallagher, Assistant Vice President for Campus Operations & Facilities and member of the Sustainability Committee. "but being able to support this initiative is one of the highlights of the year."
---