Two longtime, revered members of the Sarah Lawrence faculty retired at the end of the 2022-23 academic year: Bill Shullenberger (Literature) and Fred Strype (Filmmaking & Moving Image Arts). 
William (Bill) Shullenberger (Literature)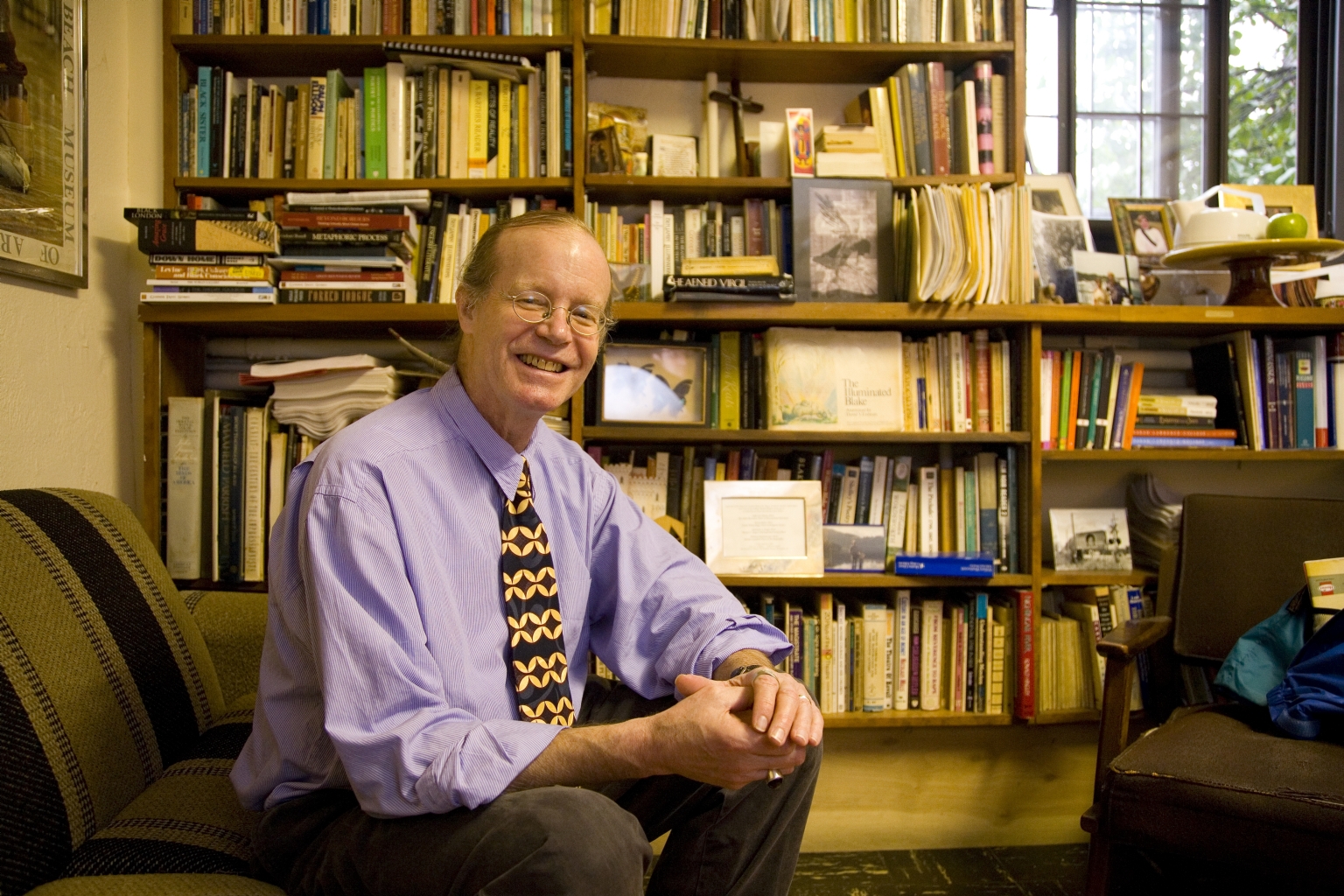 "Like generations of students and colleagues, my encounters with Bill Shullenberger were always marked by a kindness, gentleness, and generosity of spirit that was inseparable from his deep love and profound knowledge of literature. For me, few pleasures have been greater than sitting with Bill at a basketball game (reveling in his deep love of the sport fostered in his youth growing up in Indiana) or receiving an email with a poem apt to the particular moment or occasion (one of Bill's or one of scores from which he quoted so effortlessly) or being handed a 'buckeye' for good luck under a tree in front of the PAC," shares Sarah Lawrence College President Cristle Collins Judd, as she reflects on Bill Shullenberger's retirement. "We are indeed fortunate that Bill shared a lifetime's worth of  knowledge, passion, and grace with all of us at Sarah Lawrence."
Shullenberger has spent the last 41 years as a mentor, guide, and inspiration to generations of students who had the privilege of learning from him. During that time, he has dedicated himself to the study and teaching of literature, and his passion for the subject was evident in the classes he taught, which are renowned for their rigor, depth, warmth, and humor. 
"Bill is vastly generous, remarkably learned, strikingly modest, and extremely kind," says Literature faculty member Fred Smoler. "Students loved him, and their enthusiasm to study with him rose over the whole of his career. He was the unique colleague with whom one could consult on Gilgamesh and then discuss Tank Girl. It is probably not all that odd for a distinguished Miltonist to frequently attend concert stagings of vastly obscure Jacobean plays, but it is a bit odd for a distinguished Miltonist to teach jammed curses on contemporary African novels and be spellbinding on Joyce's Ulysses, Walcott's Omeros, and Mihàly Munckàcy's paintings. Bill enriched us in pretty much every way a colleague can."
While Shullenberger's scholarly achievements are expansive—he's a celebrated Miltonist, published author, and Fulbright scholar—his contributions go beyond academia. Born and raised in the Midwest, he credits the development of his social conscience to his successfully integrated high school. There, he became involved in the Civil Rights movement of the 1960s. He continued his activism at Yale University, where he became involved with the anti-war movement. After graduating from Yale, he attended seminary for a year before leaving to attend a City College summer teaching program. Before joining the Sarah Lawrence faculty in 1982, he worked as an in-house substitute teacher in the Bronx and received a Master's and Ph.D from the University of Massachusetts.  
He spent two years in the early 1990s teaching at Makerere University in Uganda as a result of a conversation he had with former Sarah Lawrence President Alice Ilchman, who spoke of her own summer visit to the university. Shullenberger credits his experience teaching in Uganda as the genesis for his popular courses on African Literature and Slavery here at the College. It also served as the inspiration for his book, Africa Time: Two Scholars' Seasons in Uganda, co-authored with his late wife, Bonnie.
"That became the basis for my wanting to come back and offer the courses I've put together on African literature [...] and wanting to in some sense be a cultural missionary. To open people's lives to this great literary culture and incredible kind of historical traumas that it has been born from, and the remarkable heroic resilience of the people we came to know and love in east Africa," said Shullenberger in a 2016 interview for the student newspaper, The Phoenix. 
During that same interview, when asked what he is most proud of as a teacher, he replied, "It seems to me over the years maybe more and more important that as a student you're being recognized for the person you are, and respected and valued for that," he said. "And that's what I do. And I don't try to force it. That's how I see people and that's what I try to make clear to them when I'm working with them—that who you are and what you do matters."
More than just an exceptional teacher, Shullenberger is a beloved member of the Sarah Lawrence community. Literature faculty member Joe Lauinger says, "Kindness is not a commodity, but Bill's kindness comes from a fund that seems inexhaustible. Bill's patience never lapses. I've wondered sometimes where he gets it, what it's made of; it's like some super-substance that enfolds and withstands the abrasive shortcomings of the everyday." 
During his four decades at Sarah Lawrence, Bill has served in numerous roles, completing tenures as Assistant Dean, Chair of the Literature Faculty Group, and elected faculty member on the College's Diversity, Equity, and Inclusion and General committees. 
"What I value most in having Bill as a colleague is something for which the word 'collegiality' is insufficient," says Literature faculty member Neil Arditi. "I could point to Bill's profound decency combined with his amiability, his warmth of character."
His kindness and collegiality extended down to his students, too. His former student Jamie Jordan '19 MFA '23, who wrote the 2016 profile, says, "Bill is the living embodiment of the College's motto 'wisdom with understanding.' His devotion to his students exceeds even Sarah Lawrence's standards. No conference with Bill lasted less than an hour, and during that time, he'd make you a mug of tea and remind you of something you'd said in class the week before that he'd been thinking about ever since." 
Looking back on Shullenberger's tenure, Provost and Dean of Faculty Kanwal Singh said, "Bill's breadth of intellectual interests meant that he was a routine presence at science seminars—I had wonderful conversations with him about Blake and light and electromagnetic waves. This vast curiosity and his ability to genuinely inhabit the cares of his students and colleagues are what made him such a force at the College. I am so grateful for Bill's contributions across the entire college." 
Fred Strype (Filmmaking & Moving Image Arts)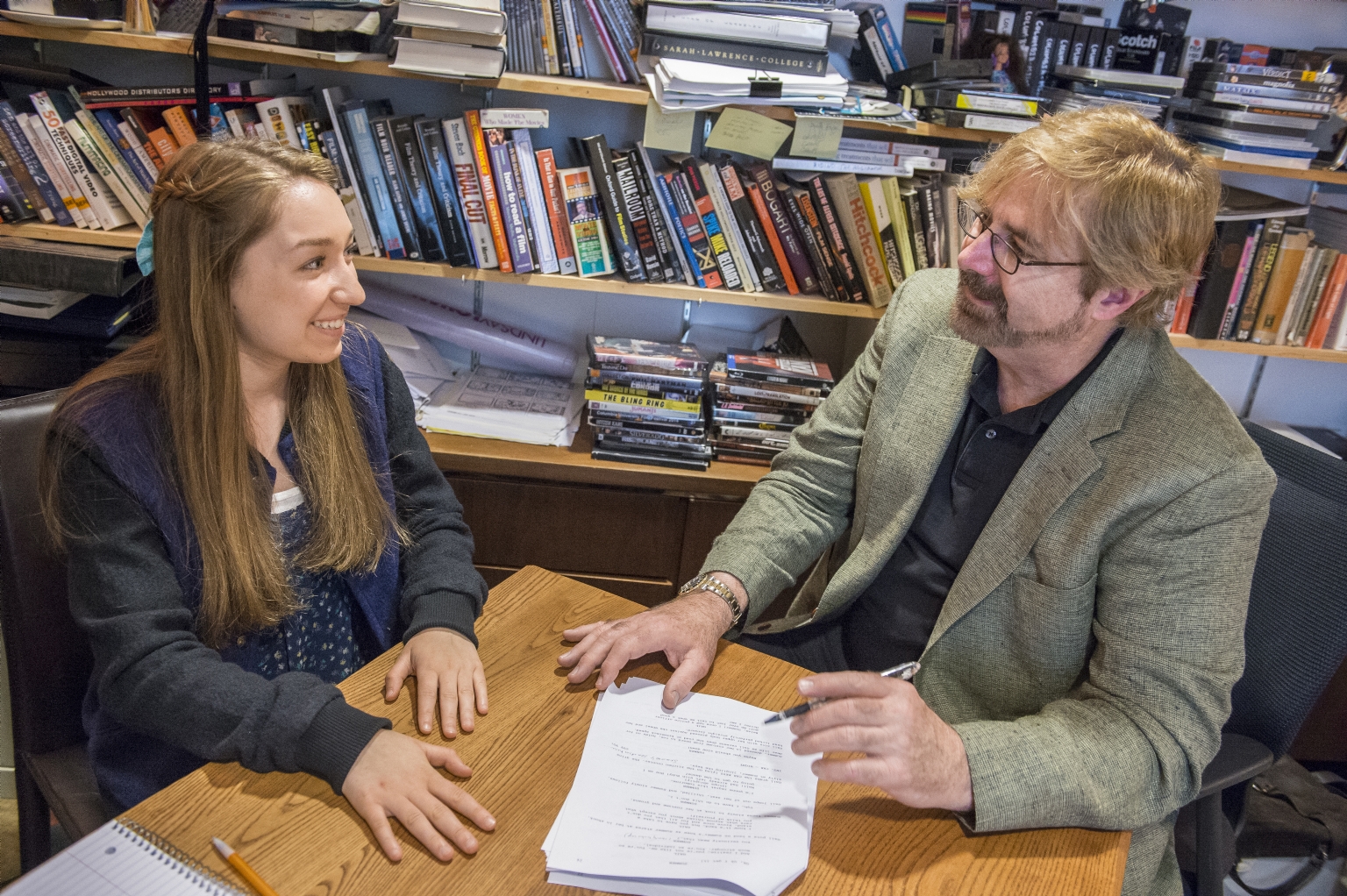 "Fred played a vital role during his time as program chair for the Filmmaking & Moving Image Arts program.  He seemed to have an inexhaustible capacity to gather faculty and practitioners to support our students' work," says Sarah Lawrence College President Cristle Collins Judd. "Watching Fred interact with recent graduates at alumni events, whether in New York or LA, was always such a pleasure because one had a visceral sense of the spark that was ignited in his classrooms; it was a spark that continued long after the students' time at the College." 
Strype's contributions to the Filmmaking & Moving Image Arts Program at Sarah Lawrence College, first as a faculty member, then as Chair, are significant. Though his career began well before his two decades at Sarah Lawrence, perhaps his most important contribution is that as a mentor to his students. 
"Many professors at Sarah Lawrence make a big impact on their students. Fred Strype changed my life and helped shape my career irrevocably," said former student Frederic Richter '10, who now works as a television writer, producer, and researcher. "While in college I was initially studying creative non-fiction and history. I was always interested in film and screenwriting but had no familiar connections nor experience in film or television and it seemed like a closed off, impossible to reach world," continued Richter. "Fred made me realize that everything, including a career in writing, was possible." 
For Strype, the relationship between teacher and student often went both ways. Just as he challenged them to think beyond the possible, he found their curiosity and tenacity eye-opening. "I'm always amazed at how much I learn from my students and how they help me see art in a new way," Strype once shared. "Students at Sarah Lawrence are uniquely wired; they like to push limits and question everything. In their intrepid exploration, they wind up doing things that should not work, but do."
Strype reflected on conference sessions with students over the years, saying, "They afford me the opportunity to talk very specifically with students about their work—I get to actually see the connection of the creator with the created. I'm sure it can be intimidating for students to have someone that far inside their creativity, but obviously it works, and it becomes liberating for students because we develop a strong sense of mutual trust. Navigating the seas of my students' creativity also triggers thoughts in my brain about my own work. We form a symbiotic relationship, where my students and I learn from one another."
Filmmaking & Moving Image Arts faculty and former student Brian Emery '07 reflected on Fred's life changing influence. "I have had the privilege to be both a student and a colleague of Fred's and he is one of the most generous teachers I have ever had," said Emery. "Even before I had even taken a class with him, he agreed to have a conference with me where he broke down a script that I was about to film in another class… His thoughts are always generous and kind and he always finds a way to meet me and my peers where we were and to help us do our best work."
Strype's influence extends beyond his teaching and administrative roles. He has been a sought-after lecturer and speaker, sharing his insights and experiences on a national stage. His expertise in screenwriting has made him a respected juror and panelist at the esteemed Austin Film Festival.
He holds a BA from Fairfield University, an MFA from Columbia University School of the Arts, and postgraduate study at the American Film Institute and New York University, Tisch School of the Arts. He is also a partner at Raindance Pictures, an independent production company where he has developed projects for Columbia/Tristar/Sony, Lifetime, MTM Productions, Family Channel, FX, Alliance/Atlantis, Capella Films, Turman-Foster Productions, James Manos Productions, FX, and Avenue Pictures.
As the College prepares to bid farewell to Strype, Kanwal Singh, Provost and Dean of Faculty said, "Fred turned a collection of courses into a vibrant, thriving undergraduate film program that is overflowing with students.  I am deeply grateful for the lasting impact Fred has made at the college and his deep connections with students and colleagues will live long into the future.  Fred was a mentor to so many and was never without an enthusiastic, encouraging word. His presence will be sorely missed."
In its May meeting, the Sarah Lawrence Board of Trustees echoed the sentiments of Bill and Fred's colleagues, voting unanimously to confer Emeritus status on each of them in recognition of their dedicated service to the College.
---