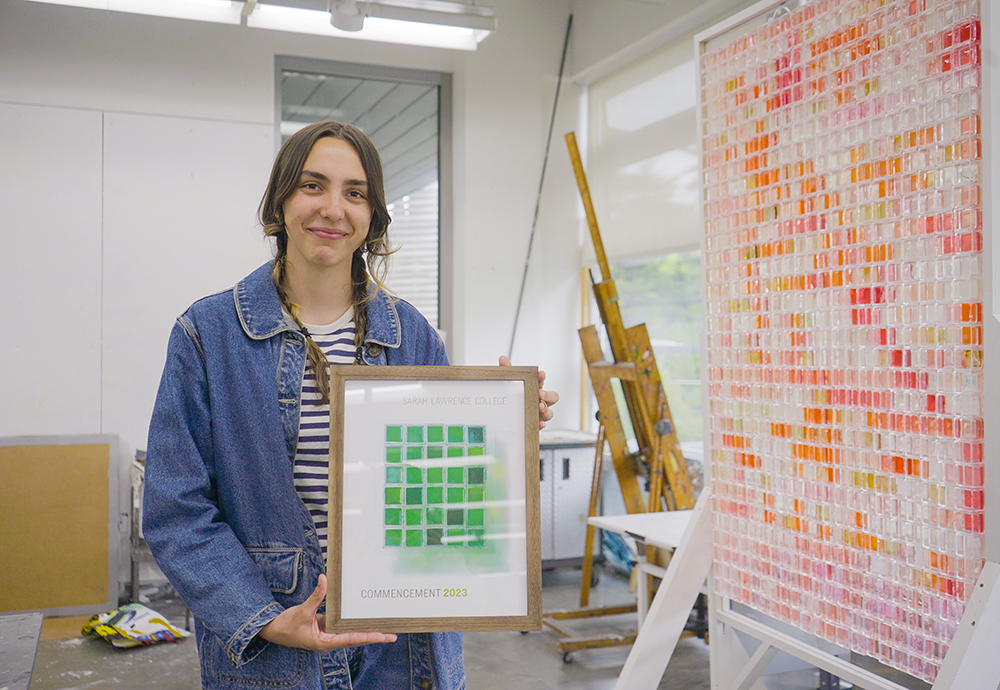 If you've seen anything related to Commencement 2023, you've seen a glimpse of Avery Moore's artwork. Adorning the website, screens across campus, tickets, and programs is one of Avery's signature works created with gelatin.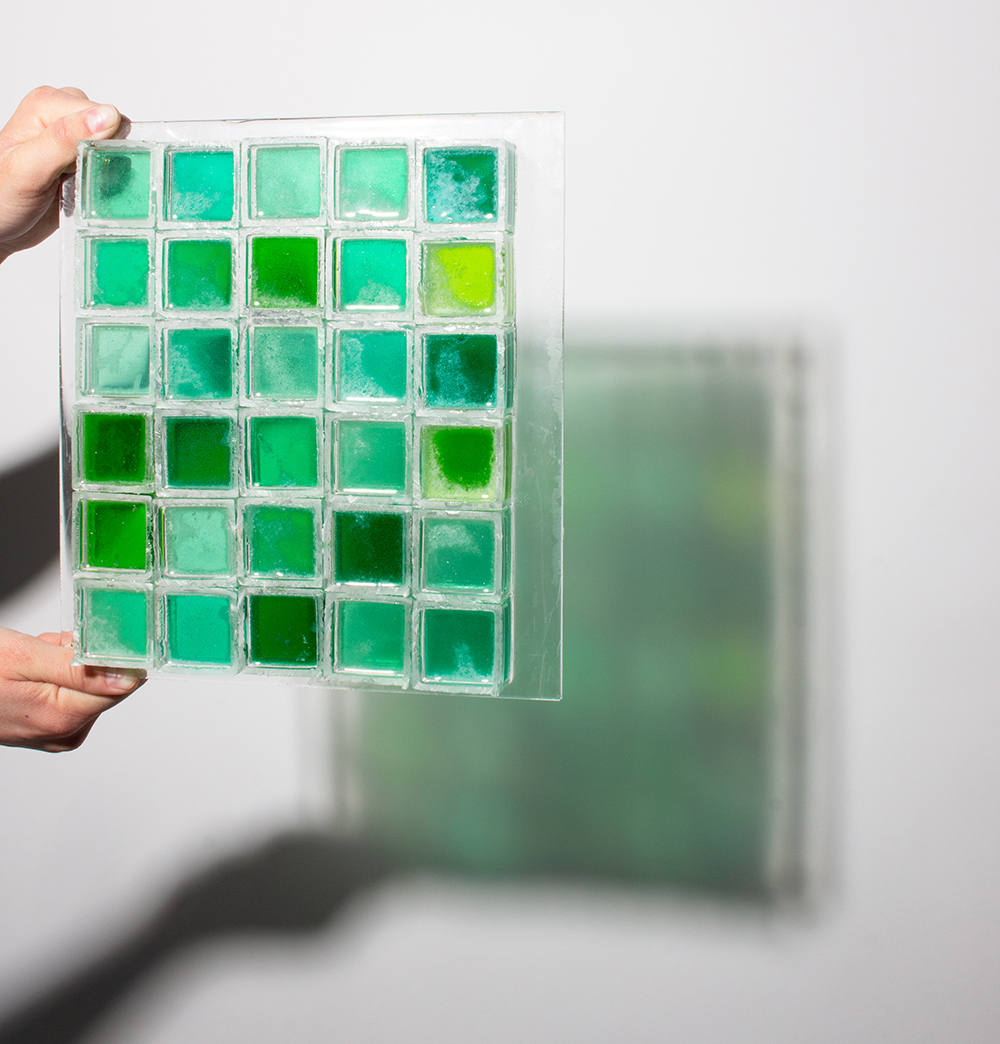 This year, returning to a long-standing tradition, the College's Commencement Committee—staff, students, and administrators from around campus who have a role in planning and executing SLC's largest event— invited graduating students to submit artwork to be used as the lead image for the 95th Commencement. Student art plays an important part in Sarah Lawrence commencements, serving as a memorable, inspiring peek into the broad talent of our students. Dozens of submissions were received, and, in collaboration with the College's Marketing & Communications office, members of the committee landed on three pieces to submit to President Cristle Collins Judd for final selection. As the selected artist, Avery received a $250 prize and a framed Commencement program cover as a token of gratitude.
The unnamed gelatin sculpture, with its vibrant palette, is part of a larger collection of work that Avery created in her time at Sarah Lawrence, a collection that was recently exhibited in her senior show, Gelli Girl Gives a Party. "I first experimented with gelatin as my sculptural material in John O'Connor's First Year Studies class, 'The Way Things Go,'" said Avery. "We were encouraged to experiment using a nontraditional material to make a piece of art."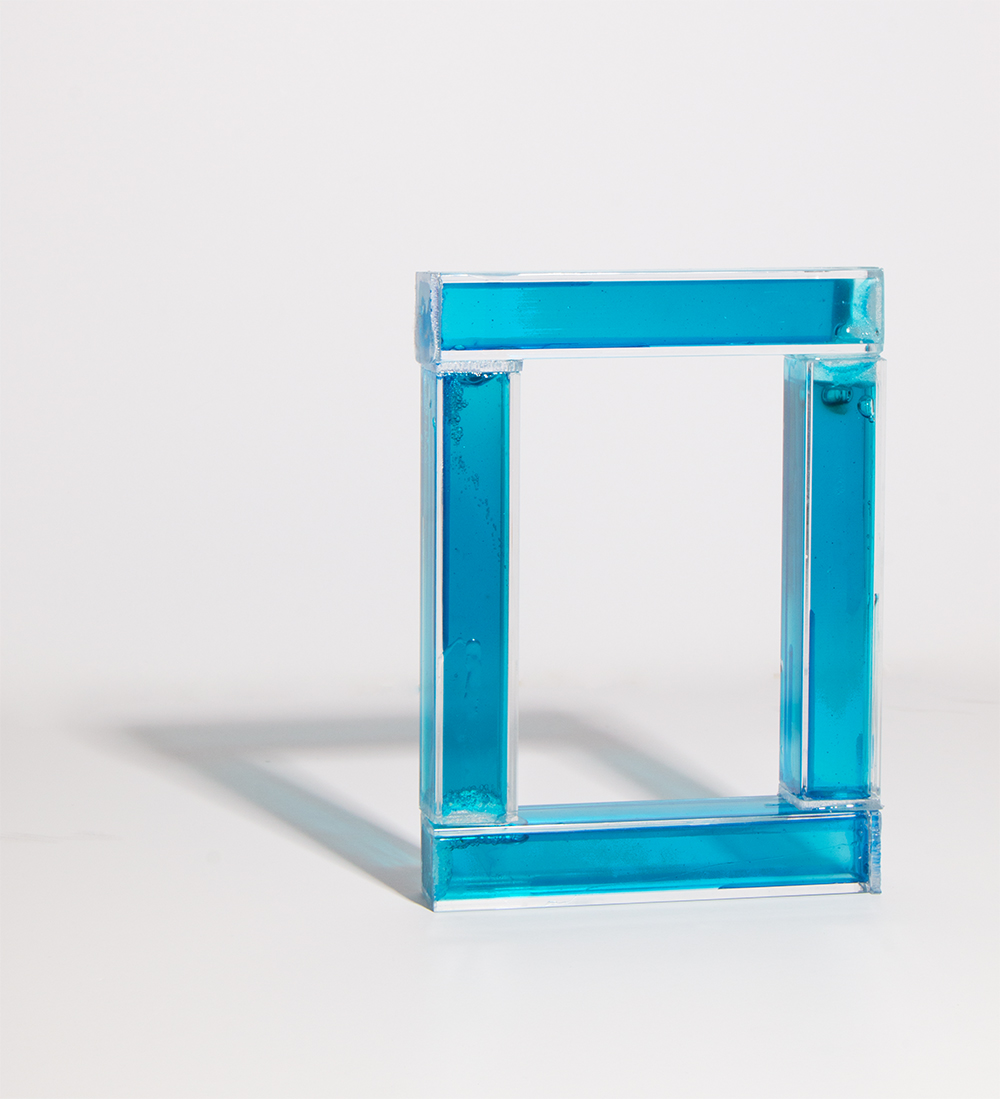 That freedom to experiment set Avery on a new course at SLC. When she arrived as a first-year student she thought she would study photography, but the spark wasn't there. When she met John O'Connor—a newly-minted Guggenheim Fellow who has been Avery's don, or faculty advisor, for the past four years—her perspective on making art and what it means to be an artist changed. "He pushed me to use a crazy material and encouraged my unique approach to my art-making practice," she says. "Soon after that I found myself at the supermarket in Bronxville, in the dessert aisle, looking at rows and rows of JELL-O boxes. For some reason, I grabbed as many as I could carry back to my dorm and just started experimenting."
Those JELL-O boxes called to Avery for a reason, as JELL-O's main ingredient—gelatin—harkened back to her childhood in Los Angeles, California. "My mom has a candy company that makes caramels and marshmallows. The main ingredient in marshmallows is gelatin. In the strangest way, using gelatin as my art material propelled me to reflect upon my childhood and my relationship with my mom and what it meant to grow up in the candy industry, with giant tubs of orange Knox gelatin lining my childhood kitchen."
Over her years at SLC, Avery "became obsessed with what this material could do, how it could capture light and color, and how simple it was." She spent years testing different ratios to get the exact firmness that she wanted, and says "now I feel fully confident in the ability of this material to do what I want it to do."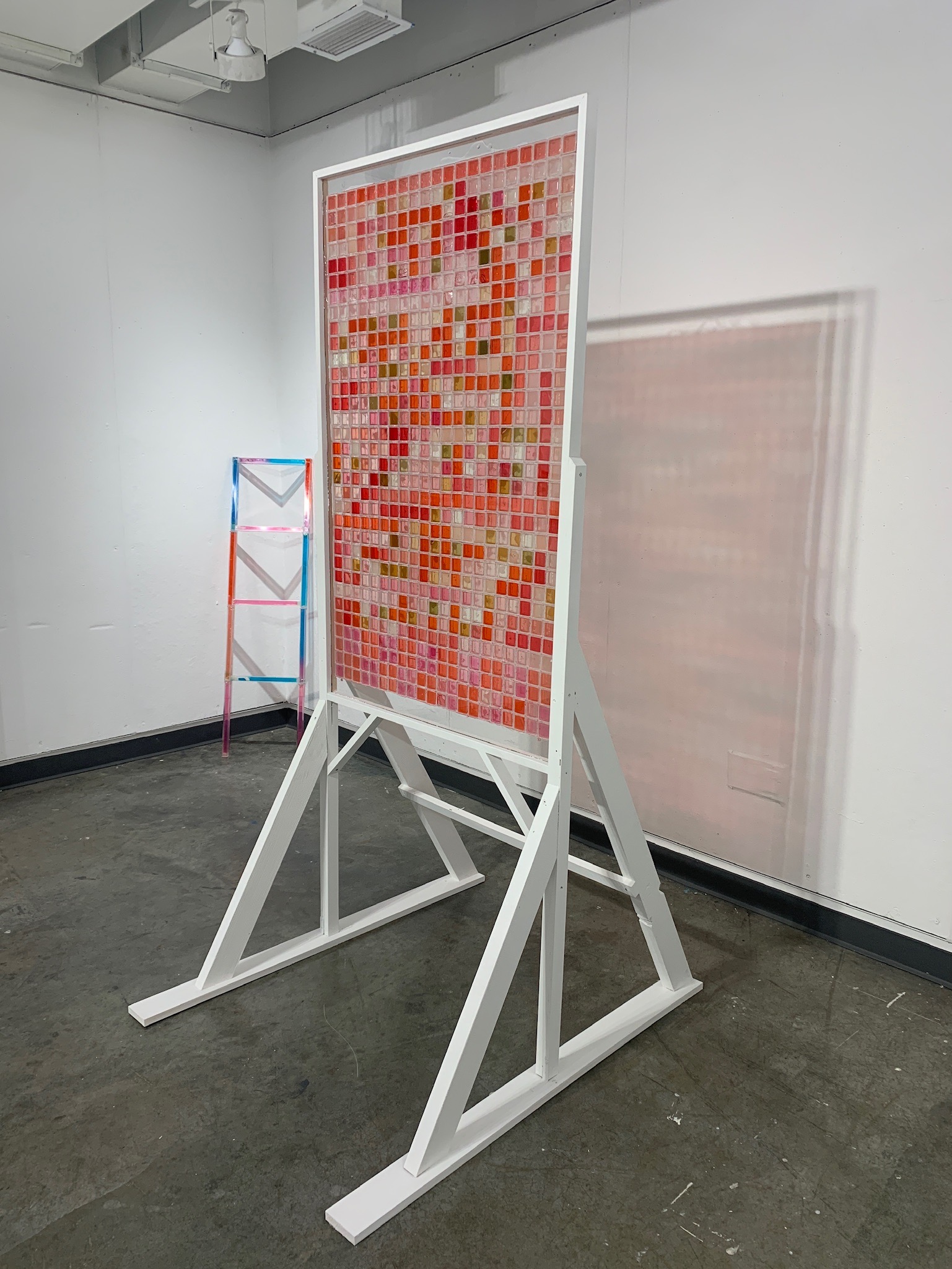 What it has done is create a stunning collection of work, anchored by the largest piece she's made with gelatin: a 7 foot tall, 150 pound sculpture that commands attention. It was a labor of love: "I spent my entire spring break cutting 800 blocks of plexiglass in the woodshop to create that piece," said Avery.
In addition to the childhood memories it brings with it, gelatin as a medium is appealing to Avery due to its temporary nature. "Over time, the pieces start to mold, the color slowly fades, and the water slowly evaporates," she says. "I spent so much time trying to stop these things from happening but during my fourth year of college, I chose to embrace it. Everything is temporary. Life is temporary. People grow and evolve. Nothing stays in one state forever, and coming to terms with that aspect of life has led me to accept that part of my art."

As she prepares to graduate on May 12—after which she'll move to New York City with friends and work in a gallery to learn the business side of the art world—Avery has reflected on her time at SLC. "I chose Sarah Lawrence because of its free-form approach to majors. I did not know what I wanted to study when I was 18; I wanted to study art but I also wanted to study child psychology, art history, Buddhism, and more," said Avery. "During my time at SLC, I truly have been able to explore any and every interest I have had and feel very grateful for that college experience."
Congratulations, Avery, and congratulations Class of 2023!
---