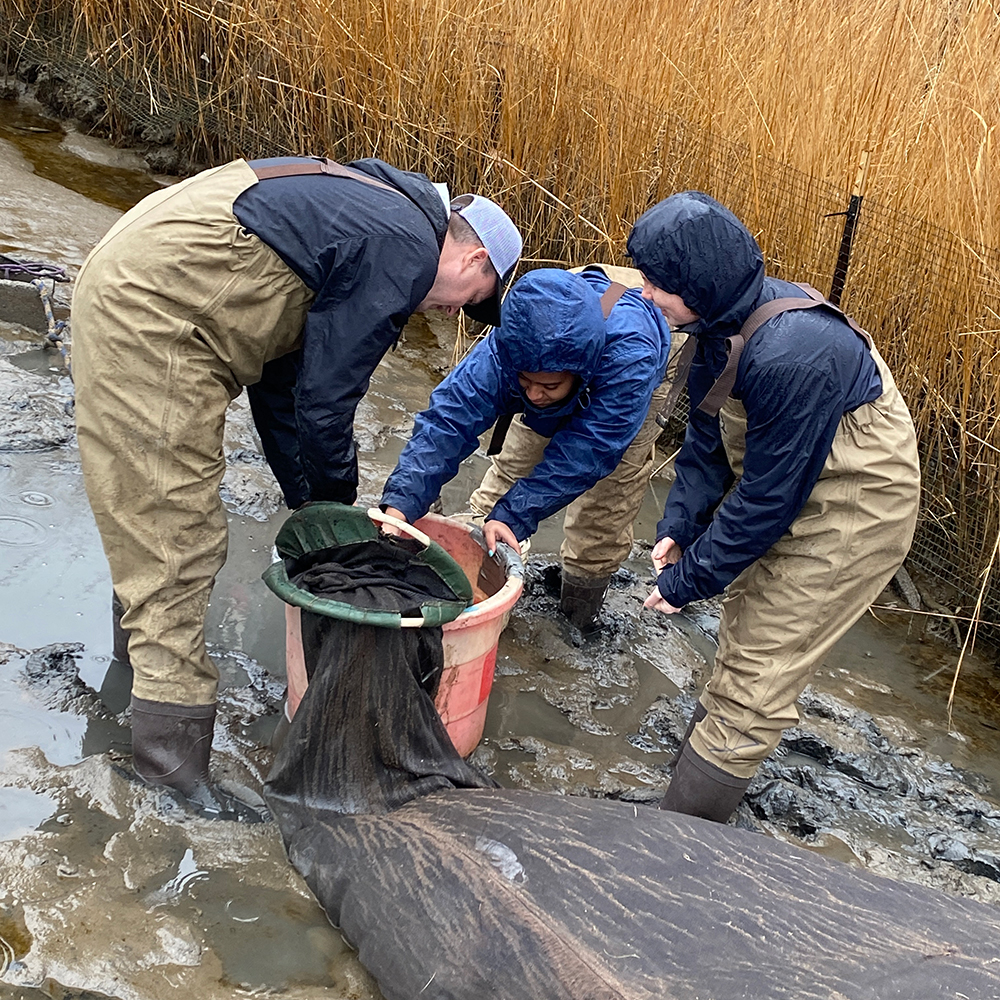 Every spring, the American eel begins its long (and mysterious!) journey from the Sargasso Sea to the Hudson River. And for the last 10 years, Sarah Lawrence's Center for the Urban River at Beczak team of scientists, students, and community members have come together to count thousands of migrating glass eels traveling up the Hudson River.
Glass eels are integral to the Hudson River ecosystem, as they're a valuable food source. Declining eel populations due to challenges like habitat loss, water pollution, and overfishing prompted the New York State Department of Environmental Conservation to initiate the  American Eel Migration Study, which tracks the migration patterns of the American eel and enlists the help of community partners like CURB. 
The life of an eel
North America's only catadromous inhabitant, meaning they are born in the ocean but live in freshwater, the American eel's journey to estuaries along the east coast takes about a year. Once they arrive, they are 2-3 inches in length and have clear bodies. These glass eels are caught in a cone-shaped fyke net placed in CURB's tidal marsh, counted, weighed, and measured before continuing their journey up the Hudson. However, these eels don't stay clear forever; once in the Hudson or its tributaries, the glass eels slowly gain pigmentation, greenish-brown to be exact, and are classified as elvers. After the elver stage, they turn into yellow eels, which is how they spend most of their lifespan yet are still sexually immature. The final transition happens once they reach sexual maturity and are reclassified as silver eels. This is when the eels turn homeward bound and begin their migration back to the Sargasso Sea to spawn. 
Rising eel levels
Thanks to research like the eel study, we are beginning to see a marked improvement in eel populations. When CURB first began participating in this study in 2014, they only managed to catch and count 600 eels. By the end of last year, they had caught 3,000 eels, bringing the total number of eels counted since the study began to a whopping 14,000. And it looks like the momentum is continuing this year. Making their appearance two weeks earlier than normal, CURB has already counted 766 eels.
Stabilizing eel populations have led to varying opinions on eel conservation. While some, like the International Union for Conservation of Nature and Greenpeace International, list the American eel as endangered, the Fish and Wildlife Service deemed endangered species protection unnecessary. In spite of this, conservation efforts along the eastern seaboard have been put into place and include things like quotas on glass eel harvesting, removing barriers to migration like dams, culverts, and turbines, and installing eel ladders, a tool that acts like a staircase for eels to climb up and around dams.
10 years and counting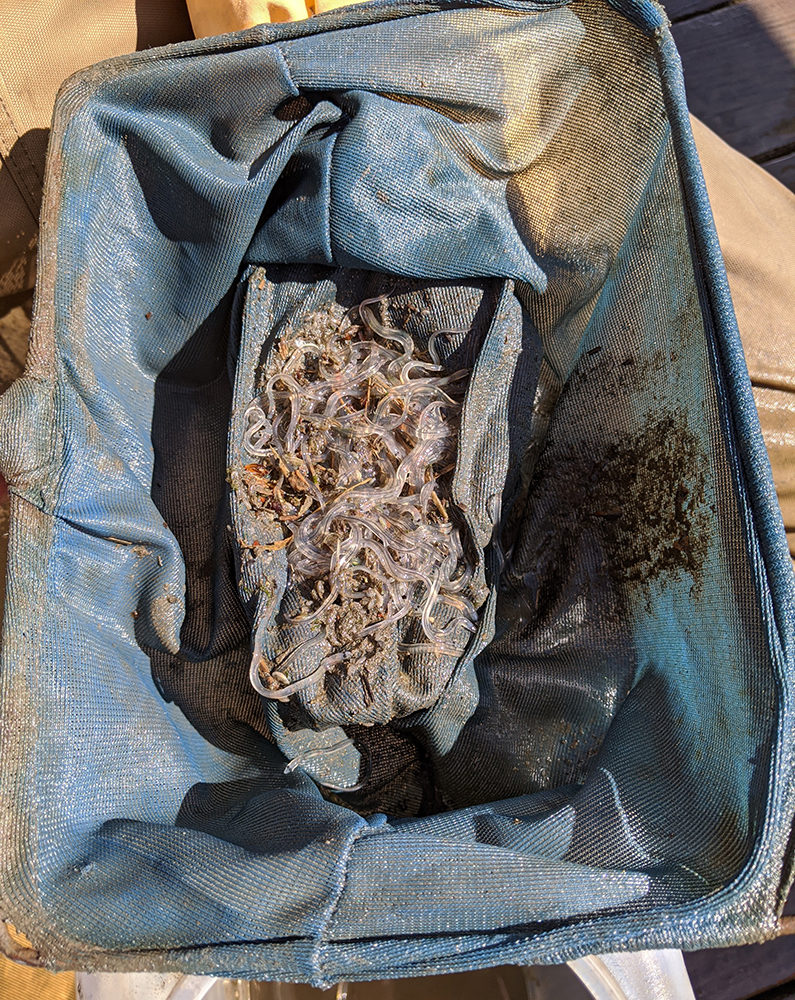 Celebrating its 10th anniversary, CURB's research programs focus on urban environments and the unique challenges and solutions they present. The Center is a working field station and lab that supports academic research, environmental monitoring, and community science programs focused on the Hudson River and urban watersheds. By working with local government and regional partners, CURB tackles issues that have real quality of life impacts on our river cities, like stormwater management and combined sewer overflow, daylighting and green infrastructure planning, habitat preservation and restoration, and river fisheries and biodiversity.
In addition to the eel migration study, CURB offers a few other long-term research projects that appeal to different interests of study. The Water Quality Monitoring program tests 16 Saw Mill River sites and two Hudson River sites for Enterococcus, a fecal indicator bacteria, highlighting key issues facing water quality in Hudson River tributaries and leading the regional conversation on how to fix them.
The Hudson River Environmental Conditions Observation System (HRECOS), owned and managed by CURB and a part of a state network of over a dozen such stations from Albany to New York City, is a system installed at the Groundwork Hudson Valley Science Barge. HRECOS tracks real-time river parameters such as temperature, pH, salinity, dissolved oxygen, chlorophyll, and turbidity, creating a long-term baseline data set for additional study and analysis.
Sittin' on the Banks of the Hudson
Though CURB is not on the physical campus it is still very much a part of Sarah Lawrence
College. The Office of Campus Safety offers daily shuttles to make it easier for students to visit. And, for those students who have an interest in sustainability and environmental education, CURB offers both one-off volunteer opportunities and semester-long internships. 
But the work at CURB isn't only for Sarah Lawrence students. Volunteer opportunities are open to the public with a special focus on working with area high school students on volunteer and internship positions, including a paid summer internship program for students from Yonkers High School.
There are youth education and community involvement projects, too. "Catch of the Day" seining is one of CURB's signature outdoor education programs in which educators take students into the Hudson River to drag a 30 foot seine net to catch various species of fish, crabs, and shrimp. As a part of this program, students record data from the day's catch before releasing it back into the river.
While most of CURB'S volunteers and interns have an interest in science and research, education, and working with children, others are just looking to get outdoors for a few hours. Regardless of background or area of expertise, CURB welcomes individuals from all backgrounds and trains them on whatever projects they choose to work on.
---