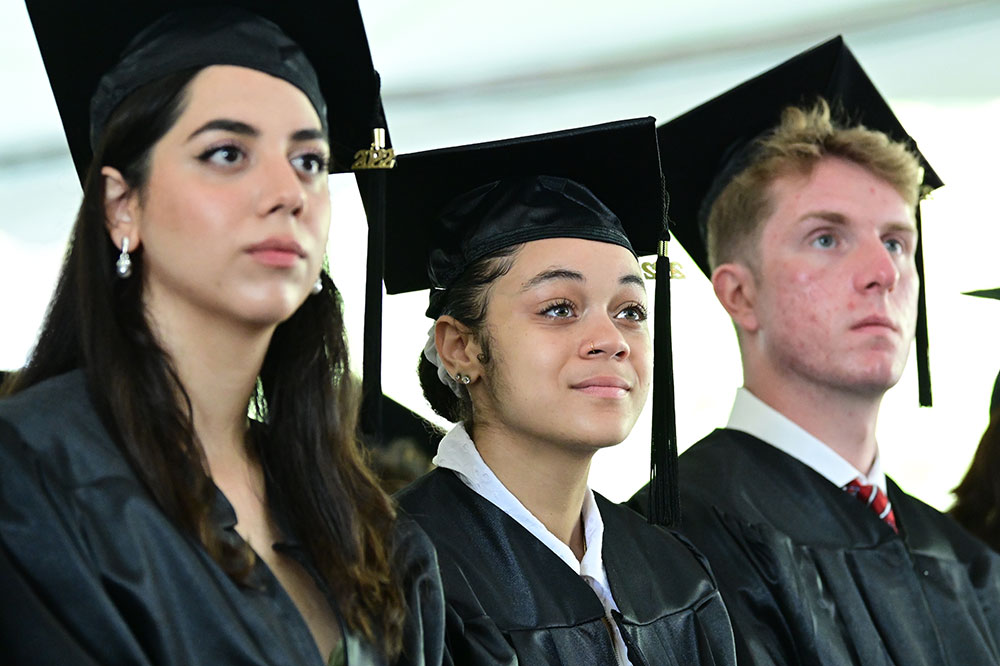 Sarah Lawrence celebrated its 94th Commencement on Friday, May 13, 2022. The occasion marked the College's first in-person Commencement ceremony since 2019, due to the Coronavirus pandemic. Degrees were conferred upon more than 320 undergraduates and more than 100 graduate students under a tent on Westlands Lawn. Alumni from the classes of 2021 and 2020 were invited to return to campus to finally take that meaningful walk across Westlands Terrace—a high point of every graduation.
The College was delighted to invite guests to campus to join in the celebration, and nearly 2,000 parents, families, and friends were on hand to cheer on the graduates. Hundreds more joined the revelry from afar, watching the proceedings in real-time via Livestream.
Before beginning her welcome remarks to graduates and guests, Sarah Lawrence president Cristle Collins Judd paused to acknowledge the varied emotions felt on this day. "This is a moment of great joy, of course, but joy that for many is tempered by a sense of profound grief and loss," said Judd. "I want to pause to acknowledge that grief and loss, to acknowledge the challenges of these past two years, and the impact those challenges have had on all present here today, most especially you, our graduates." Judd went on to share her "deep, profound gratitude" for all in attendance, and focused her remarks on the concept of Sarah Lawrence Together, a rallying cry of sorts for the community since the start of the pandemic.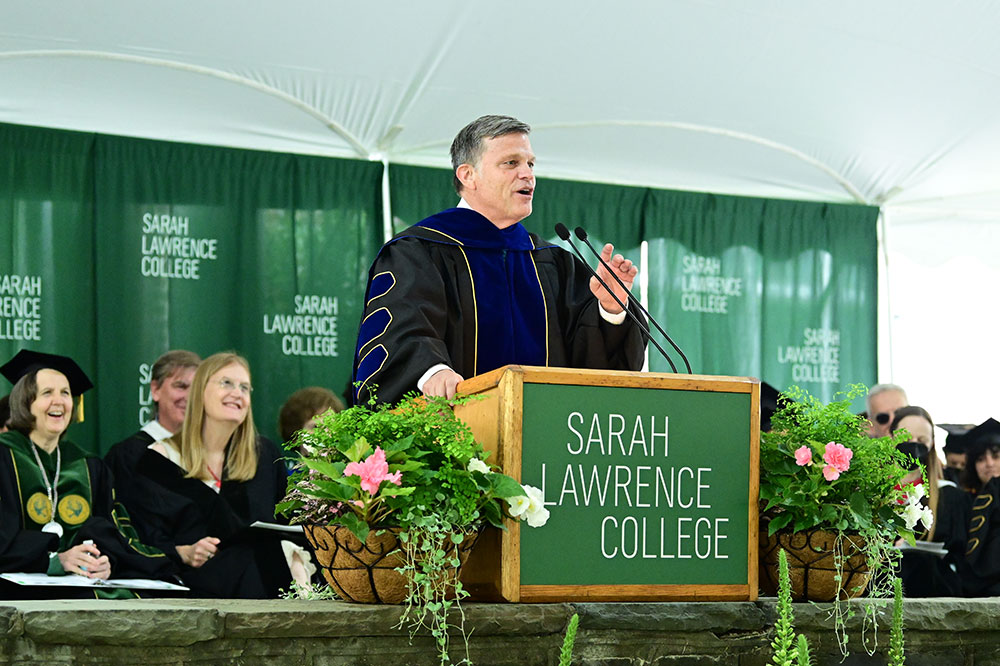 Renowned U.S. presidential historian and author Douglas Brinkley, the Katherine Tsanoff Brown Chair in Humanities & Professor of History at Rice University and a frequent commentator on CBS, CNN, and MSNBC, was this year's Commencement speaker. In addressing the graduates, Brinkley imparted life lessons by sharing anecdotes from past U.S. presidents and historical figures with whom he has worked. In touching on the importance of qualities such as integrity, hope, forgiveness, dignity, and sense of self, he spoke of presidents Jefferson, Carter, Clinton, and Obama, as well as Nelson Mandela, Elie Wiesel, and Rosa Parks.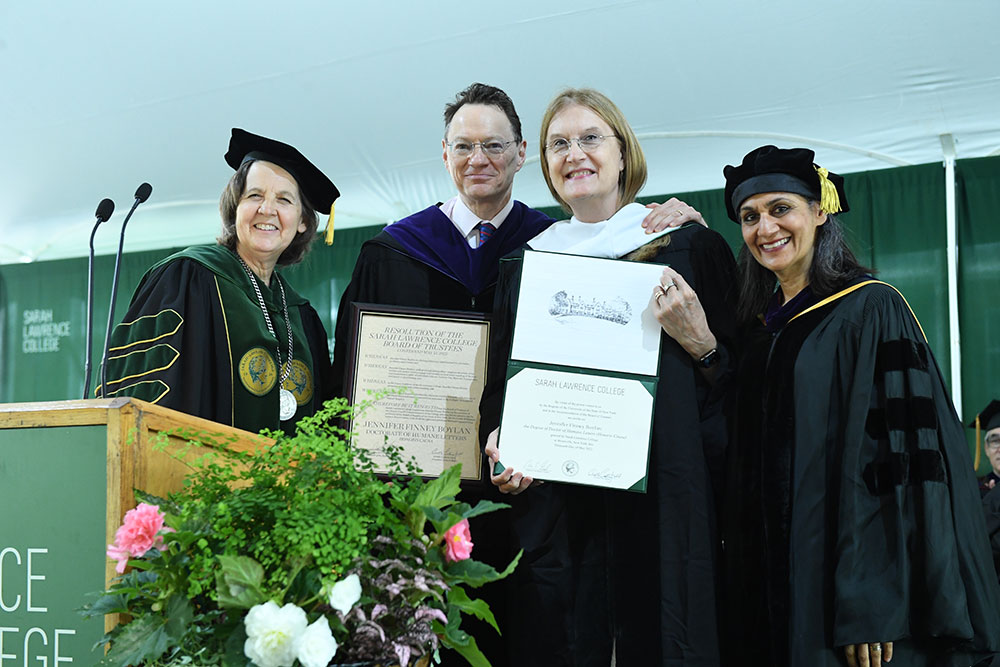 Bestselling author Jennifer Finney Boylan was awarded an honorary degree—the Doctor of Humane Letters, honoris causa—in recognition of her work as an outspoken and passionate advocate for human rights, particularly those of individuals in the LGBTQ+ community. Herself a transgender individual, Boylan focused her remarks on change and the question of belonging, in a nod to the College's year-long academic event series of the same name. Acknowledging the fraught world into which students are graduating, Boylan insisted that love can prevail, and implored graduates to "greet the world with fierceness, to push back against injustice with both relentlessness and joy, wisdom and ferocity."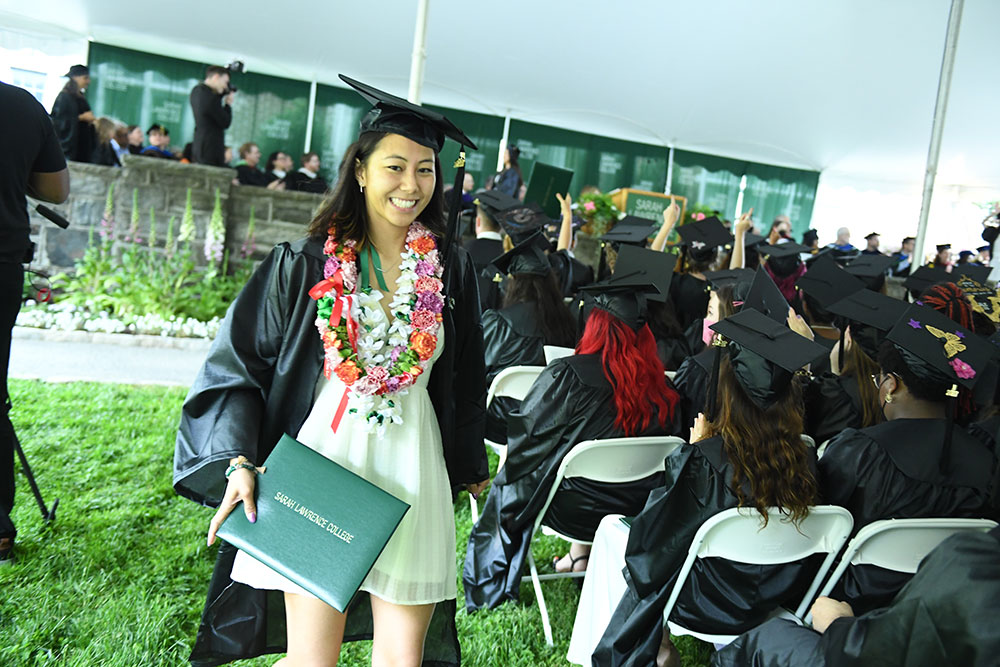 After President Judd declared the 94th Commencement ceremony closed, graduates met up with loved ones, friends, faculty, and staff on the campus' North Lawn for a celebratory reception.
As part of this year's Commencement exercises, the College held a Graduate Hooding ceremony on Thursday, May 12, to focus solely on its masters candidates and recognize their unique achievements in pursuit of advanced degrees. Here, too, members of the classes of 2021 and 2020 joined the Class of 2022, and faculty, program directors, family, and friends filled the Barbara Walters Campus Center to share in the momentous occasion.
A full recap of Sarah Lawrence's 94th Commencement and Graduate Hooding ceremonies, including photos and videos, is available here.
---