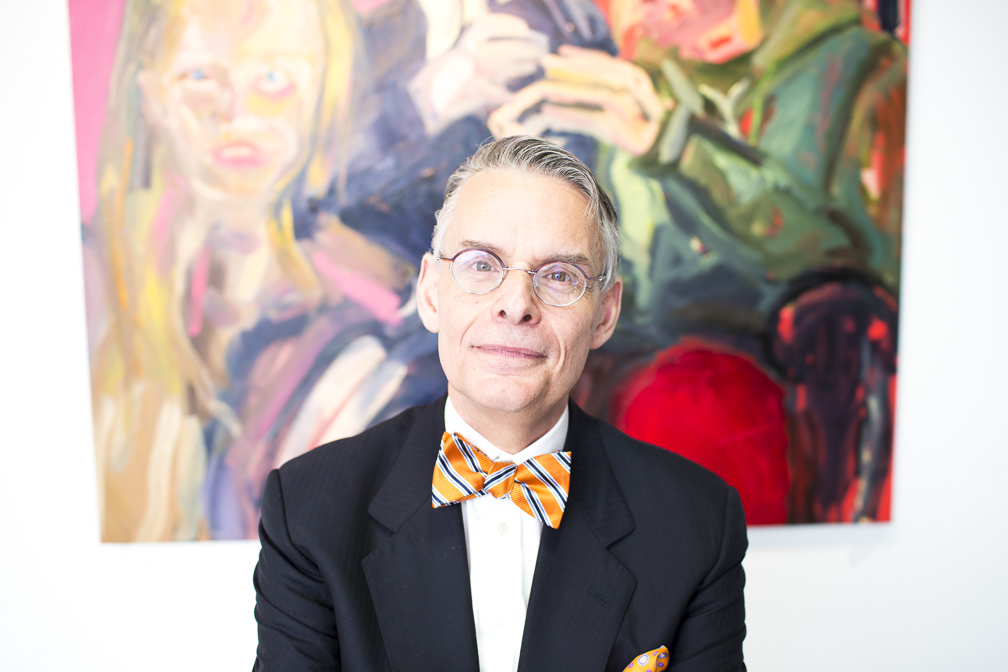 After 44 years as a member of the Art History faculty at Sarah Lawrence, the dominant emotion Joe Forte feels is gratitude. He reflects, "Sarah Lawrence made me. I've evolved over my time here, and it has made me a better person. Sarah Lawrence made me aware of how I could make a difference in the world, and I'm grateful for the opportunity to have done that."
Forte recalls the moment he first stepped onto campus: "I looked around and said to myself, 'This is what college is supposed to be.' Then I met with the other faculty and they asked me the kinds of questions I was always asking myself—what does one thing have to do with another? They were serious about art and serious about inquiry, and I felt encouraged and challenged."
During his tenure, Forte's scholarship has centered around the theory and practice of painting and drawing in 16th century Italy and 17th century France: His colleagues call his knowledge of Renaissance and baroque art encyclopedic. His favorite course to teach is on 17th century art; but if you ask what course he thinks has had the greatest impact on students, he points to "The History of Architecture." He says, "I've had students tell me that after that course, they see the world in a new way. That's very rewarding—it's what you do it for!"
Forte first taught architecture in the early 1990s, adding a survey course to Art History's offerings in hopes of expanding the appeal of the department. In 2007, he was instrumental in the foundation of a program in Architecture and Design Studies, a cross-disciplinary initiative that offers a variety of analytical approaches to the cultural act of constructing environments, buildings, and aesthetic, yet functional, objects.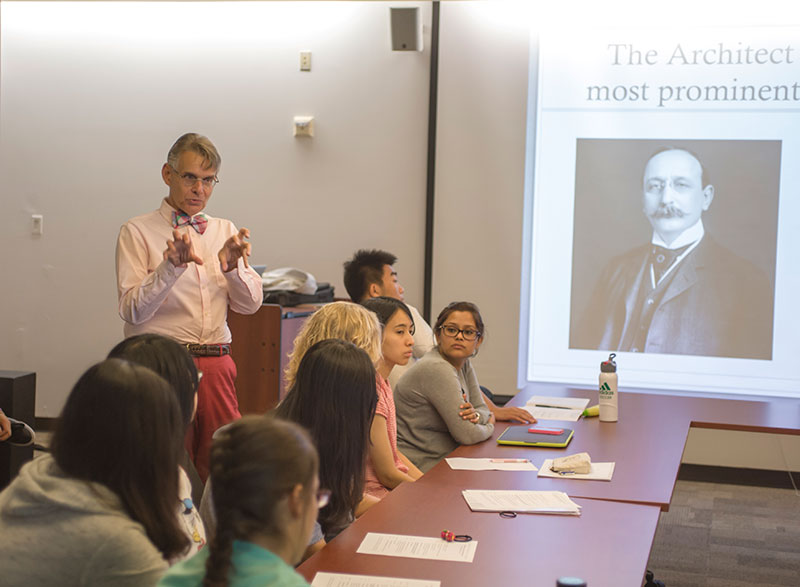 Forte has been active in administration as a Group Chair and senior Art History faculty member for more than 20 years. He laughs when he reflects on an unlikely highlight of his career: "You know what I love to do? Go to division meetings. I love them! The faculty here are funny, intelligent, decent people. The level of discussion at our meetings is incredible. I'll miss those meetings."
Jerrilynn Dodds (Art History) holds Forte in tremendous esteem and describes his teaching as transformational. She says, "Joe is so many things all at once: as a teacher both brilliant and funny; as a scholar super serious and yet also disarming; and as a don, a kind of philosopher king, who treats you as an equal, and yet also dispenses wisdom that you know will change your life."
President Cristle Collins Judd values Forte's energy and commitment. She says, "Joe's passion for Sarah Lawrence is contagious. He brings humor and enthusiasm to even the most mundane proceedings, and sees challenges as opportunities for growth. We encourage our students to explore new disciplines and find connections between their interests; Joe models that exploration in everything he does. We have been truly fortunate to have him, and wish him all the best."
Forte's immediate plans for his retirement include a few months in Europe, revisiting favorite locations in Italy and France and setting a course for new destinations. He'll devote time to becoming conversant in more languages (Dutch is on the list) and expanding his connoisseurship, identifying works that are now anonymous, in relation to his favorite artistic fields. He also hopes to continue writing about paintings: During the pandemic, Forte started an email newsletter called, "Painting of the Week," coalescing ideas about paintings and the various philosophical, spatial, technical, and biological issues that intersect within them. He has more ideas in that vein that he looks forward to exploring, particularly in book-length form. 
As he looks back on his career, Forte reflects, "Sometimes people need a break, or need to be encouraged, or need to be told that they're good—not indulged, just told. And sometimes the match just strikes. It's been a very gratifying 44 years seeing that match strike."
Share your well-wishes for and memories of Joe Forte on our Kudoboard for this year's retiring faculty!
---