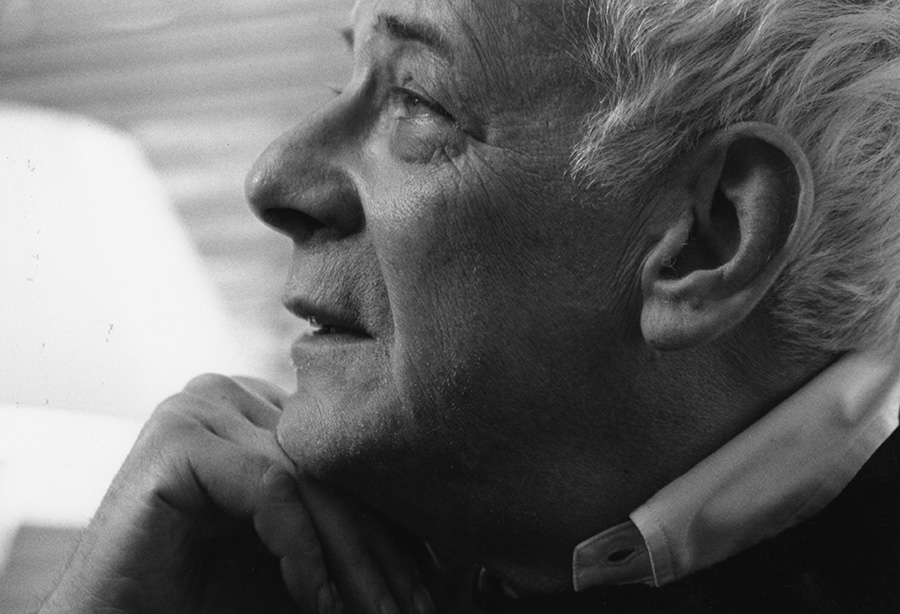 Sarah Lawrence College deeply mourns the loss of Ilja Wachs, a central figure in the Sarah Lawrence community since 1965. A member of the Literature faculty and a former Dean of the College, Ilja touched innumerable lives during his time at Sarah Lawrence, and was a larger-than-life influence on students, faculty, and staff alike.
Below, we share a tribute to Ilja from Carol Zoref '76, MFA '97, a former student and longtime colleague and close friend of Ilja's. We expect that this is just one of many fond remembrances of Ilja, and we encourage all who knew him to share their memories and tributes at sarahlawrence.kudoboard.com/boards/ilja-wachs. 
Information on a campus memorial service will be forthcoming. At the request of Ilja's family, donations may be made in his honor to Sarah Lawrence's Ilja Wachs Chair in Outstanding Teaching and Donning at alum.slc.edu/wachs. 
***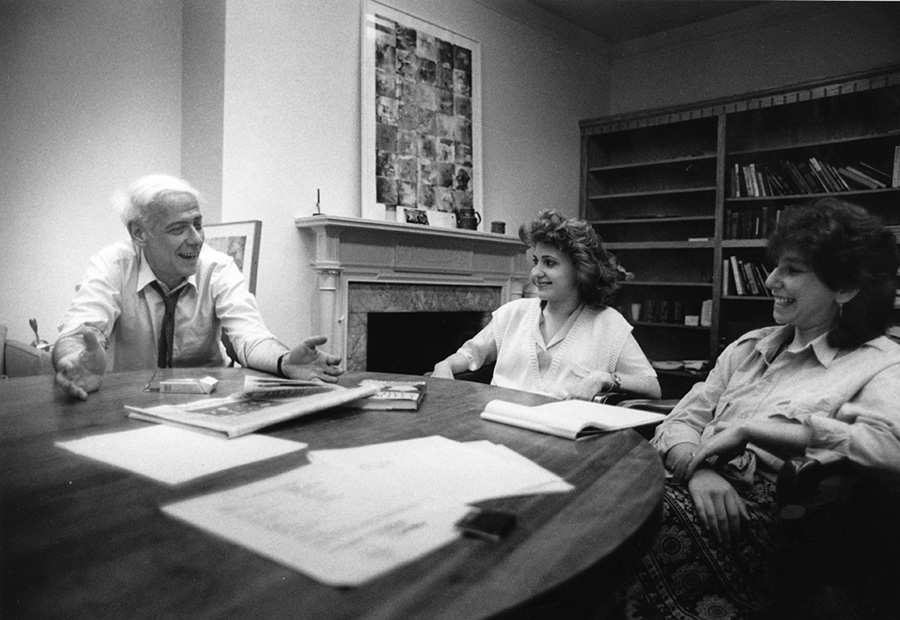 How does one pay further tribute to a person long described by so many as being "iconic" and  "legendary" and "revered"? Much as Ilja advised his students to open a paper: no bloated introductions, no breathless thesis, no superlatives. Instead, an observation about a central character in situ. In this case, one of Ilja's own stories: Ilja was a tall, awkward, alienated, high school student living in post-World War II Brooklyn, playing basketball one day with some classmates. Though a self-conscious athlete of limited skill, Ilja suddenly found himself nimbly dribbling the ball across the court, vaulting through the air, and sinking a basket. It was, as he later described it, his first experience anything akin to gracefulness. His legs, arms, mind, and heart joined together in revelatory coordination, a combination of both effort and ease, such that he experienced complete and unembarrassed awareness of his body. At the same time, he experienced a lightness of being akin to having no body at all. It was, after all, a utopian moment derived from physical pleasure. It is easy to imagine Ilja having the same unexpected experience of fullness, vitality, and joy when he arrived at Sarah Lawrence in 1965. For Ilja, the College represented a kind of elegance reified by the suggestion of a new utopia.
"No one embodies the values of Sarah Lawrence College more than Ilja Wachs," said Sarah Lawrence president Cristle Collins Judd. "Our mission is to graduate world citizens who are diverse in every definition of the word, who take intellectual and creative risks, who cross disciplinary boundaries, and who are able to sustain exceptional academic discipline within a framework of humanistic values and concern for the community. Ilja lived and led with those values every single day of the 57 years he gave to our College and our community."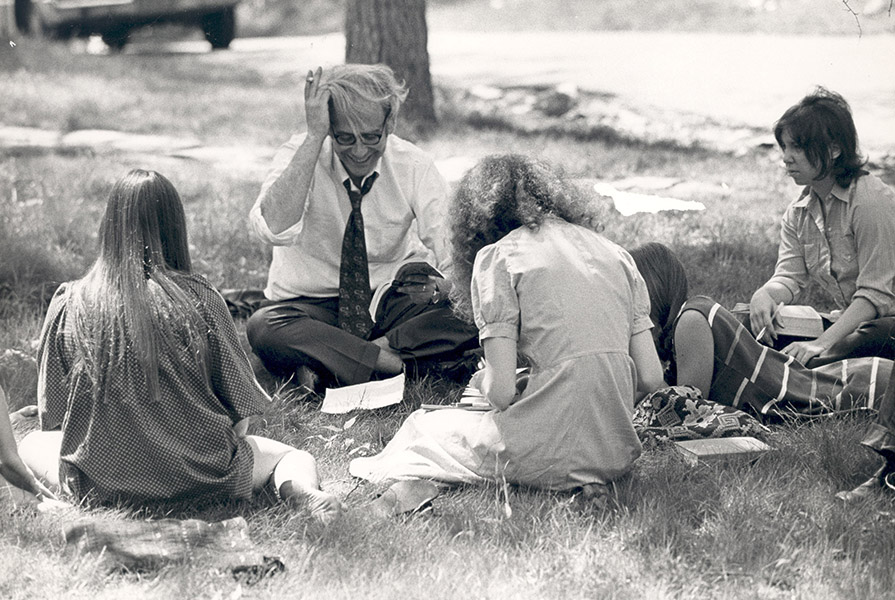 Students and colleagues alike describe Ilja as being "a born teacher," but Ilja insisted that teaching, like any other calling, must be learned. Furthermore, the relationship of the teacher to the student, while at times reminiscent of a parent to a child or a midwife to a mother, is neither of those things. "It is its own thing, even if it shares in the ultimate goal of leave-taking." It comes as no surprise that many of Ilja's students were inspired by him to teach. At SLC alone these currently include Fred Smoler in Literature and Melvin Bukiet, Brian Morton, April Reynolds Mosolino, and Carol Zoref, all in Writing. Ilja, who was Dean of the College from 1980-85, also inspired future generations of deans. Dean Emerita Barbara Kaplan (Literature) said, on the occasion of Ilja receiving a Great Teaching Award, that, "A student once told me that soon after he arrived on campus he learned that Ilja Wachs was not only a person and a teacher and a don; he (Ilja) was an institution." Jerrilynn Dodds (Art History), Dean of the College from 2009-2015, remembers that, "If you spoke to him about Bleak House you felt as if you were suspended outside of time; you, Ilja, and Dickens in a place apart, held aloft by his deep humanity. How lucky for all of those who were his students." Provost and Dean of Faculty Kanwal Singh puts it this way: "Ilja was a Sarah Lawrence faculty member until the last moment of his life. One only had to witness his great joy in introducing legions of students to 'his friends' – Dickens, Eliot, Tolstoy, and many others – to understand what it really means to be a teacher."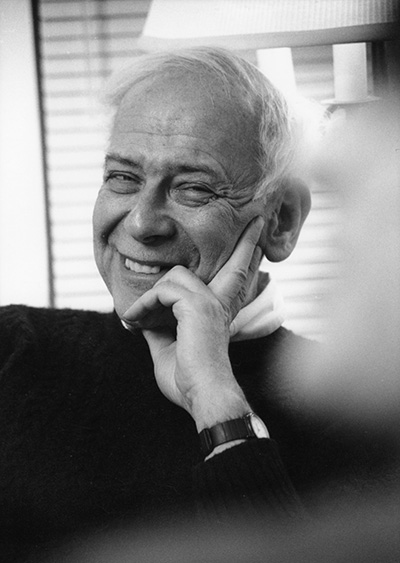 The journey from the Brooklyn basketball court to SLC icon was not a sure thing. Ilja arrived in the U.S. with his parents in 1939, Jewish refugees who had fled Austria at the time of the Anschluss. It was an agonizing escape. Ilja's father, Isaak, a well-known labor lawyer on the cusp of being arrested by the Nazi government, had taken a train to the border with Ilja's mother, Sarah. They carried little with them, having left everything behind in their Vienna apartment, including Ilja, in order to not arouse suspicion. The plan was for Isaak to covertly slip across the border, while Sarah returned home, where she would wait for the anti-fascist underground to transport mother and son to safety and reunite the family. Things did not go as planned. Mr. & Mrs. Wachs were both expelled from Austria at the border and Ilja, then nearly seven-years old, found himself alone in the Vienna apartment. He remained there for the better part of a year, until he was finally reunited with his parents in France. The only visitor he recalled from his time alone was the family housekeeper. The Wachs family reunion was soon interrupted by the arrest of Ilja's father and his internment in a French concentration camp. The hospitalization of his mother soon followed, and young Ilja was dispatched to what he later referred to as a "bourgeois family" in Switzerland. The host family believed that this little Jewish refugee needed to be "re-civilized" in a rigid, disciplined, and unyielding environment. This arrangement was disastrous for a frightened child, separated yet again from his parents at a time when mass murder was a quotidian function of government. Somehow, through an intrigue marked by twists and turns, the Wachs family was reunited and secreted away to New York, where they had relatives. The U.S. offered safety, at least for the time being. There were no guarantees that Jews would survive a German invasion and occupation of North America.
In the U.S., Ilja's father was unable to practice law; his mother's health further declined. Ilja attended public school, learned English, skipped classes and went to the movies, returned to school, attended Columbia University, switched majors from sociology to literature, graduated, worked as a proofreader and a building superintendent and a social worker, found a psychoanalyst whom he trusted, taught literature at Queens College, and in 1965 landed a guest faculty appointment at Sarah Lawrence. He was soon offered a regular contract teaching 19th and 20th century European and American literature. Thankfully, then-president Esther Raushenbush didn't require the completion of his PhD dissertation a condition of Ilja receiving tenure. He never finished the dissertation, nor was there a book until 1999, when Ilja and co-author Baruch Hochman published Dickens: The Orphan Condition (Fairleigh Dickinson University Press).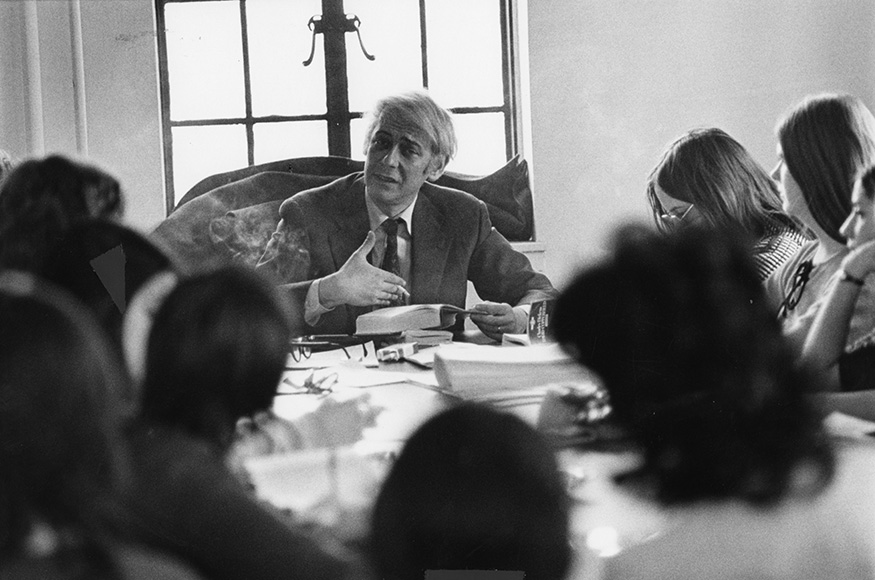 One can imagine that his personal history set the foundation for Ilja's attachment to humanism above all else. Rather than speculating, time would be better spent reading the novels which, for Ilja, were the ultimate expressions of these values. Read David Copperfield, Middlemarch, The Adventures of Huckleberry Finn, Pride and Prejudice, and Anna Karenina. You will encounter staggering examples of sexism, racism, anti-Semitism, homophobia, and more. You will also encounter fiercely and luminously articulated struggles with moral development, income inequality, gender equality, public health, governance, passion, compassion, affordable housing, homelessness, nutrition, pollution, and education. You will be face-to-face with every nuanced aspect of the human condition. You will not unearth any answers in these novels. You might, however, discover new purpose in their questions. In that most private of moments, you will be honoring Ilja's legacy in ways that mattered to him most.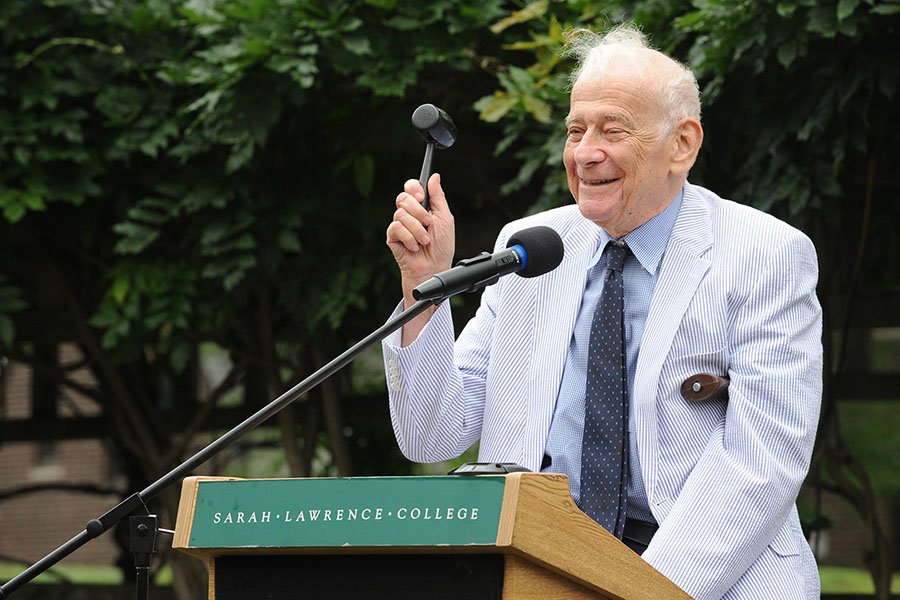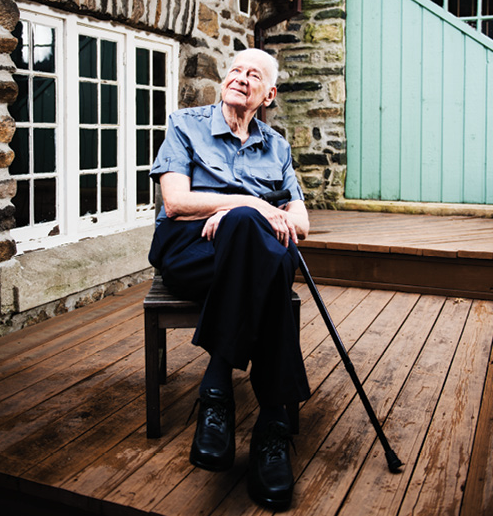 For more than half a century, Ilja advanced the cause of progressive education. Political ideologies have come and gone; new theories have dominated and disappeared from scholarly debates; budgets have been pressured by market forces and challenged anew by the COVID-19 pandemic. Through it all, Ilja remained a vocal and steadfast reminder that Sarah Lawrence has remained a principled, resilient, and sui generis place. As Ilja has described it: "…above all we work as honestly, as concretely, as generously as we can, not with the goal of producing an educated person, a finished product, a commodity for the marketplace, but a human and self-enriching human subject, a person whose growth of consciousness is ideally unending and enables them to make richer and more meaningful lives for themselves and for the world."  –Carol Zoref
***
Read more about Ilja's path to Sarah Lawrence in this article from 2014.
Below, a memory from 2010 – "Ilja Wachs on the 19th Century Novel" – an event sponsored by Sarah Lawrence's MFA in Writing program. 
---