Dear Members of the Sarah Lawrence Community,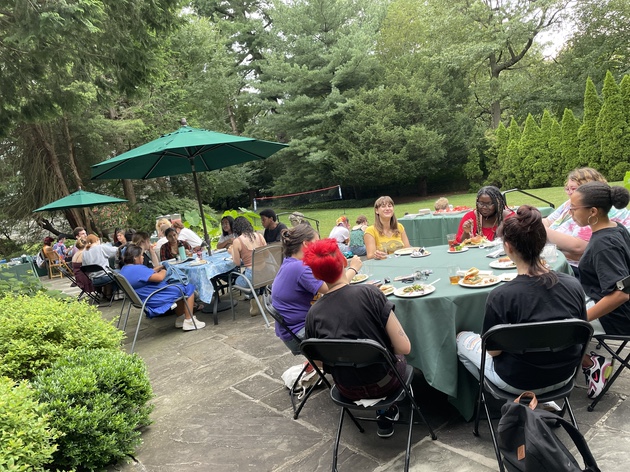 The 2021-22 academic year is upon us! Last night, I hosted the traditional welcome picnic at the President's House for our RAs (resident advisors) and Residence Life staff; today, I gathered with faculty and staff to welcome our graduate students; and this evening I will welcome the "Green Team". Next up: first-year and transfer undergraduates move in tomorrow, followed by sophomores, juniors, and seniors over the course of the next few days. And then, on Monday, classes begin! We are all eager to welcome our new students and to welcome back our returning students as we reconvene for this new academic year.
But we do so in deeply challenging times. My annual start-of-year excitement is paired with genuine concern for what lies ahead, and I am deeply grateful for the patience, fortitude, grace, and empathy that members of our community continue to display as we navigate the ongoing challenges of a global pandemic. Last April, when we announced our plans for returning to primarily in-person learning, we all imagined—premised on the extraordinary promise of the roll-out of vaccines—that by now we would be past using phrases like "ongoing uncertainty" and "navigating continuing challenges." But as you are well aware, the trajectory of the COVID-19 pandemic continues to evolve. This summer, our staff and faculty worked tirelessly to plan and prepare for our first primarily in-person semester in 18 months. We have had to revisit and revise our plans frequently in response to changing data, and we will continue to do so as necessary as this year unfolds. Much work lies ahead of us to ensure that our campus remains safe and healthy in the coming months. Above all, we must rely, as we did so well last year, on our campus coming together to support and protect each other as we continue to practice common-sense public health measures with the tools at hand of vaccination, masking, and testing. I encourage you to use our fall semester information site, which is a repository for updates and answers to frequently asked questions regarding our COVID protocols.
While these last 18 months have been unremittingly challenging for each of us, they have nevertheless also served as a springboard for the College. We committed, with strong leadership from the faculty, staff, and administrators on our post-pandemic planning task force, to convert challenges into opportunities, identifying those pandemic-induced practices and policies that we should continue as we go forward. To cite just a few examples… Building on last year's orientation programming, our new students in the Class of 2025 have already been virtually engaged with the College for weeks before they ever step foot on campus: in partial-credit courses, in SLC Reads, and in modules of Belonging at SLC. We are excited that we have resumed on-campus admissions tours, but we also recognize that our continuing virtual presence allows many students who might not have the resources to visit campus to experience its possibilities. We took advantage of a de-densified campus to complete much-needed and long-overdue renovations to the Bates kitchen. We launched new programs and internships through Career Servicesthat deepened our networks, linking students and alumni around the world. And while we remain unequivocally committed to the practices of our in-person education, for the first time our course catalogue includes online offerings alongside in-person offerings. Critically, we discovered new ways to connect, to create, to come together, and along the way we enjoyed the most sustained engagement with more of our alumni than ever before in the history of the College.
Recently, I sat down with our folks in Communications for an interview about what excited me about the year to come. Pandemic notwithstanding, we start this academic year with tremendous momentum. The undergraduate class of 2025 is one of the largest in the College's history, selected from what was our largest applicant pool ever. Among our new students are four transfers from Westchester Community College and Bronx Community College—the first students to come to Sarah Lawrence through partnerships established earlier this year.
Among new faculty, we welcome Emily Bloom, a public humanities fellow who joins Yeong Ran Kim and Kishauna Soljour, faculty members and fellows who came to Sarah Lawrence last year as part of a $1.2 million grant from the Mellon Foundation. Emily, Kishauna, and Yeong Ran areblurring the lines of higher education and fostering civic engagement by embedding their work in partner organizations such as ArtsWestchester, the Yonkers Public Library, Wartburg, the Hudson River Museum, and more.
The faculty collaboration called SLICE (Sarah Lawrence Interdisciplinary Collaborative on the Environment), begun last year, is continuing and expanding their important curricular work and pedagogical innovation as they focus on environmental justice, an issue which has never been more urgent as we witness the devastation to communities affected by earthquakes, fires, and hurricanes. Inspired by that pilot, and seeing the promise of, and student interest in, the model of a faculty cluster focused on a timely and pressing issue, another group of faculty has formed an interdisciplinary cluster on Migration and Mobilities in recognition of the ever-growing significance and complexity of migration and mobility locally, nationally, and globally.
I could go on about what excites me about the year ahead, but, hands-down, top-of-the-list is welcoming our students, faculty, and staff to campus. I also look forward to our continued engagement with our larger community beyond campus—taking what we have learned over the last year to move beyond limitations of time zone and geography, and deepening our connection with our students, families, alumni, and friends around the world. I hope you will join us wherever you are as our events calendar comes to life this semester.
I conclude this first From the President's Desk of 2021-22 by inviting you to join me with optimism and in anticipation for the academic year ahead, as well as in thanking our extraordinary and dedicated faculty and staff for all they do. I extend my warmest welcome—and welcome back—to our students, faculty, and staff, along with my gratitude to all of you for being part of the Sarah Lawrence community. There will, no doubt, be many difficult twists and turns ahead for us, but I am confident that we will face them together. I can't wait for my first meeting with the Class of 2025 this Saturday, at which I will formally declare the College open for our 94th academic year.
Yours,
Cristle Collins Judd
President
president@sarahlawrence.edu
Instagram: @slcprez
---
Announcements
Fall Semester Information Site
For the most up-to-date information on the fall semester, including policies and procedures related to COVID-19, bookmark thefall semester information site.
Belonging Series
Every year, Sarah Lawrence hosts a year-long event series aimed at exploring a timely topic in great depth and through varied perspectives. This year's topic is: Belonging. Full details on the series will be coming soon, but mark your calendar for the first event:

Charles Yu at Sarah Lawrence College
Interior Chinatown: Migration, Citizenship, Belonging

Tuesday, September 28
6 p.m. ET
Virtual event

Go Gryphons!
Our student athletes are ready to go! Tennis, soccer, volleyball, and cross country will be back in action this month—see the full schedule of athletics events and all things Gryphons at gogryphons.com.
Welcome
I'm pleased to welcome two new members of my senior leadership team to Sarah Lawrence: Erin Archer, Vice President of Finance & Operations, and Ifeoma Kiddoe Nwankwo, Vice President of Diversity, Equity & Inclusion. I look forward to your getting to know them, and to the work they will do with and for the SLC community.
---