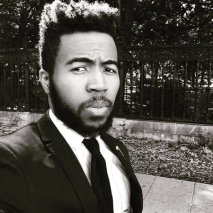 Poet and MFA Writing faculty member Dr. Joshua Bennett received two distinguished honors this spring: a Guggenheim Fellowship and a Whiting Award in Nonfitction and Poetry.
Bennett, in addition to teaching at Sarah Lawrence, is the author of three books, The Sobbing School (Penguin, 2016), Being Property Once Myself (Harvard University Press, 2020), and Owed (Penguin, 2020). His fourth book, and first work of narrative nonfiction, Spoken Word: A Cultural History, is forthcoming from Knopf. His writing has appeared in The Best American Poetry, The New York Times, The Paris Review, and elsewhere. 
---
About Sarah Lawrence College
Founded in 1926, Sarah Lawrence is a prestigious, coeducational liberal arts college that consistently ranks among the leading liberal arts colleges in the country. Sarah Lawrence is known for its pioneering approach to education, rich history of impassioned intellectual and civic engagement, and vibrant, successful alumni. In close proximity to the unparalleled offerings of New York City, the historic campus is home to an intellectually curious and diverse community.