Dear Members of the Sarah Lawrence Community,
As we approach the Thanksgiving break, I am writing as we in the United States contemplate a holiday whose signature characteristic of gathering now risks catalyzing the already growing spread of COVID-19 across the country. While many in our community must reevaluate long-held plans and traditions for the sake of safety, I hope the opportunity remains to pause and share moments of gratitude. It certainly does for me, and with that in mind, I write today to share a few of the things for which I am thankful.
I'm thankful for our students—those living on or near campus and those around the world—who are just weeks away from completing this extraordinary semester. This moment in the fall semester is often defined by long hours in the library, studio, and lab as students conduct research and advance conference projects. Today, many of those same study sessions have moved online and performances have shifted, but they are no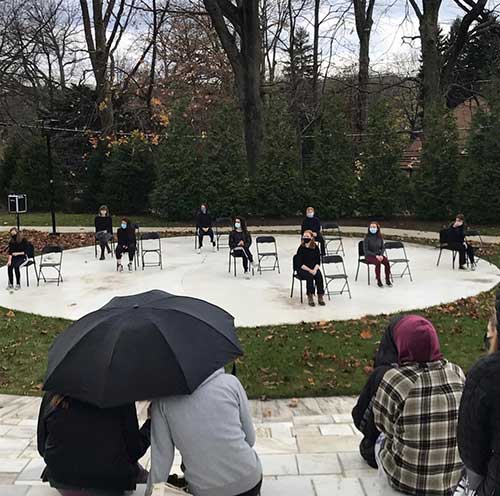 less vibrant. Last week, I had the chance to see dance students showcase their work at the open-air Remy Theatre. The performance was live-streamed for all to join and also live in front of a bundled up, masked, and socially distanced audience. Moments later, students live-streamed a hybrid Music Tuesday chamber music concert from Reisinger that included both in-person and virtual performances. The next evening, undergrad and graduate students were sharing the "virtual podium" in the culminating event of a new writing series with "6x6": six-minute readings by six graduate and six undergraduate writers. And on and on goes the list of the work and projects our students are undertaking in novel and creative ways, in person and around the globe.
I am thankful for our community's adaptability on so many fronts, as we have risen to meet formidable challenges and forged a carefully calibrated and data-informed path forward. Our resident and commuter students have set a stellar example for how living and learning on campus can be done safely—an example that was recently highlighted in National Geographic. Beyond campus, I've met virtually with "pods" of students in places ranging from West Virginia, to Pakistan, to California, and to New Hampshire, who are advancing their studies together.
This week's break will mark the long-planned end of in-person instruction for this semester as we return to fully online learning to conclude the fall term. Many resident and commuter students will now return home and remain off campus for the rest of the term, as we further de-densify residence halls to ensure a safe departure for all by the end of the semester.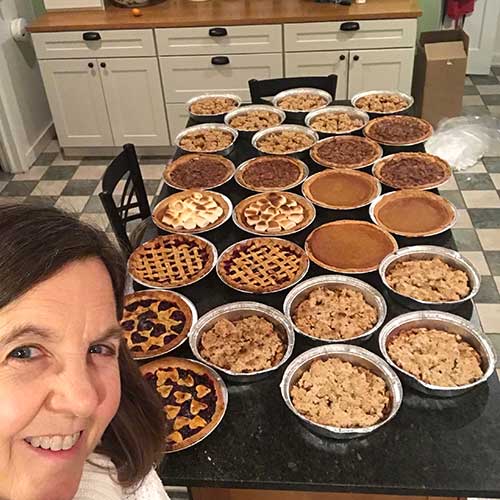 I am also thankful for our adaptability in the small things we take for granted. I have a tradition of inviting students to join me on the Saturday before Thanksgiving to bake in the kitchen of the President's House in preparation for our annual dinner for international students. Since I couldn't bake with students this year, it seemed to me the best way to honor and adapt that tradition was to bake for those who will remain on campus over the break. And last Friday, in another nod to that pie-baking tradition, two members of the class of 2020 hosted the first of what I hope will be an annual virtual Friendsgiving for recent alums. In these new twists on old traditions around making and sharing food, I'm reminded of alumna Ann Patchett '85 and her stories of baking cookies at the President's House and her memorable account of spending a Thanksgiving without family on campus and the enduring power of books.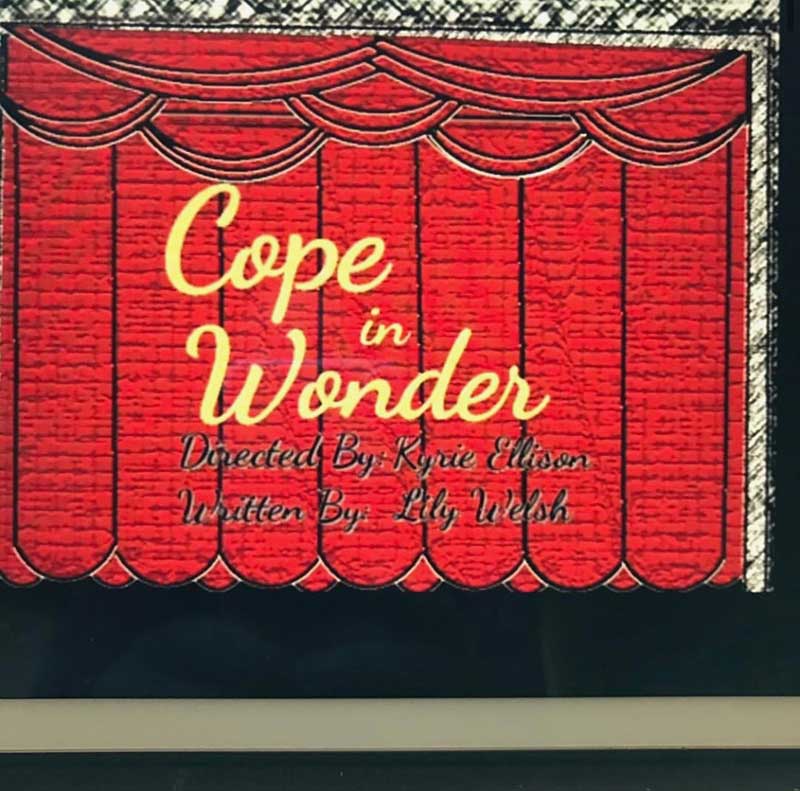 I'm thankful for our faculty, who have embraced and reimagined this unorthodox semester schedule, continued to foster the close student-faculty relationships that are a hallmark of a Sarah Lawrence education, and built communities in their classes at a time when connection can be difficult. Faculty have redesigned courses and materials to fit and reflect the moment and, as is no surprise, have leaned into this opportunity—look no further than our theatre department, which has creatively used the virtual medium as a tool and mechanism for an entire season of performances, and our Visual and Studio Arts courses, which have moved their student exhibitions, many of which explore the pandemic, to a virtual showroom.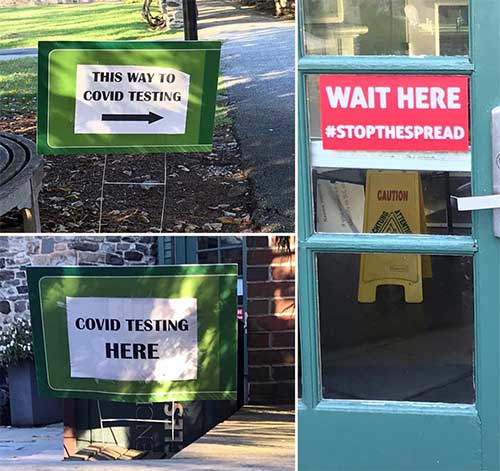 I'm thankful for the Sarah Lawrence staff who have worked tirelessly to cultivate an environment that reflects what this moment requires for those on campus and that is welcoming to everyone in our community, regardless of their locations. Residence Life and our wonderful team of Resident Advisors have worked alongside our Student Engagement team to help student leaders and organizations create virtual and in-person events and to connect and create in ways unimagined before. Ventilation systems have been cleaned and renovated. Campus spaces transformed. Dining halls and food service reimagined. IT services ramped up. And Health & Wellness staff have performed COVID-19 testing and worked with the Department of Health to aid in pandemic response, in addition to their ongoing student services focused on general wellbeing and mental health.
I'm thankful for our alumni and the work they do around the world. If there are such things as silver linings in pandemics, one is that we have had the opportunity to engage with our alumni in deeper and more meaningful ways as we connect our Sarah Lawrence network in the world. Last week I was privileged to join alumni from our Human Genetics Program at the 39th Annual Conference of the National Society of Genetic Counselors for a special virtual reunion. The program began with a tribute to the remarkable Joan H. Marks '51, a pioneer in the fields of genetic counseling and health advocacy and the longtime director of the Sarah Lawrence graduate program named for her.
I'm especially thankful for the way our community as a whole has come together. Families, alumni, and friends of the College in record numbers have joined events ranging from our Justice series to the recent alumni panel discussion focused on the evolution of workplaces in the era of COVID-19.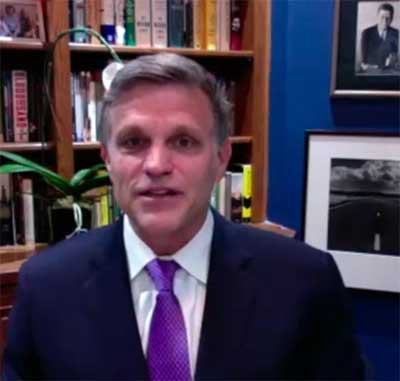 At one such recent event, we welcomed historian Douglas Brinkley to Sarah Lawrence (virtually) for a conversation about the 2020 election. We did not know when we planned the conversation for the Friday after Election Day that the result would not yet be final, and so the context was especially apt as we discussed issues like demographic shifts and national division as they played out in real time and the vote count continued in Pennsylvania, Georgia, Arizona, and Nevada.
And, finally, I'm thankful, as the president of an institution that was founded as a women's college, to witness—100 years since women's suffrage and 55 years after passage of the Voting Rights Act—the momentous election of Vice President-elect Kamala Harris as the nation's first Black, first of South Asian descent, and first female vice president. And I am hopeful that the policies of the next administration will engage collaboratively with higher education to nurture a more inclusive society. One in which international students do not need to worry their visas may be voided if the delivery of their classes shifts to online in response to a virus. Where DACA recipients no longer live in two-year increments, but have the opportunity to gain permanent status and, yes, citizenship. And where institutions are able to continue to confront and explore their own histories and the systemic issues this country faces without fear of repercussion from the federal government.
While there is a very real and robust division in this country that we must acknowledge and seek to address, and while there is much progress yet to be made to ensure everyone a fair chance to exercise their right to vote, there are glimmers of hope in this year's election: more ballots were cast in the 2020 election than any in our history and young voters participated at significantly higher rates than in past election cycles. A record number of women will be part of the next Congress, though representation is not equivalent to parity, and the right for couples to marry, regardless of gender, was etched into Nevada's constitution by the state's voters, the first state in the nation to do so.
Democracy is messy and requires an engaged and informed populace to make their voices heard. Our Sarah Lawrence education, rooted in the power of questioning and curiosity, exploring connections, and examining issues from multiple angles, is uniquely designed to, as our mission says, prepare students to "thrive in a rapidly evolving world," approach problems with empathy, help others, and to play a part in moving society forward.
For this, I am so very thankful.
I believe expressions of gratitude are critically important, especially in challenging times, and I appreciate the prompt that writing this letter offered for me to reflect on how very much I have for which to be thankful. Above all, as your president, I am thankful for you, the Sarah Lawrence community. If you are in the United States, I hope you are able to find some time over this holiday for yourself and to take a break from the screens many of us spend countless hours in front of daily. Please be safe, and as I often say on my Instagram account, please wear a mask, socially distance, care for one another, and continue to be #SarahLawrenceTogether.
Yours,

Cristle Collins Judd
President
president@sarahlawrence.edu
Instagram: @slcprez
---