Dear Members of the Sarah Lawrence Community,
 
In the midst of the challenges, disruption, and heartache caused by the global COVID-19 pandemic and the necessary responses to slow its spread, I am deeply grateful for finding moments of solace and even joy, and I wanted to take a moment today to share some of these with you.  
 

Since becoming your president, I have been constantly inspired by all that happens at Sarah Lawrence and the privilege I have of a "bird's eye" view. One silver lining of our remote work this semester is the opportunity to create a virtual archive that allows all of you to experience more of that. I am pleased to share with you a new website—Sarah Lawrence Together—that captures a glimpse of the ways our community is connecting and creating, from remote sessions spanning the Early Childhood Center, undergraduate classes, and our graduate programs; to programs for admitted students; to alumni career panels and readings. We'll be continuing to add to this site, so check back often. Among my personal favorites so far: Emerita faculty member and alumna Sara Wilford reading faculty member Charlotte Doyle's children's book Freddie's Spaghetti as part of the Child Development Institute's programming. (We should all enjoy the pleasure of having Sara read to us!) 
 
Despite being apart, we have a lively calendar of events for the remainder of the semester as our faculty and students share their work and host lectures and panels, and I hope you will join me in attending. Coming up this week is a panel discussion Thursday on the topic of Indigenous Resistance in the Americas, and on Saturday, the fifth annual DanceFilm Festival. Today also kicks off a virtual Admitted Students Week—welcome, #SLC2024!—a series of information sessions, classes for admitted students to sit in on, and even "tea with the president" for admitted students and their families on Saturday (bring your own tea, of course!).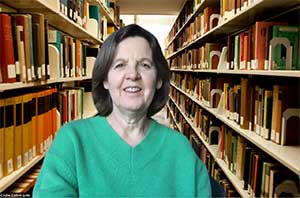 I, like many of you, have been experimenting with "virtual backgrounds" for my onscreen meetings. I am in the President's House, but, for this post, I placed myself virtually in the library: that place where SLC students from time immemorial have spent their Aprils and where they continue to do so now virtually thanks to the extraordinary dedication of our library staff.
 
Finally, I want to express gratitude on behalf of the College for an effort by a group of our international students, now back in China, who have procured and will be shipping to us PPE materials for use by essential staff at the College, which will also allow us to provide additional resources to our local hospitals and first responders as they continue to battle the virus. This generosity reinforces yet again what a deeply connected community our College is, even as we are globally dispersed.
 
We are immersed in planning for the many scenarios and decisions that lie before us as the COVID-19 situation continues to evolve. In the coming days, I will be sharing details of our planning process and timelines for steps the College will be taking, but in the meantime I hope this note provides a moment of pride and pleasure in your college in this period of great difficulty and challenge.

Yours,
Cristle Collins Judd
President
president@sarahlawrence.edu
Instagram: @slcprez
Recent Announcements
Alumni Events
As I mentioned last week, our Alumni Relations office has been creating virtual spaces for alumni to connect. They've set up a Vimeo page so our entire community can enjoy some of the events they've been holding, including a reading by Richard Morais '81 from his most recent book, The Man with No Borders.
Class Meetings
Over the last two weeks I've enjoyed a Zoom meeting with the Class of 2020 and the Class of 2023—our seniors and first-years. This week, I hope to see a great turnout from the classes of 2021 and 2022—check your e-mails for the invitation!
Virtual Backgrounds
Check out the new collection of downloadable backgrounds on our website to bring a little bit of campus to those with whom you meet virtually.
---